Don't Wait To Install Commercial-Grade Outdoor Gas Grills
8 minute read | Grills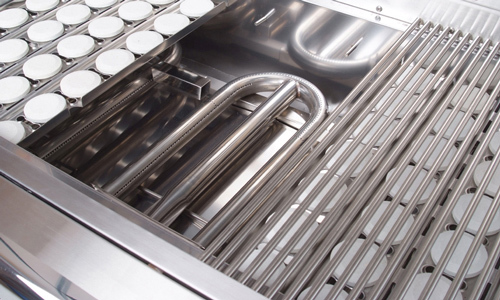 Too often, homeowners limit their outdoor upgrade budgets to early and late spring. But installing commercial-grade outdoor gas grills during the summer and early fall leaves more than enough time for backyard chefs to embrace the day. If you don't have the top-flight outdoor patio grill you deserve, these are reasons why not to procrastinate any longer.

Reasons To Get An Outdoor Patio Grill During Summer or Fall
The reality of purchasing a high-quality outdoor patio grill is that choice cuts of beef, pork ribs, and exotic meals can be prepared on a pedestal BBQ or permanently installed grill station deep into fall. And, the added benefit of adding an outdoor patio grill now is that it will be ready to go on those unusually warm winter days. Consider these reasons to act decisively.
You will be enjoying meals with enhanced flavor now.
You will be enjoying a healthier way to cook food now.
Pedestal gas grills improve the quality of life for the entire family.
Commercial-grade outdoor gas grills increase your property value.
Commercial-grade outdoor gas grills give you the bandwidth for large parties and family gatherings.
Putting off securing that stainless steel pedestal propane grill you desire will only result in regret every time you wake up on a sunny day. Even worse, you may be kicking yourself when the smell of neighbors grill drifts across your patio.
Consider Top-Tier Gas Grill Mounting Options
Beginners may want to take baby steps and select a pedestal gas grill such as the PGS A-series or Legacy grill. These lines can be effectively mounted in as a pedestal gas grill, with a full cabinet below, or transitioned into a fixed installation. These are benefits of working with a PGS mountable unit.
They work with liquid propane (LP) or tie into existing natural gas lines.
Cabinet models are agile and moveable.
Pedestal gas grill mounts maximize space consideration.
Mounted gas grills can also deliver ample side shelf space to prepare foods, allow them to cool, and provide a place to conveniently keep sauces and cooking utensils close at hand. Many homeowners like the "low profile" of having a pedestal or cabinet mounted PGS grill because it delivers restaurant-grade grilling flavor from a relatively inconspicuous product.
Consider Permanent Commercial-Grade Outdoor Gas Grills
Going all-in on a commercial-grade outdoor grill installation is a substantial commitment to grilling excellence. For those who embrace taking in the fresh air, sunshine, and dining out under the moonlit sky, investing in a PGS Legacy built-in model makes a great deal of sense. It also adds plenty of dollars to your home's value.
Unlike home improvements such as a new roof, or updated plumbing, creating an outdoor kitchen is more akin to adding living space than maintaining current square-footage. When putting your home budget to work, the return on investment is generally a leading consideration. A fixed outdoor grilling station with natural surrounding counter space and other amenities gives back tremendous return on your hard-earned money.
That's why serious grilling enthusiasts may be wise to consider fixed commercial-grade outdoor gas grills as the summer wanes and fall leaves begin to turn. Every day you don't have the high-quality grilling station you deserve is another day of inferior food options.
Outdoor Patio Grill Add-Ons That Matter
Regardless of whether you are a relative novice or veritable aficionado, every backyard chef requires certain accessories that enhance your grilling repertoire. These can include basic necessities such as a second-tier warming rack, all the way to extra burners, and storage solutions. But brands such as the PGS line are not exactly your grandfather's charcoal grill.
In fact, PGS grills have kept pace with emerging technologies and delivered improved products to everyday homeowners. Consider, for a moment, how these next-generation accessories could extend your grilling season this fall and get you started earlier next spring.
Infrared Rotisserie Burner: Imagine being able to cook tasty rotisserie chickens on your outdoor patio grill deep into fall and early winter.
60-Minute Gas Shut Off Timers: With the use of a grill gas flow shut-off timer, you never have to be worried about wasted fuel or an unattended grill again.
Moon Roks: These advanced ceramic grill briquettes reduce flare-ups and help distribute heat in a profoundly even fashion. The days of finding the hot spots, cold spots, and shuffling items on the grate are over.
Side Burners: The use of side burners allows backyard chefs to make complimentary items that would otherwise take up room on the main grill or need to be prepared indoors. This accessory can also increase the value of a fix commercial-grade outdoor grill installation.
Single or Double Side Shelves: Side shelves are no longer a possible add-on. The question for serious grilling enthusiasts is one or two.
Grill Storage Drawers: A smartly engineered stainless steel pedestal propane grill can include grill storage drawers to house all your necessities conveniently.
Beverage Centers: Among the latest upgrades to outdoor patio grilling stations are conveniently located beverage centers. These cold beverage units are game-changers for family gatherings and outdoor parties.
The idea that a stainless steel pedestal propane grill or commercial-grade outdoor gas grills are springtime purchases obviously doesn't mesh with the year-round capabilities today's PGS models and accessories deliver. As the saying goes, "there's no time like the present." Waiting until next spring just means a lot of wasted potential grilling days. Carpe diem!
---
Want more information? Have a question? Contact us today, and we will be happy to help!