It's Cold Outside and an Overhead Patio Heater is the Solution
6 minute read | Heaters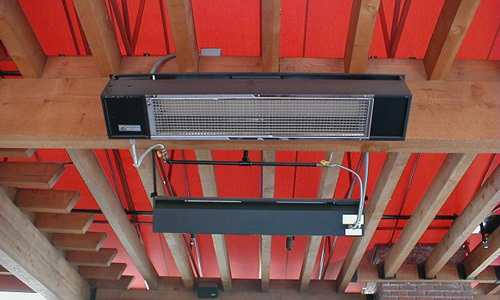 People in North America may be more creatures of habit than they realize at first blush. Regardless of the season, we shrink indoors as temperatures drop below our comfort levels without giving it a second thought. This doesn't just occur during the frigid winter months. Truth be told, our days are cut short by cool temperatures in the morning and after the sun drops below the horizon. And cold winter months limit our ability to enjoy fresh air and sunshine.
Isn't it time to stop acting out of habit and ask yourself whether you want to allow things such as temperature dips to cheat you out of outdoor leisure experiences? Restaurants and other businesses that possess outdoor patios may want to consider how much more profit could they generate if they installed an overhead patio to make patrons feel comfortable. The same holds true for professionals who earn a living managing multi-family communities and condos. Would outdoor natural gas heaters enhance residents' quality of life? Would NG heaters position you to increase resident retention?
Recent product tracking reports indicate the patio heater market is expected to surge by more than $600 million by 2025. And North America accounts for 35 percent of all outdoor patio heater purchases. So, there's more than a fair chance the answer to all these questions is a resounding — Yes.
How Can An Overhead Patio Heater Solve Underused Outdoor Spaces?
Residential and commercial property owners all have a similar challenge in terms of extending their outdoor use. The first step involves conducting some due diligence to identify the type of outdoor heater best suited for the open-air environment. That's largely why decision-makers focus on using high-quality outdoor heaters.
Phase two of the solution involves selecting a design that serves the area in question. The iconic mushroom head patio heater ranks among the most popular, and they can be seen on residential and business patios in just about every community. As a solution to extend comfortable outdoor patio usage, they do take up a certain amount of square footage. Although industry-leading models can be safely secured to the patio floor, property owners and managers would be well-served to measure where the units would be positioned and how that affects seating and leisure use.
When floor space is at a premium, the best solution typically involves installing an overhead patio heater with a wide throw range. This strategy allows businesses and families to move about freely without sacrificing portions of the valuable floor plan. An overhead patio heater system can run on natural gas, liquid propane, or electricity and can be tucked into rafters, ceilings, and most sturdy overhead extensions to blend into the décor; as long as the minimum required clearances are followed. There are also stylish options that deliver added ambiance to any outdoor or semi-enclosed room.
Employ Industry Leading Outdoor Overhead Patio Heaters
The product decision-makers select to extend daily comfort and seasonal use will impact the leisure experience of patrons, condo residents, and family members. Subpar heaters fail to provide consistent radiant heat and the throw radius may not be entirely adequate. That's why is crucial to invest in top-tier models that maximize your investment when measured by the leisure enjoyment people experience. These rank among the outdoor patio heater industry's most productive and cost-effective solutions.
Managed by a control panel, property owners can regulate fuel usage or integrate timers to ensure natural gas doesn't go to waste. In this respect, an overhead patio heater functions much like an HVAC system controlled by an easy-to-manage thermostat.
Outdoor Natural Gas Heaters Deliver Added Value
When a homeowner, property manager, or restaurateur installs an outdoor natural gas heater, there are various ways to evaluate its success. Consider asking the following questions. Did the installation extend the daily or seasonal enjoyment of the space? Are multi-family residents or family members enjoying the added benefit of drinking a warm beverage outside during a morning that would otherwise be too cold? Are patrons enjoying food and beverages on your patio and driving up profitability? Lastly, has the investment increased property values?
When you stop and think about our temperature-related habits, it's easy to see that people and businesses have an opportunity to increase their peaceful enjoyment of fresh air spaces. Outdoor patio heaters are the solution.
---
Want more information? Have a question? Contact us today, and we will be happy to help!