It's Time To Make Thanksgiving A Grilling Holiday
6 minute read | Grills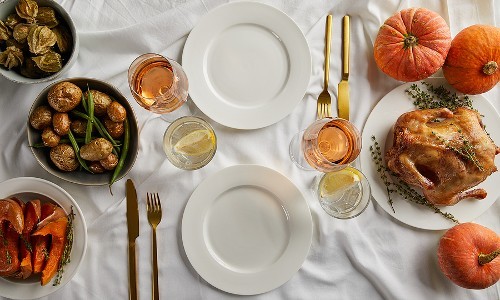 Holding this food-centered holiday indoors results in much of the locked-in flavor of holiday favorites being lost, it also limits the number of people who can gather, leaving a substantial post-meal cleanup.
The good news is that modern natural gas and liquid propane grills provide a pathway to get you back outdoors. A high-quality stainless steel grill allows multi-family living environments an opportunity to host expansive, community-oriented Thanksgiving get-togethers. If you own or operate a senior living development, condo association, or apartment complex, commercial-grade patio grills can change the Thanksgiving dynamic and build a sense of camaraderie among residents.
Evolution of the Thanksgiving Meal
In the U.S., the first Thanksgiving dates back to 1621, a month after the Pilgrims completed their first harvest. Little is actually known about what the Pilgrims and Native Americans ate at the first Thanksgiving. But historians surmise that fowl, venison, fish, cornbread, and porridge were abundant at the feast.
Over more than four centuries later, the "traditional" Thanksgiving meal centers on items such as turkey, stuffing, mashed potatoes, gravy, and pies, among others. While property managers and owners may not desire to build open fire pits and have residents turn a spit by hand, portable liquid propane and fixed-in-place natural gas grills offer a way to relive the original Thanksgiving tradition of cooking on an open flame and enjoy a truly delicious meal.
Thanksgiving Menu Options for A Stainless Steel Grill
It's important to keep in mind that the right commercial stainless steel grills can provide residents with an opportunity to maintain their turkey affinity. The key difference between preparing a turkey on a liquid propane or natural gas grill is how it tastes. Partially submerging a turkey in a roasting pan and basting it repeatedly tends to release too much of the flavor.
By contrast, decision-makers can install patio grills with game-changing, state-of-the-art infrared rotisserie burners that allow residents to enjoy the locked-in natural flavors. The advanced technology used in select stainless steel grills can emulate historic Thanksgivings with one caveat. An infrared rotisserie delivers evenly dispersed heat that cooks a turkey or large cut of beef or pork to perfection. If you decide to install a portable patio grill or a model without a rotisserie, there are a variety of turkey grill options available. These are other menu choices that enjoy superior flavor when prepared on natural gas or liquid propane grills.
Sweet Potatoes
Baked Mac and Cheese
Corn on the Cob
Stuffing and Cornbread
Grilled Veggie Kabobs
Brussels Sprouts with Bacon
Green Bean Casserole
By outfitting patio grills with side burners, users can prepare wild rice, mashed potatoes, and gravy, among others. Warming racks can also play a significant role in baking items such as biscuits using indirect heat. With the right stainless steel grill and accessories, property owners and managers can restore Thanksgiving to its original outdoor grilling glory.
Best Products for Grilling Thanksgiving Dinner
As a property owner or manager, assessing the cost of an outdoor kitchen installation or a portable patio grill remains a financial concern. Multi-family living environments come with static expenses, including grounds maintenance and building upkeep. It's essential for property owners and managers to keep in mind that installing natural gas or liquid propane grills can be a pass-through expense. Whether you pull the funds from existing HOA accounts or trickle the cost back through the higher rents and fees residents are willing to pay, a portable patio or stainless steel grill delivers a full return on investment. These rank among the industry-leading patio grills that can help turn Thanksgiving back into a grilling holiday and build a greater sense of community.
PGS T-Series Patio Grills
The PGS T-Series offers decision-makers choices that can involve a stainless steel grill to serve as the centerpiece of an outdoor kitchen, portable patio grills fueled by liquid propane tanks, and pedestal-mounted options that minimize space. Modestly sized cast-aluminum models such as the T30s and T40s can serve as natural gas or liquid propane grills in intimate spaces. The larger S27T, S36T, and S48T models are typically installed at outdoor gathering areas suitable for birthday parties, graduations, and a complete Thanksgiving celebration.
PGS T30 Patio Grills: These hard-cast aluminum patio grills deliver 30,000 to 40,000 BTU and have a direct grilling area that ranges between 330 and 434 square inches. They are preferred options for personal patios and modest spaces where families get together. They enjoy side shelves and a range of safety features. Although these models may not accommodate an infrared rotisserie, wonderful recipes are available that demonstrate turkeys can be cooked to perfection on fixed-in-place and portable patio grills. That's because a BBQ grill creates the same surrounding heat as an indoor oven when the lid is closed.
PGS S27T, S36T, and S48T: These sizable stainless steel grills are darlings for creating comprehensive, cost-effective outdoor grilling stations. The BTUs for these commercial patio grills include 45,000 (S27T), 67,000 (S36T), and 90,000 (S48T). Direct grilling areas also run 540, 720, and 960 square inches, respectively. These spacious stainless steel grills accommodate infrared rotisseries, warming racks, and can be accessorized with side burners and beverage centers to round out a complete outdoor kitchen installation.
There are also non-commercial patio grills that can serve the needs of apartment complexes, condos, and other multi-family living environments. The residential Legacy PGS line offers liquid propane and natural gas grills with direct cooking space that runs from 540 to 960 square inches as well. These Made in USA stainless steel patio grills can also be outfitted with a rotisserie, side burners, and other accessories.
It's also important to know that the PGS legacy patio grills, as well as the T-Series, can be mounted on carts when used as liquid propane grills. They can be installed on pedestals, into outdoor countertops, or even on a prefabricated center island that does not necessarily require a contractor to erect.
Benefits of Restoring Thanksgiving to Its Outdoor Grilling Traditions
Besides the taste of homemade meals not tasting quite as good on indoor stoves as on outdoor patio grills, perhaps the single biggest problem involves cleanup. The use of multiple pots, pans, utensils, and basting spillage can be a real hassle when the gathering comes to an end. The same cannot be said when a diverse Thanksgiving meal is primarily prepared on a PGS patio grill.
Grills, in general, are easier to clean and require few, if any, pots and pans. You can roast veggies and other side dishes on direct or indirect heat. This industry-leading patio grill line also offers self-cleaning grates that eliminate scraping and scrubbing. These are reasons why PGS patio grills are attractive options for condos, apartments, and other multi-family living facilities.
Grilling for Thanksgiving will make for a very memorable and enjoyable day. Grilling is low-pressure and will give you amazing quality results, so you will have time to enjoy the day without being stuck inside the kitchen all day.
---
Want more information? Have a question? Contact us today, and we will be happy to help!