PGS Grills: The Industry's Most Powerful, Versatile, & Durable Gas Grills
8 minute read | Grills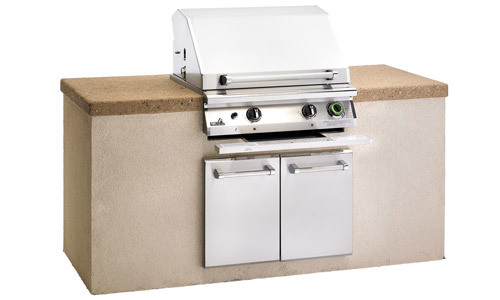 No matter what type of patio you have, be it small, medium, or large; even if it's crowded or relatively featureless, AEI outdoor gas grills are excellent for any setup. Among our various outdoor grill lines, you're sure to find a grill in the size, power level, and fuel type necessary to suit your needs and available space. Now that the colder months are on their way, most people will abandon the grilling season sooner than later. However, with the right setup, there's no reason not to continue grilling all year long.
All of our grills are designed to be easy to store, cover or otherwise protect, and there are a number of ways to do this. Furthermore, they are all designed and built to be modular. This means any part or component can be easily removed and replaced. We carry all of the replacement parts you will ever need and ship promptly. But that's just the start of the many benefits of AEI gas grills.
The Features & Benefits of AEI Outdoor Patio Grills
Our team here at AEI is proud to work with the finest gas grill manufacturers the industry has to offer. It gives us great satisfaction to be a central part of a revolution in the technological development of BBQ technology, enabling anyone to grill at a higher level and to do so safely and reliably- with the potential to do so all year long. But most importantly, our grills make some of the most highly sought-after features both available and affordable.
The Benefits of AEI Gas Grills
Versatility
Our grills are for patios, backyards, and outdoor cooking areas. They are excellent for private use by renters and homeowners, but they are also great for property managers who want to appeal to a bigger crowd and elevate the value of their rental properties. When it comes to boosting curb appeal, Our gas grills deliver an unbeatable return on your investment.
Your Choice of Fuel Types
All of our grills come in natural gas and liquid propane-powered model versions. Both fuel types are cost-effective, environmentally friendly, efficient, and readily available. Your outdoor propane grill will come with a fuel tank that must be swapped out. But they have the benefit of being portable since the fuel tank is housed on board.
Conversely, natural gas-powered grills must be installed in a permanent position. NG grills have the benefit of never needing to have their fuel tanks replaced or refilled. Simply turn the line-valve on and off as needed. If you do not have a natural gas line on your property, you can contact your local utility provider and ask about having a line run to your home. You may build an outdoor grill island or grilling countertop around a natural gas grill, complete with a removable hardcover to protect it during inclement weather. All of our grills are compatible with a custom fit cover to help with this.
Powerful at all Sizes
Not to be confused with camping or backpacking-sized grills, even our smallest-sized grills are larger than most camping grills. Even our portable propane grills are too big to easily transport for camping and are only meant to be wheeled around on the property. There are many high-quality cooking grills and equipment types for camping and backpacking, but here at AEI, we specialize in residential grills for use at homes, apartments, condos, and resorts. Bear in mind that even our smallest grills are powerful enough to do any grilling job handily. While they may be small in size, they still pack quite a punch, much more than you need with you on the average camping trip.
High Quality, Corrosion Resistant Materials
All of our grills are made with either a cast aluminum or stainless steel lid/case for maximum outdoor durability. What's more, all of our grills incorporate stainless steel internal components including the burners and grates. This ensures that your grill will be highly resistant to the ravages of the elements, and with proper care and storage, it's likely that your grill will last for many years. The modular design all but ensures that you'll be able to keep your grill in tip-top shape for as long as you own it. Who knows, your grill may even become a treasured family heirloom. With all the memories you'll make with your AEI grill, that is a very real possibility!
Multiple Mounting Options
All of our grills offer a variety of mounting options. With few limitations, you can mount a natural gas grill on a permanent pedestal, a grill cart, a prefab grill island, or on an outdoor countertop. Keep in mind that wheeled carts and other portable mounting options are only for a propane-powered grill. This is because NG grills must be connected to an in-ground natural gas line, and propane grills carry their propane in a fuel tank in the enclosure beneath the grill itself.
Features that Set AEI Grills Apart from the Competition
Most grills for residential use are just a pit, a metal grate, a lid, and a stand. AEI products stand head and shoulders over the standard grill with multiple features that add functionality, ease of use, and safety. These are especially valuable in an apartment setting where grills may be used by different people with various grilling experience levels.
Storage Options
All our grills have a variety of storage options and grill accessories available depending on your grill model, mounting choice, and fuel choice: grill drawers and storage (for grill carts, grill islands, and outdoor countertops), side shelves (pedestal and cart-mounted grills will come with one, and a second can be added.
Added Workspace
Grill islands and outdoor countertops come with standard countertop space. Additionally, folding workspace panels can be added.
Laser Etched Instruction Panel
All of our grills feature a laser-etched instruction panel that will never fade and ensures you'll always be able to use your grill, even after it has been in storage for months.
Rotisserie Burner and Grill Briquettes
Add an infrared rotisserie burner and spit to wow your guests with whole roasts, large cuts of meat, or whole baskets of traditionally hard to cook vegetables. Another great addition to any grill is "Moonroks" Grill briquettes. They ensure you have a nice even temperature throughout your grill, and prevent flare-ups.
The Industry's Best Safety Features
Our 60-min gas flow shutoff timers (standard on our commercial grills) deliver an industry-leading degree of safety that is ideal for any setting but offers immense peace of mind- especially to property managers and landlords. Our gas grills with shutoff timers are the most sought-after in the industry, adding the incalculable value of uncompromising safety.
Theft-Resistant Knobs
With deeply integrated components, the control mechanisms will never detach without disassembling the entire unit. This is a valuable protection against theft and vandalism. It's a must-have feature for property managers and landlords, but it's also a great confidence booster for anyone who loves their AEI grill.
Finally, The AEI Corporation also carries a wide range of propane, natural gas, and electric outdoor heaters. Like our grills, these heaters are made with the best materials and manufacturing processes in the industry. They fit any outdoor space and any use-case. With the addition of a sheltered deck, patio, gazebo, or porch, you can combine AEI outdoor heaters with your AEI grill set up to make the grilling season lasts all year long. Imagine how much more festive the holiday season could be with AEI grills to feed the whole family!
---
Want more information? Have a question? Contact us today, and we will be happy to help!