Resist Autumn's Chill with Residential Outdoor Patio Heaters
6 minute read | Heaters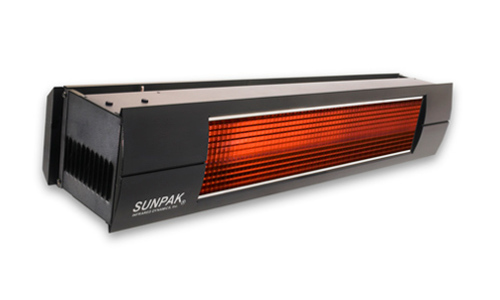 British poet Dylan Thomas wrote that we should "not go gentle into that good night," and homeowners may want to apply that advice about the coming of autumn. After making a substantial investment into creating an outdoor patio, deck, or veranda to enjoy the fresh air, the fall chill will certainly curtail those good nights. But selecting the right natural gas outdoor patio heater can deliver the prolonged enjoyment you deserve.
Residential Propane Heaters are Great at Fighting the Cold
The connection family and friends enjoy during the warm summer nights does not necessarily have to end when temperatures dip below comfort levels. And homeowners are wise to resist being forced back indoors by the changing of the season. There will be plenty of reasons to relax and celebrate outdoors during the fall. If you have not outfitted your patio, deck, or veranda with residential propane heaters yet, consider the restrictions cool temperatures may put on the following gatherings.
Showcasing Your Outdoor Space to New Neighbors
Having the Boss Over for Dinner and Outdoor Drinks
Children's Birthday Parties
Graduation and Honorary Events
Intimate Time with Your Significant Other Under a Moonlit Sky
It's also important to consider the impact dropping temperatures can have on certain people in your circle. Our valued elders may not feel comfortable after temperatures quickly dip just 4-5 degrees. And, small children and infants may be prone to catching a cold. Sustained comfort demands that the outdoor space be suitable for friends and family members of all ages.
That being said, homeowners would be wise to consider the precise product that best warms your outdoor space. Decks, patios, verandas, and other types of open-air gathering spaces have unique aspects that may lend themselves to specific types of residential propane heaters. Top-tier outdoor heater manufacturers have developed niche products that utilize cutting-edge technology.
Select an Outdoor Radiant Heater that Meets Your Needs
A combination of advanced technology and intelligent design have dramatically changed the outdoor heater industry from the days of exposed flames. Those yesteryear products that delivered only warmth to those in close proximity are considered dinosaurs by current standards. Today's outdoor radiant heater has eliminated the risks associated with open flames and deliver warming comfort to anyone within its throw-range. A variety of products are also uniquely suited for homeowner needs, space requirements, and energy resources.
Mushroom Head Portable Outdoor Gas Heaters: This iconic style of outdoor patio heater is widely recognized for its large head and narrow base. A propane tank hidden in the base makes them portable outdoor gas heaters. Brands such as AEI's Patio Comfort and Sunglo models utilize infrared technology that produces radiant heat. That cool autumn wind cannot blow away the radiant heat that warms people and objects, not the surrounding air.
Eco-Friendly Electric Heaters: Products such as AEI's Infratech utilize existing electricity and can be strategically mounted to walls. This gives homeowners that ability to tap into a convenient energy source and not have to worry about refilling tanks. It also opens up outdoor floor space and effectively maximizes your sustained enjoyment.
Natural Gas Outdoor Patio Heater: Today's homeowners enjoy a wealth of natural gas options. The AEI mushroom heater and others can be connected to existing natural gas lines. And, fixed overhead models such as the Sunpak rank among the best options for outdoor spaces with full or partial roofs.
Outdoor Infrared Heater Made in the USA
Purchasing a high quality outdoor infrared heater Made in the USA is both beneficial and an act of patriotism for Americans. Our economy relies on a robust manufacturing base, and outfits such as AEI that make outdoor heaters at home recognize that we are all in it together. That being said, it's also essential that residential property owners get safe, eco-friendly infrared products they can trust.
The Made in USA products from AEI are trending high because of the attention to detail and improved versatility they deliver. The standalone mushroom heaters, for example, can be floor mounted, remain moveable, or even be hung from the ceiling for aesthetic or space-efficiency reasons. These and other products come in bronze, stainless steel, and appealing finishes that blend seamlessly into your outdoor space's décor. The various models can be hung horizontally or vertically to existing walls, and some products are so safe they can be flushed mounted.
Along with enhanced enjoyment, versatility, and aesthetically-pleasing finishes, energy-saving timers and temperature controls are part of the next-generation thinking behind today's high-quality AEI models. These are not the inefficient and risky products of yesteryear that had homeowners weighing the pros and cons of installing outdoor heaters to extend the season. These are must-have products that deliver prolonged enjoyment.
There's no reason to go gentle into autumn's cold good night, install an outdoor radiant heater.
---
Want more information? Have a question? Contact us today, and we will be happy to help!