5 Life Hacks To Turn Your Patio Into A home
5 minute read | Heaters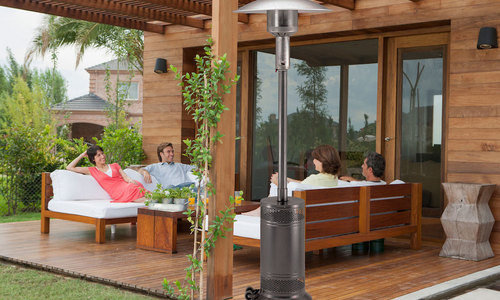 There are multiple ways to create a private escape for lounging and entertaining right in your own backyard. Regardless of the size of your outdoor area, you can create a stylish and inviting outdoor cooking and patio space. Founded in 1966, our goal at AEI has always been to provide our customers with the perfect outdoor heating and cooking equipment. The right equipment and set up ensures an inviting retreat for you and your guests, which can be used after dark and year round.
Homeowners who use their outdoor space for entertaining and cooking soon discover the importance of creating a practical and comfortable area. The more inviting and functional an outdoor area is, the more likely it is that the space will be used. Adding proper seating, overhead covering, heating, lighting, and a grill are all great ways to take advantage of your property's outdoor space. Even better is that while turning your backyard into an oasis, you are actually increasing the value of your property.
An exterior heater can extend your backyard entertaining season while providing you with year-round comfort outside. With a wide selection of mounting options available, outdoor heaters are an option for homeowners, regardless of their patio design. AEI has several products available if you have limited ground space or other limitations. Our line of Infratech, Sunpak, Sunglo, and Patio Comfort heaters offer flexibility, and most importantly, they bring warmth to your outdoor area.
Outdoor Exterior Patio Heating
Our line of Sunpak patio heaters can keep you comfortable and warm with infrared radiant energy that's like the sun's warming rays. They come with the option of a wall, ceiling, or pole mount, allowing multiple placement options. They are simple to operate and are equipped for clean burning and highly-efficient natural gas or propane fuels. Sunpac is produced by Infrared Dynamics, which are leaders in the outdoor comfort industry. AEI has proudly distributed Sunpak heaters and they are used worldwide in both residential and commercial installations.
Infratech electric infrared heaters are a great, eco-friendly option for areas where heating air cannot easily be contained and re-circulated. These low-profile style heaters are available in several models and sizes while offering superior performance compared to gas, with no harmful emissions or odors. Like our Sunpac line, our Infratech heaters are available to be mounted on a wall, ceiling, or pole. Their versatility and convenience make Infratech heaters perfect for almost any outdoor setting.
If you are looking for even more flexibility in the placement of an outdoor heater and don't want to forfeit the glow that tends to draw people together and give off a warm ambiance, Patio Comfort's portable patio heaters are designed to bring warmth, comfort, and enjoyment to your outdoor area. The heaters are available in both propane and natural gas models. Not only do you have multiple mounting options when choosing a Patio Comfort heater, but you also have a wide variety of colors to choose from as well.
Made in the USA, and a leading name in the patio heater industry, Sunglo provides a very flexible line of heaters, allowing them to be placed in both covered and uncovered settings. Sunglo has models available for permanent mounting, as well as models that offer the convenience and economy of a natural gas portable heater. Sunglo heaters are used all over the world in backyard patios, as well as hotels, resorts, and restaurants.
Full and Partial Overhead Covering
Providing both shade and sunlight can be easily achieved with a ton of available outdoor overhead covering options. Adding a covered area allows you to still enjoy your outdoor area regardless of rain or the sun's beaming rays. Lattice is a simple, affordable option that provides shading while allowing a small amount of sunlight. A pergola structure can provide a feeling of a true outdoor room. This type of structure can vary in size and design, and at a range of cost. Umbrellas provide mobility and can be lowered, angled, and manipulated in various ways to get you the shade you desire. Umbrellas offer more flexibility over a permanent overhead cover as far as placement and storage and are a more affordable option for outdoor shading. A permanent structure will require ongoing maintenance whereas an umbrella will most likely be replaced after several seasons of use. You should consider the structure of the overhead cover when deciding where you will want to place your lights, ceiling fans, and heaters.
Patio Set Seating
Quality weatherproof furniture, such as tables and chairs, require less maintenance and are designed to last longer. Eating outdoors can be an enjoyable experience when the area is properly set up. Comfortable guests are happy guests, and by adorning your furniture with accessories, your space will present an extra layer of coziness. There is an abundance of pillows, throws, and cushions in a variety of colors and patterns intended for outdoor use available on the market. Make sure you are buying products that are designed for long-term outdoor use, such as those that are weather, stain, and mildew resistant. Consider using a curtain to create a temporary wall if you desire a more private area for entertaining.
Lighting
Choosing the right lighting ensures your walkways are well lit and allows your outdoor patio to be enjoyed well into the night. Patio lights are available in multiple finishes and designs. As with heaters, your lighting can be mounted in various places throughout your outdoor area. You can place your lighting where it will highlight landscaped areas or architectural features. Proper lighting creates a pleasing ambiance and provides the benefits of helping to keep your property secure.
Outdoor BBQs
BBQs bring family and friends together, and a patio grill is a great addition to any patio setting. Your grill should be placed in a well-lit area, where outdoor grilling tools are easily accessible. Whether you are a novice or a professional griller, AEI is confident that our PGS grills can grill just about anything. We know that outdoor grills should focus on durability and quality. PGS grills are no-nonsense design grills that are both excellent and durable. They offer one of the best warranties available in the gas grilling industry.
Whether you're remodeling your outdoor patio area or creating a new space, contact us today to learn more about our outdoor heating and cooling equipment.
---
Want more information? Have a question? Contact us today, and we will be happy to help!