7 Tips for Buying Outdoor Heaters
8 minute read | Heaters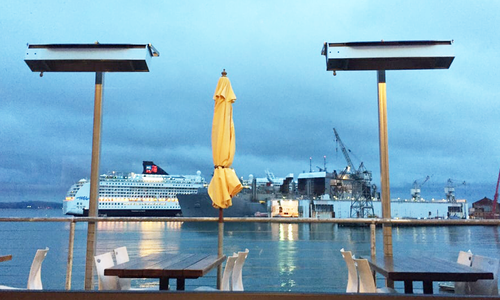 Outdoor heaters do more than just give people a way to enjoy the outdoors without the discomfort, they also let people get more from their home or business. Property owners have to pay for their patio or outdoor area whether they use it or not, and it's all too common for that space to go ignored for months of the year. Here are seven tips to keep in mind before selecting a patio heater that can get the job done.
1. The Flexibility of Freestanding Patio Heaters
The most obvious benefit of a freestanding patio heater is that it can be repositioned whenever and wherever you want it to go. Perfect for businesses that may see limited patio use during the colder months, staff can set the heater based on where people sit without wasting energy. We recommend draft-free models that won't overpower your guests. Patio Comfort designs their products to deliver the warmth and comfort of a gentle ray of sun.
2. The Convenience of Mountable Patio Heaters
Mountable patio heaters are excellent for those who want to free up space on their patio or for patios that have a concentrated area of seating. Plus, mountable patio heaters can still be manipulated to allow heat to reach in different directions.
3. The Power of Propane
Propane heaters are beloved for their power. They can heat a large space in a short amount of time, and their tanks are usually large enough to hold multiple gallons. Propane is usually the best choice for large verandas that are heavily populated and heated on a regular basis. Look for products that are both efficient and comfortable. For example, Sunglo model A270 is a self-contained propane heater that can be transported practically anywhere.
4. The Efficiency of Natural Gas
Natural gas heaters are a reliable, quiet and environmentally responsible choice. Consider purchasing one with a wide range that can reach everyone. Sunpak natural gas heaters are draft free and extremely energy efficient. These heaters use radiant energy similar to warm up objects rather than attempting to heat the quickly escaping air. They also have included warranties for both commercial and residential use.
5. The Affordability of Electric Heaters
Electric heaters are a cost-effective choice for patio heaters. While the actual electricity may cost more than natural gas, the cost of a natural gas heater is higher than its electric counterpart. One thing for buyers to keep in mind though is the cost of installation. Electric heaters may range from $750 – $1,200, depending on brand and patio configuration.
6. The Nature of BTUs
British Thermal Units (BTUs) measure how much heat is produced by the heater. The more space you have, the higher BTUs you'll need. A 1,500-watt heater producing 5,100 BTUs will be able to heat up a tiny patio, but a larger veranda may need a more powerful heater (or several 1,500-watt heaters.) Sunpak makes models at 34,000 BTUs which is perfect for a space of 12' x 12' space.
7. The Style That's Right for You
Commercial and resident property owners alike should look for heaters that complement the rest of their decor. Or you can choose a low-profile heater from Infratech, designed to mix and match with practically any given style. Energy efficient, silent, and odorless, customers love Infratech for its performance and size. Easy to install and designed for low-coverage, Infratech offers a variety of fixtures so practically anyone can get the perfect look for their patio.
No matter what you need from your heater, there are plenty of options on the market for you. The right choice will depend on not only the size of your outdoor space but also how often you use it and what you use it for. When choosing a heater brand, AEI has the selection you need to keep everyone as comfortable as possible without compromising your budget!
---
Want more information? Have a question? Contact us today, and we will be happy to help!