An Outdoor Patio Grill Is A Great Investment For Homeowners
5 minute read | Grills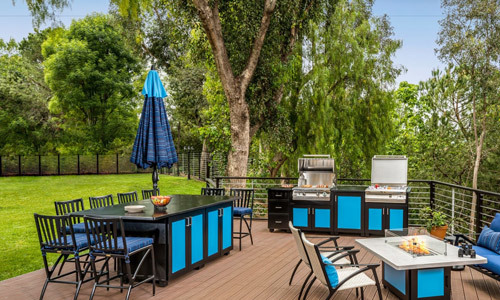 A high-quality outdoor patio grill can make an excellent addition for homeowners—one that not only provides utility to outdoor spaces but one that also can improve the value of a home. Whether it is a natural gas grill or a liquid propane gas grill, you can expect a quality grill to provide consistent grilling power year after year. From summer barbecues to birthdays, graduations to weddings, the right grill makes it possible to entertain your friends, family and more.
Benefits of a High-Quality Patio Grill that is Built to Last
High-Quality Construction
As a homeowner, you are well aware of the difference in quality between low-end products and high-end products. While you don't have to purchase the most expensive offerings out there, you can definitely get a longer lasting, more durable product when you spend a little more. When it comes to grills, the difference is found in the materials, craftsmanship, and function of the product.
High-quality grills like the A-series grills from AEI are hand-crafted using durable, dependable materials—like rugged permanent molded aluminum, commercial quality stainless steel, brass, and porcelain. Yes, these materials cost more than those used to make cheap grills, but they also tend to last decades if not longer.
Improved Performance
You don't have to be a grill master to appreciate a product that performs well. A high-quality grill will burn strong, evenly and consistently. You get the same outcome every time you use it. You can seriously sear meats using intense heat outputs, or slowly roast your food over low heat without worrying about inconsistent heat output.
Natural Gas or Liquid Propane
A high-quality grill can be installed in your outdoor area to receive natural gas directly from your gas line. That means you don't have to refill any propane tanks. Or, if you prefer propane, you can get finer grills that use propane to deliver the same excellent cooking capabilities you expect from a natural gas grill.
Permanent Installation
One of the things that sets a great grill apart is the way you can incorporate it into your outdoor living area. These grills can be installed in a variety of settings to become a part of the overall aesthetic of your home. When guests are outside, they will see a grill incorporated into your outdoor kitchen—one that looks like it belongs there.
Other Installation Options
Some high-quality grills are not limited to permanent installations. They can be installed on pedestals, or even on wheeled mounts for limited portability. Needless to say, you have options for how you install your grill and how you choose to present it.
Environmentally Friendly and Cost Effective
Both natural gas and liquid propane are considered environmentally friendly and low-cost fuels. You can do a lot of grilling without worrying about the emissions you are creating or the cost of the fuel you are using to cook your meals.
Increasing the Equity of Your Home
Buyers can find well-made outdoor cooking and entertaining areas extremely enticing when considering whether to purchase a home. Fireplaces and seating areas are attractive enough on their own. But when you add a high-quality natural gas or propane grill to the mix, you offer a complete package that buyers can take advantage of as soon as they take ownership of the property.
Taking Advantage of Your Outdoor Area
Spring, summer, and fall are all great times to grill and enjoy the natural world just outside your door. With the installation of an outdoor patio grill, you make your outside area even more attractive to you and your family. You can get outside, make some amazing food, and enjoy using a piece of equipment that is the envy of everyone who sees it.
Host Events
If you get the right outdoor patio grill, you will have the ability to entertain and do it well. Your grill will be able to handle heavy use and perform perfectly over and over.
Steer Clear of Low-Quality Grills
You only have to take a trip to a big-box store to find a seemingly endless array of outdoor grills for sale. Many of them are inexpensive and seem to be begging you take them home. But if you have felt a twinge of hesitation when looking at these offerings, your instincts are on-point. The fact is, low-quality grills are more trouble than they are worth. Yes, they can ignite and channel propane and be used to cook some types of food, but they don't do it well—and they definitely aren't made to last.
In contrast, high-quality grills are constructed of sturdy materials and carefully designed to deliver a superior cooking experience. They stand the test of time and they look good doing it.
Contact Us for More Information on Outdoor Patio Grills
Whether you are looking for a stainless steel natural gas grill, a grill with rotisserie burner, or any other type of quality built-in outdoor gas grills, we are here to help. Please contact us today to learn more.
---
Want more information? Have a question? Contact us today, and we will be happy to help!