Bring in the New Years with Grilled Oysters
5 minute read | Recipe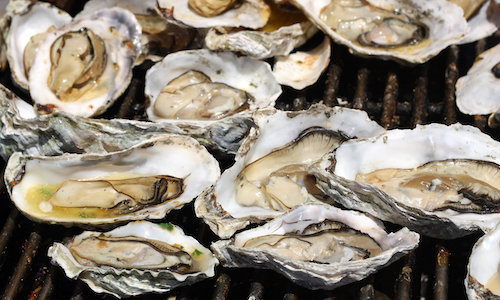 It's hard to believe that New Year's Eve is almost here. What better way to ring in the new year than throwing a party complete with party hats, champagne, and grilled oysters! That's right oysters are tasty seafood treats that add the perfect touch to any occasion, but are perfect for a special celebration. Impress your family and friends with this grilled oyster recipe they can customize with their favorite seasoned butter. PGS Commercial grills have all the features you need to grill like the pros.
If you are familiar with oyster preparation, you know the time it takes to shuck them. For those of you who aren't aware, shucking is the process of opening the hard shell to uncover the tasty meat inside. This is usually accomplished by carefully using a special shucking knife. But we're here to tell you that if you grill your oysters, no shucking is needed. We have a scrumptious recipe that you can easily cook on your grill! And it only takes about two minutes or so and the oysters magically pop open when cooking. This easy recipe uses the grill's heat in order for the oyster to cook in its own delicious salty liquid. Then topped with your favorite seasoned butter like white wine butter, Parmesan butter, or garlic herb butter enhances the experience even more. Let's get those oysters ready to go.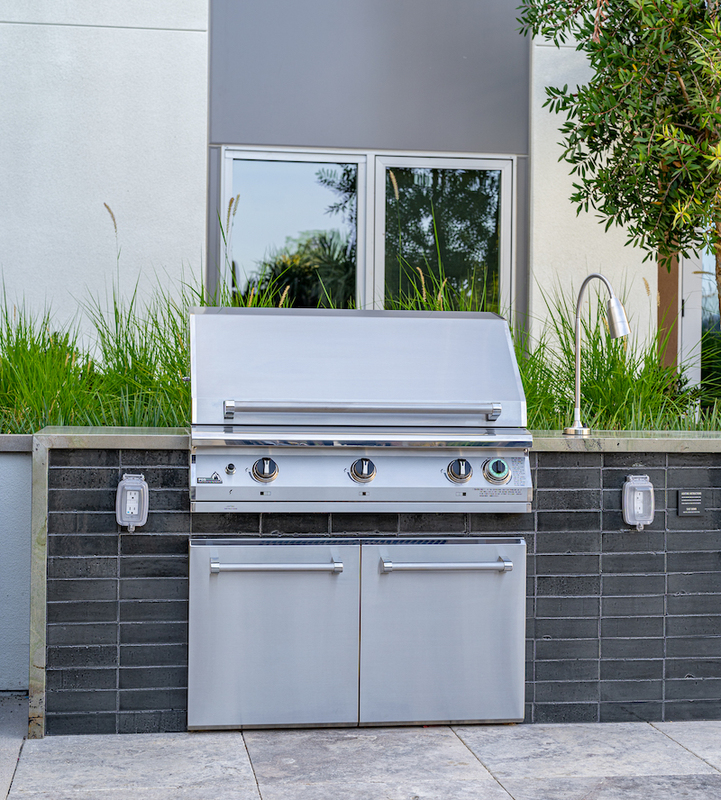 The Best Oysters For Grilling
Oysters are categorized as small and large. Large oysters are the best for grilling. Believe it or not, there are different varieties of oysters based on what ocean they are found in. Atlantic oysters, like Blue Point and Wellileet, feature a larger shell and a briny flavor. Pacific Oysters like Hama Hama and Blue Pool are a bit smaller and taste sweeter.
How To Properly Prepare Oysters Before Grilling Them
Purchase The Day of the Party: It's best to purchase the oysters on the day of your party or when you plan to serve them. The fresher the oysters are the better the taste and texture. They should not smell fishy. If they do, discard them. Clean each one with a brush and cold water to remove all dirt, mud, and debris.
Store In Refrigerator: Store them on ice, cover with a tea towel and keep them in the refrigerator. Do not use plastic wrap or an airtight container.
Get A Platter Ready: Prepare a serving platter. Pour small beans, rice, or kosher salt on the platter to create a level surface for the oysters uneven shells.
Preheat the grill to medium-high heat: A PGS grill will provide better heat distribution.
Arrange Oysters Belly Side Down: Cover a cookie sheet or sheet pan with kosher salt. Oysters have a flat side and a more rounded belly side. Arrange the oysters belly side down. You can also use aluminum foil. Simply take a sheet large enough to cover the pan, crumple it up and create little pockets to set the oysters into. This will keep them level and prevent the juices from running out.
Place Oysters Directly on Grill: When the grill is heated, using tongs arrange the oysters directly on the grill. Close the lid and cook for three minutes. They will partially open when ready to remove from the grill. Using your tongs, transfer to the sheet pan.
Carefully Open Oysters: When cooled enough to touch, take an oyster knife and wedge it into the opening, and twist it until it opens. The goal is to open the oyster without spilling out the juice called oyster liquor. Take the meat out of the shell. If the oyster did not open, discard them because they aren't safe to eat. They must have opened.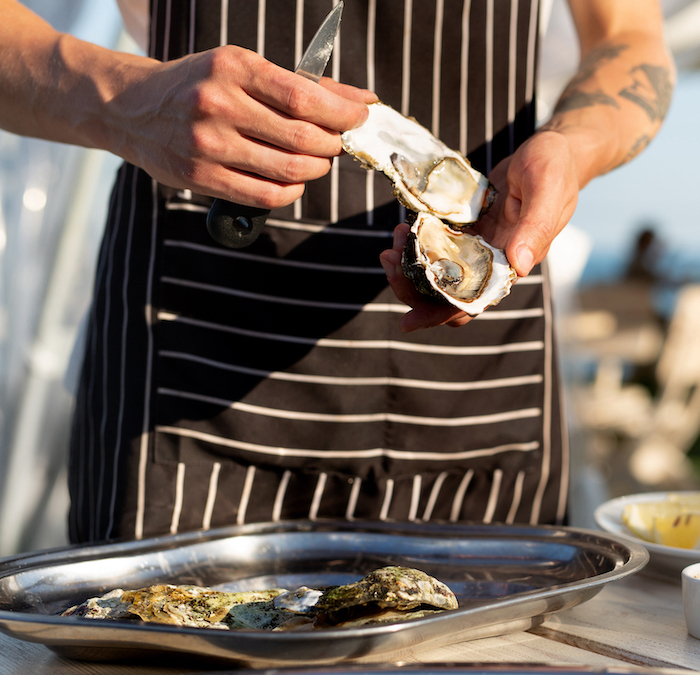 Add Seasoned Butter: Top the oysters with seasoned butter and return to the grill for a few more minutes until the butter melts and is bubbly with the oyster liquor.
Serve Bubbly And Hot: Transfer the cooked oysters to the prepared platter. Serve right away.
Seasoned Butter Recipes To Enhance Grilled Oysters
Seasoned butter is what elevates this grilled dish. Of course, plain salted melted butter is delicious but the addition of savory herbs, spices, and citrus notes takes your palette to the next flavor level. Simply combine all ingredients until smooth, shape butter into a roll, wrap in plastic wrap, and store in the refrigerator until ready to grill. Slice the butter into coin shapes to place on the oysters. Experiment with different herbs, cheeses and other ingredients to create your very own seasoned butter. Creating your very own recipe can be one of your New Year's resolutions.
Garlic and Herb Butter
This quick and easy recipe has a kick of heat with cayenne and black peppers.
Ingredients
3 tablespoons unsalted butter, softened

1 clove minced garlic

2 tablespoons fresh parsley chopped

1 tablespoon fresh chopped chives

1 pinch of cayenne pepper

1/2 teaspoon lemon zest

1 teaspoon lemon juice

1/4 tsp freshly ground black pepper

Pinch of sea salt
Instructions: Combine all ingredients and combine until smooth.
Basil and Parmesan Garlic Butter
This delicious butter recipe is creamy and decadent with a citrus hint.
Ingredients
1 stick softened unsalted butter

2 cloves minced garlic

2 tablespoons fresh basil chopped

1/2 teaspoon lemon zest

2 tablespoons lemon juice

Pinch of salt

1/4 cup freshly grated Parmesan cheese (to sprinkle on cooked
Instructions: Combine all ingredients except Parmesan and combine until smooth. Sprinkle Parmesan on as soon as the oysters are removed from the grill.
White Wine Butter
This decadent butter features white wine enhancing the grilled oysters perfectly.
Ingredients
1 stick softened unsalted butter

1 clove garlic minced

1 tablespoon dry white wine

1 tablespoon chives chopped

1 teaspoon kosher salt

1/2 tablespoon fresh parsley chopped
Instructions: Combine all ingredients and combine until smooth.
Side Dishes That Pair Perfectly With Grilled Oysters
Grilled Oysters pair perfectly with a loaf of crusty bread. Reserve the seasoned butter to spread over the bread or encourage guests to use the bread to soak up all the oyster and butter juices. Potato wedges, a fresh green salad, pasta salad, or any steamed vegetable like broccoli asparagus, or green beans make nice sides while adding a touch of color to the table.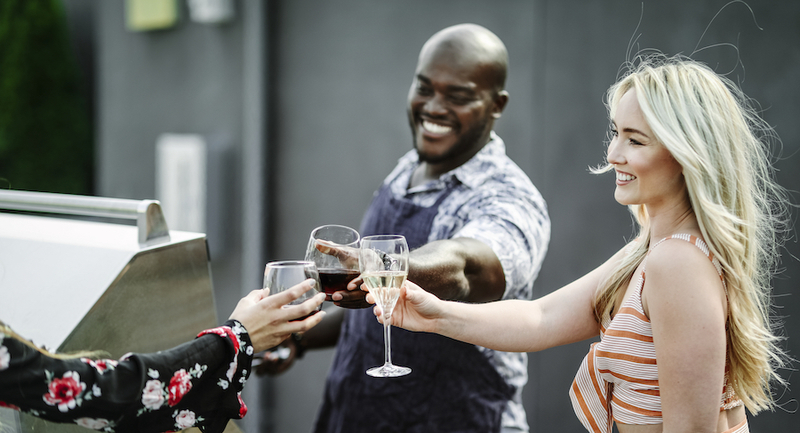 PGS Grill Legacy T-Series Perfect For Multifamily Industry
The Legacy T-Series is a leading grill for the multifamily industry and PGS commercial grills are designed to be used multiple times every day. This durable community grill was specifically developed for locations like condominiums, apartment complexes, swimming pools, and other community gathering spaces. The one-hour gas flow timer, the lift-assist handle, and the easy accessibility make the legacy T-series, the ideal grill for preparing everything from hamburgers and hotdogs to more decadent dishes like grilled oysters. Plus, . When you use the top-of-the-line grill and tools you can spend more time enjoying the get-together and the food!
Whether you are grilling for your family and closest friends or for a large New Year's Eve celebration, you can rest assured that your PGS Grill Legacy T-Series will help you prepare amazing food. Cheers to a new year and a new grill.
---
Want more information? Have a question? Contact us today, and we will be happy to help!