Built-in Outdoor Gas Grills vs. Portable Propane Grills
7 minute read | Grills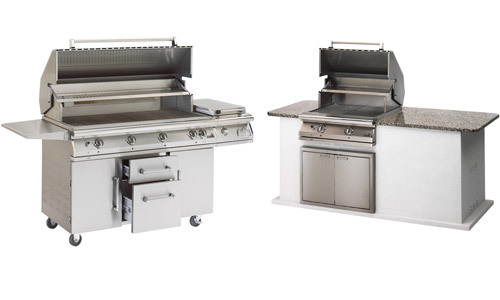 When shopping for the perfect grill for your home or to add amenities to a multi-family dwelling, you have two options. Those are:
Built-in grills — Either a pedestal mount or an island mount
Portable grills — Cart-mounted grills
There are a few advantages to both and because our grills feature stainless steel lid and basin or a cast aluminum lid and basin. Either hold up well to the elements, the heat of cooking and give you a quality grill that will last for years.
Either way, you go; both make an excellent addition to outdoor living areas, and there are options available for smaller patios or larger grills for more substantial locations.
What's the Same Between Built-in Outdoor Gas Grills and Portable Propane Grills
Built with Pride — One of the first things that are similar between our built-in outdoor grills and our portable propane grills is the quality you find inside each of our grills. We design and manufacture grills that we are proud to have in our homes and that we hope you will be proud to have in your outdoor living space or patio.
Liquid Propane or Natural Gas — Another Similarity is that both options for our mounted or mobile grills have natural gas and propane models available. You can choose the grill that runs on the type of fuel you want. So, if you already have natural gas hook-ups on-site, an NG grill might be your best option; if you need a portable grill then an LP grill may be your best option. The only difference between the two identical models is that one has NG fittings, and the other has LP fittings.
Stainless or Aluminum Grill Lid and Basin — Quality materials keep our grills beautiful for years. You can choose between a grill with a stainless steel or a cast aluminum lid and basin. Both hold up to heat, weather, and heavy use. But, again, you choose between the type of metal you want the outside of your grill to be. While cast aluminum grills might be cheaper overall, the main consideration between the two comes down to aesthetics.
Stainless Steel Internal Components — With over 40 years of grill design and manufacturing experience, we have learned that stainless steel is the way to go when you build the internal components of gas grills. Whether you choose a portable propane grill, natural gas patio grill, or one of our built-in grills, you are buying quality stainless steel internal components. Many of those components have lifetime warranties. Check out the options for burners, grates, and accessories. Delicious grilled food starts with quality grills.
Mount it or Cart it — Almost all of our grills come with a design that makes it easy to mount the grill in place or mount it to a cart. We build our grills to give customers more options for installation. For smaller spaces, a portable mount for a grill cart allows you to utilize the space you have and store the grill for later use. If you have a designated spot for a grill, then mount it. Its quality manufacturing allows it to stand up to the elements.
Built to Last — with quality materials backed by 40 years of design and manufacturing for grills, each of our grills and all of our accessories will allow you to grill delicious meals year after year. Be sure to check out our warranty and owners manuals.
Built-in Grills
A built-in grill is one that you mount in place. That might be mounted on a pedestal, or a grill cart bolted to the ground, or on an outdoor countertop, or on a grill island. These grills are non-movable semi-permanent fixtures or appliances. They populate outdoor grilling areas, such as you would find in a multi-family dwelling or a designated grilling area on a patio. A mounted grill is there until you remove it.
Perfect for Natural Gas
Built-in patio grills are perfect for natural gas. Because the grill is mounted and unmovable, you can pipe natural gas right to the grill—no need to lug around canisters of propane.
Mounting Options
Many mounted grills have pedestal mounts. You can also choose to mount the grill on a grill island, which gives the grill a permanent home. Another option for mounting a grill is to put it on a grill cart without wheels, that is bolted to the ground. However, the cart is stationary, and so the grill is not movable.
Propane or Natural Gas
Just because the grill is mounted does not mean it cannot run on propane. If you don't want to pipe gas to the grill, use a propane grill.
Built-in grills are top-rated in commercial settings and multi-family dwellings. They are easy to install, and they make managing a grilling area much more accessible. Plus, they are a massive hit on the amenity list for these units.
Portable Propane Grills
All of our portable grills that we design run on LP — Liquid Propane. We design the unit to hold a propane tank beneath the grill—a propane patio grill runs on LP only.
Because the grill is not mounted, it is movable. That means you can position the grill where you want to grill, then store it out of the way when you're done cooking when it is mounted to a cart with wheels. Being able to move the grill has many benefits.
It is easier to position the grill in your outdoor living space to accommodate other activities or bring in a second grill for larger parties.
Because the grill is moveable, you can store it when it is not in use. That ability frees up space on the patio for other activities. If your backyard is smaller, you gain more use from that space by moving the grill when it is not in use.
In a commercial setting, portable propane grills make it easier to manage grilling areas and equipment. You can safely store the grills out of the way when not in use, and residents can wheel the grill out when needed.
Which type of grill is better for your use? If grilling is a constant activity around your home or apartment complex, a mounted grill can make life easier. On the other hand, if grilling is something you occasionally do, you can store a portable propane grill when not in use, giving you more room to enjoy outdoor living spaces. Either way, you go, we have a grill that is perfect for your grilling needs. For more information about grills, warranties, or grill parts, give us a call or reach out to us online. We are here to improve the quality of your outdoor grilling experiences.
---
Want more information? Have a question? Contact us today, and we will be happy to help!