Can An Outdoor Space Heater Work Under A Covered Patio?
7 minute read | Heaters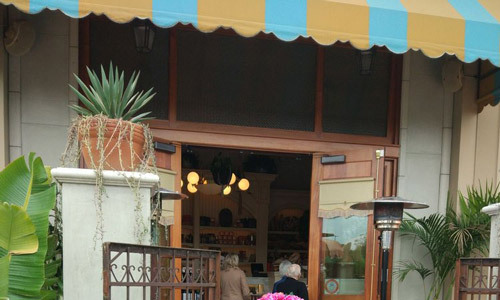 Home and business owner with covered patios are often hesitant to introduce an outdoor space heater. Although they would like to extend comfort to these spaces, a heater for patio use is too often understood in open-air settings. Fortunately, advanced technology and state-of-the-art engineering have made radiant heating a safe and desirable way to enjoy the night air, even under a covered patio.
How to Use Outside Natural Gas Heaters in Covered Patios
It's important to remember that any product can prove harmful if used incorrectly or carelessly. Outdoor space heaters are no different and require users to be mindful of safety considerations. By following reasonable guidelines, your friends, family, and valued community member can enjoy their full benefit. That being said, these are things to consider when installing a heater in a covered patio area.
Portable Mushroom Heaters
Mushroom heaters rank as the most iconic models because we see them virtually everywhere. From outdoor cafes to your neighbor's back deck, mushroom heaters are a tried-and-true product that evenly disburses warmth. While they are uniquely suited to extend comfort in non-covered spaces, they are just as welcome under roofs.
As long as these highly portable products have enough vertical clearance to meet the manufacturer's safety standards, mushroom heaters provide the agility to handle a variety of areas. High-quality AEI products such as the Sunglo outdoor patio heater call for 18 inches above, 24 inches around and 84 inches of distance from combustible materials. The outdoor heater manufacturer also offers Patio Comfort model that requires 24 inches above, 27 inches to the sides, and 84 inches down from the heat source. These portable mushroom heaters offer top-tier versatility, safety, and outdoor comfort.

Outside Natural Gas Heaters
Natural gas mushroom heaters are designed to be permanently installed, and tie directly into your gas line. These products tend to be highly popular in commercial settings with business owners who want to maximize existing natural gas lines.
Like the portable versions, they also must meet minimum safety clearances. But given that infrared heat technology has mitigated exposed open flames, many can be hung with two feet or more of clearance above.
In commercial settings, fixed box heaters tend to be popular for a variety of reasons. This class of outdoor space heater can be installed in closer proximity to an existing roof or overhang. That allows them to blend into the background. Customers enjoy the warming comforts in spaces that businesses such as eateries want people to also embrace their unique décor. Simply put, box heaters quietly add to the ambiance.
That being said, AEI's Sunpak model can be safely installed with a minimal 13 inches of clearance above, 17 inches to each side and 48 inches below. Keep in mind, these minimum safety standards pertain to combustible materials. The Sunpak is also adaptable with propane making them a reliable option for homes and businesses not using natural gas.
Industrial Electric Infrared Heaters
Although many AEI models enjoy infrared radiant heating technology, perhaps no other product has been as closely associated with that advancement than the industrial electric infrared heaters. Everyday people experience them in large retail outlets at exits and entrances on unusually cold days.
These fixed box heaters throw a type of heat that warms people and objects within their range. Despite their wide, energy-efficient range, products such as AEI's Infratech heaters require even less clearance than propane and natural gas models.
The Infratech safety requirements call for only 6 inches of clearance above, a modest 18 inches to the sides and 36 inches below. Needless to say, that makes them a highly sought after outdoor space heater.
Minimum clearances from combustibles:
| Brand | Above | Sides | Below |
| --- | --- | --- | --- |
| Sunglo | 18" | 24" | 84" |
| Patio Comfort | 20-24" | 24-27" | 84" |
| Infratech | 6" | 18" | 18-36" |
| Sunpak | 9-13" | 12-17" | 48" |
"How Many Patio Heaters Do I Need?"
Home and business owners have one question in regards to outdoor heaters: How many patio heaters do I need to properly heat the space? The answer depends largely on the size of your patio, your patio layout, and your heating needs. As long as you have the minimum safe clearance, AEI outdoor patio heaters cast a full heat disbursement and are well-known in the industry for their cost-efficient energy savings.
---
Want more information? Have a question? Contact us today, and we will be happy to help!