Celebrate New Years Day With The Ultimate Grilled Bloody Mary Recipe
5 minute read | Recipes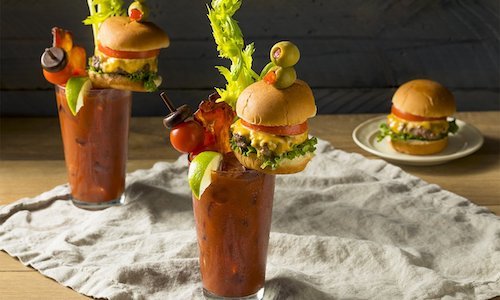 Imagine it's New Years Day, and you are in recovery from the night before. Three things are essential. Getting fresh air on an outdoor patio, eating deliciously prepared food on a PGS Grill, and a top-shelf Bloody Mary. Call it efficiency if you will, but perhaps the best way to recover from the night of partying is to combine all three.
That's why preparing sliders with grilled bacon as a Blood Mary complement while sitting under an outdoor patio heater is mission-critical. The following recipe for a top-shelf Bloody Mary, grilled bacon sliders, and grilling tips can help you usher in the new year the right way.
How To Make A Top-Shelf Bloody Mary
Running into the nearest supermarket or convenience store and grabbing a bottle of pre-made Bloody Mary mix typically indicates poor planning. Rather than down a cheap mix on the fly, it's worth gathering the best ingredients possible well in advance of New Years Day. That being, these are the items necessary for an outstanding Blood Mary.
Old Bay Seasoning
3 ounces of Grey Goose, Absolut, Cîroc, or a top-shelf vodka of your choice
1 teaspoon of dried dill
1 teaspoon of ground black pepper
1 teaspoon ground celery
3 dashes of Worcestershire sauce
3 dashes of Tabasco sauce
1 ounce of pickle brine
4 ounces of tomato-vegetable juice
1 lemon wedge
1 teaspoon of red horseradish
Crafting a great Bloody Mary won't take a professional mixologist once you have the ingredients prepared. Squeeze the lemon wedge's juice into a shaker and add all of the ingredients. Shake well. Put ice in a 16-ounce glass and pour the Bloody Mary mix into it. Line the rim with Old Bay Seasoning, and you're ready to garnish it with a slider.
How to Make A Great Slider Garnish
While the Bloody Mary will provide a little hair of the dog that bit you, a perfectly grilled bacon slider will ground you. Like the top quality beverage, holidays call for something a little extra special. This grilled bacon slider recipe should suffice when grilled to perfection.
Gather These Ingredients
1 pound of lean ground beef (Angus if available)
4 slices of thick bacon
1/4 cup of favorite BBQ sauce
2 tablespoons of garlic powder
Sliced dill pickles
Lettuce
1 sliced tomato
½ onion, sliced
American or Swiss cheese
Slider rolls (potato bread if available)
Condiments
Skewers
Place the ground beef in a bowl, add the BBQ sauce and garlic powder. Mix thoroughly. Portion out sliders into 2- to 3-ounce patties. A thick slider is preferable because a quality PGS Grill allows you to deftly manage heat and lock in the juices.
When grilling a slider patty to perfections, one tried-and-true technique is to only flip the slider once. This tends to lock in the flavor effectively. When the slider patty is nearly complete, fold one slice of cheese, so it fits neatly over the patty. Close the lid, turn the heat to low, and let it melt.
It's critical to have the slider rolls prepared in advance. Apply your condiments of choice to one side of the roll. Add a layer of lettuce, tomato, and onion, to the other. The trick is to have that slider bun ready for a warm, juicy burger with cheese and grilled bacon.
How To Make Bacon On An Outdoor Gas Grill
The smell of sizzling, smoky bacon is worth waking up relatively early on New Years Day. But as many home chefs already know, cooking bacon can be tricky. Preparing it on an outdoor gas grill can prove challenging without a few insider grilling tips.
The primary reason that bacon presents a cooking challenge is that the grease can ignite easily when in contact with an open flame. Needless to say, you will be bringing the two into close quarters.
There are two techniques that grilling enthusiasts employ to maximize the flavor while avoiding a flare-up that burns your bacon to a crisp. The first is simply to use a cast-iron skillet and place it directly on the grates. The skillet should have high sides to prevent bacon grease from splattering on the grates and causing flare-ups.
Moisten the interior of the skillet with a light coating of non-stick oil or grease. Place the slices of bacon flat across the pan without them overlapping. Cook at a medium to low heat with the lid closed until one side is nearly crisped. Then flip the bacon strips over. Grilled bacon may not seem vastly different from cooking it indoors at first. But the locked in smoky flavor you gain from making it on a gas grill is out of this world.
A second way to make grilled bacon is to use a cast-iron skillet in a slightly different fashion. Use the same preparation steps but fire up one side of the PGS Grill and set the skillet on the other. This technique is referred to as "indirect heat" grilling. The basic idea behind it is that you will be slow cooking the bacon. During the process, the flavorful smokiness and juices will be infused at a higher rate. Granted, grilled bacon using an indirect heat method takes longer. However, the flavor is worth it.
How To Extinguish A Bacon Grease Fire
In the unfortunate event that a bacon grease spill occurs, it's important to know how to put out the flames. Grease fires cannot usually be doused with water and extinguished. In fact, water can exacerbate the problem by spreading the fire. These are steps to take.
Leave the skillet in place.
Cover the flames by putting a lid on the skillet or closing the gas grill lid.
Turn off the heat.
Smother flames using salt or baking soda.
If the flames grow, use a fire extinguisher.
Remember that safety is job one, and call the fire department if you feel this could escalate.
Let's assume that everything went smoothly. Remove the grilled bacon from the pan and place on paper towels. Then cut them in half and place them on slider rolls.
Assemble Your New Years Day Grilled Bloody Mary
Build your grilled bacon sliders and insert a long skewer that will reach the bottom of the Bloody Mary glass and allow it to rest on the rim. Consider adding a long celery stalk and another skewer of cherry tomatoes, olives, lime wedges, or fun foods to dress it up.
While there may be no wrong way to make a grilled Blood Mary on New Years Day, there's definitely a right way. Consider a top-shelf beverage garnished with sliders prepared on a high-quality PGS Grill.
---
Want more information? Have a question? Contact us today, and we will be happy to help!