Choose Outdoor Patio Heaters Based On Throw Radius, Fuel Source & Style
5 minute read | Heaters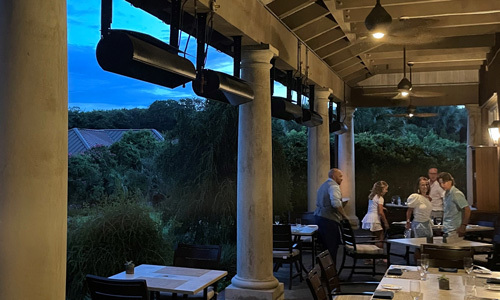 Although outdoor heaters are the key to extending daily and seasonal use of patios and decks, not every homeowner takes advantage of them. The reasons tend to vary from worry about a fire to not knowing how to determine which type of residential propane heater to select. Concerns about outdated products that use open flames and lack of information end up reducing the use of fresh-air spaces.
It seems counterintuitive to invest in a deck, patio, or veranda, and not fully enjoy it. How many times have you ducked indoors on a crisp spring or fall evening because of the chill? And how many months does your outdoor living space go unused because seasonal temperatures leave you and your loved ones uncomfortable? By understanding how to select the right propane, electric, or natural gas heater, you'll be able to enjoy the full use of your outdoor space in style.
Decide on the Best Fuel Source Option
Before diving into the most suitable fuel resource to warm your deck or patio, it's essential to dispel a myth about propane heaters. Outdated products may still use open flames to warm the surrounding air. By contrast, the next-generation technology used in our patio heaters deploys infrared rays.
The critical difference is that infrared rays warm the objects in their throw radius, not necessarily the air around them. When a breeze comes through the area, flame-driven heat is whisked away. Infrared warmth is not affected by wind, and you remain comfortable.
The other important aspect of avoiding open-flame heaters is the risk of fire. Because the infrared heaters do not generate an exposed flame, homeowners need not worry. That being said, these are the three fuel options that can power a residential heater.
Liquid Propane: Outdoor gas heaters that rely on propane are often portable. Propane heaters are usually powered by a tank that is housed in the base. The popular mushroom heaters used to extend the hours of outdoor restaurant seating are a good example. Homeowners also gravitate toward this type of patio heater because it can be repositioned when cool. These propane patio heaters also require no installation. Simply swap out the tank at a convenience store or gas station.
Natural Gas: Unlike liquid propane products, natural gas heaters require installation. These models must safely be secured in place. Property owners who utilize natural gas for indoor cooking and heating can have a certified technician run a line to the patio heater. This could involve a fixed-in-place mushroom heater, or a box heater mounted overhead. Property owners tend to like these outdoor gas heaters due to their convenience. Top-tier models come with wall-mounted control panels and shutoff timers that eliminate wasted fuel expenses.
Electric Heaters: It's important to distinguish between the cheaply made space heaters you can buy at a big box retailer and a commercial-grade unit. High-quality outdoor electric heaters require a designated power line. They are considered a cost-effective way to warm patios, decks, and verandas. The best units are typically mounted overhead or on sturdy walls. Outdoor electric heaters usually have control panels with shutoff timers as well.
Selecting a residential heater based on fuel resources calls for some long-term planning. If your deck or patio gets reconfigured to accommodate friends, family members, or celebrations, it may be prudent to opt for mushroom propane heaters that can be moved as needed.
Homeowners who possess overhead supports, natural gas, or outdoor electric heaters could reduce the need to take up valuable square footage altogether. When making a choice, consider fuel availability, overhead, and wall supports, as well as how large a footprint you have to place patio heaters.
Choose Patio Heaters According to Throw Radius
Maximizing your comfort calls for a patio heater strategy that doesn't leave anyone in the cold. Each infrared patio heater has a specific throw radius and overhead models can vary by how they are mounted.
An industry-leading model such as the Sunglo residential propane heater pushes infrared rays up to 12 feet. This means homeowners with a 24-foot deck or patio would likely need two units to reach from end to end. Of course, the depth of the space must also be taken into consideration.
Outdoor electric heaters that are mounted to walls or ceilings also provide an expansive throw radius. Property owners who choose an electric or natural gas heater generally position them to target the most occupied areas. For example, permanent al fresco seating is a common way restaurateurs deploy them. The point is that efficient usage involves accounting for each unit's reach.
Consider A Patio Heaters Appearance
The days of sterile residential outdoor heaters are largely a thing of the past. Leading manufacturers understand that homeowners want fixtures to perform a task and look good doing it. That's why the best patio heaters come with different coatings, designs, and can even disappear into ceilings. These are ways the following models can enhance your home's décor while extending daily and seasonal use of outdoor living spaces.
Anytime a deck, patio, or veranda does not have outdoor heaters, it is effectively underused. Residential property owners invested in the quality of life that comes with enjoying fresh air and sunshine. There's no reason to be driven indoors due to cooling temperatures. By factoring in throw radius and aesthetic appeal with your preferred fuel source, you can choose the best outdoor heating system.
---
Want more information? Have a question? Contact us today, and we will be happy to help!