Choosing The Right Heater And Mounting Option For Any Outdoor Location
7 minute read | Heaters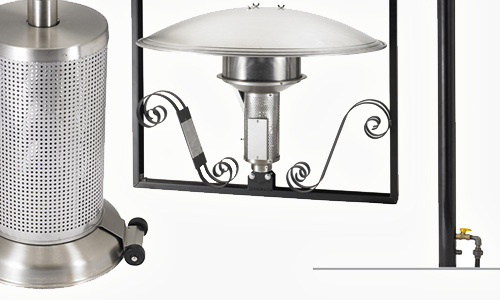 There is a heater for everyone and every situation! Some heaters have different benefits over each other, but which heater is right for you will depend on your situation, location, and your specific needs. With the variety of sizes available, along with a multitude of design choices, you may decide you need or want more than one kind of outdoor heater. Here are some key differences in the various heaters available to meet your needs.
Heater Mounting Options
Outdoor heaters can be portable, fixed, or mounted. They are even available in slim heater options. Once mounted to a wall or ceiling, mounted heaters are generally not considered portable. Wall mounted heaters are ideal for small spaces. For example, a heater can be mounted on a wall or from the ceiling to be used in an enclosed outdoor dining area. Floor mounted heaters are commonly used around pool areas, and pole mounted heaters are used to heat walkways. With so many options available, it isn't hard to find the perfect heater in today's market.
Mounted Outdoor Heaters
Mounted heaters are generally powered by natural gas or electricity and are ideal for areas where there is limited floor space. Some heaters can be used safely in enclosed or covered areas and some can be mounted flush with your wall or ceiling, to really blend in with the decor. In outdoor spaces that will need heating, it makes sense to install mounted heaters; especially if you have a nearby wall or ceiling available.
Portable Outdoor Heaters
You will find that most portable heaters use propane and are available in a variety of sizes. Outdoor patio propane heaters can provide warmth to an outdoor space rather quickly and should never be used in an enclosed area. Portable propane heaters are ideal in areas where it is impractical to install heaters but you desire to have heat available. A propane heater doesn't require professional installation and its portability is a great advantage over other heaters.
Patio Heater Fuel Source
Most outdoor heaters will be fueled by propane, natural gas, or electricity. Which type you choose will most likely depend on the type of heater you think can best meet your needs. Fortunately, all three of these fuel types are inexpensive, environmentally-friendly, and use infrared heating technology to safely keep people warm.
The Zone - Effective Heating Radius
Consider how you will use your heater when determining the size and shape you need. If your area will be small and enclosed, this will rule out several options. Likewise, if the area you want to heat is a large open space, this will rule out a variety of other options, too. Each heater has an effective heating radius, also known as "the zone", and you should use this to determine the type, placement, and number of heaters you'll need to adequately heat your patio.
Efficient & Durable Patio Heaters
Infratech Outdoor Heaters
Infratech electric infrared heaters are an eco-friendly option and are available in slim, single, and double-element heaters; all with different outputs. You can choose between a variety of low-profile heaters that complement your existing decor style. These heaters feature quiet operation and great fuel efficiency
Sunglo Exterior Heaters
Sunglo portable propane heaters are ideal for areas where you want the freedom to move or remove heaters as needed. A leading name in the outdoor radiant heating industry, Sunglo heaters are made in the USA. Many hotels, resorts, restaurants, and backyards around the world use Sunglo heaters to provide comfort and warmth.
Sunpak Patio Heaters
Sunpak overhead patio heaters have set the standard for both quality and durability in outdoor heating. They offer heaters for both commercial and residential use. All of their heaters can burn natural gas or propane fuels. They offer a variety of BTU models with their 25,000 BTU, offering you a coverage area heating of up to a 10 x 10 ft. space, and a 34,000 BTU model providing warmth to an area as large as 12 x 12 ft.
Choose The Finish For Your Heater
There's no need to compromise when shopping for an outdoor heater that is pleasing to the eye. There are several finishes available, such as stainless steel, bronze, flush-mounted and more. Many floor-standing models are available that add a nice aesthetic touch to any outdoor area, such as Sunglo's Natural Gas A242 Model, which is available in both a black and stainless steel finish. In addition, the A242 provides the economy and convenience of a natural gas heater combined with the flexibility of a portable heater.
No matter the size or layout of your residential or commercial patio, there is a heater to fit and surpass your needs. From an overhead patio heater to other types of exterior heaters, you can choose one that meets all of your needs. Heater stack switches and other features make it simple to use your new heaters.
---
Want more information? Have a question? Contact us today, and we will be happy to help!