Condos, Apartments & Townhome Developers, Gain Edge with Patio Heaters
9 minute read | Heaters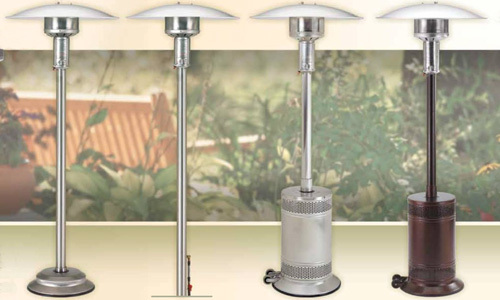 Multi-family community developers and property managers find themselves in the driver's seat in terms of demand. But the market for cost-effective condominiums, townhome communities, and apartment complexes also has industry leaders keenly aware that residents want improved amenities. That's why developers and property managers are investing in commercial natural gas heaters to extend and enhance outdoor gathering space enjoyment.
According to the National Association of Realtors data, new construction single-family home prices hover around $300,000 on average and upwards of $154 per square foot. Those rising costs continue to be a key driver behind increased multi-family property rentals and homeowner associations. From 2015 through 2020, multi-family construction development enjoyed steady 4.7 percent growth, and overall industry revenues swelled to more than $52 billion. While the sector is projected to enjoy continued prosperity through 2025 and beyond, its profitability has attracted substantial competition.
Apartments, Condos & Townhomes Compete For Residents
Construction outfits and property management organizations are being pressed to compete over cost and quality of life amenities. Ranked high among these are enhanced community space benefits that include quality stainless steel grills and outside natural gas heaters that extend seasonal enjoyment.
It's essential to recognize the wide range of multi-family living environments are distinctly different. Success in augmenting the quality of life enhancements in, say, an apartment complex could be significantly different than townhome associations. Land developers, architects, and construction outfits would be well served to consider how these differences influence common areas and extended use by deploying an outdoor portable heater strategy.
Apartment Complexes
This multi-family facility typically offers minimal community spaces. This has been a particularly challenging issue for property management companies trying to maintain 100-percent occupancy. Renters often consider the cost of monthly fees against the convenience of well-kept grounds and outsourced repairs and maintenance.
But in terms of enjoyed use, limited common areas may cause tenants to consider condominiums, townhomes, or purchasing a residential property, and taking on the time-consuming responsibilities of upkeep. But when gathering spaces are outfitted with recreational equipment, barbecue grills, and a patio heater that delivers warming comfort, property management firms tend to improve community member retention.
Condominiums
This style of multi-family community tends to deliver among the best quality of life amenities. Condos routinely offer recreational centers, pools, tennis courts, and multiple outdoor gathering areas. These leisure space areas are critical reasons why apartment complex tenants view condo-living as an upgrade.
But it's an open secret that apartment complex builders have an eye on competing with condo communities, and leisure space upgrades are a deciding factor among residents. That's why outdoor infrastructure not only delivers perks but employs a defined strategy for extending seasonal use. A well-placed outdoor heater in these spaces provides sustained comfort deep into fall, early spring access, and late-night capabilities.
Townhomes
These developments continue to see robust growth because they typically provide larger living spaces. Residents tend to be attracted to modern layouts that include open floor plans, smart technology, and energy-efficient appliances. But hesitation about relatively modest outdoor spaces can result in sales and occupancy trickling to condominiums. New townhouse developers are becoming keenly aware of this shortcoming.
Increasing common areas helps satisfy residents who are paying homeowner association fees. But when night chills and cold weather months arrive, cost complaints can resurface. Investing in quality outdoor heater tends to mitigate this issue.
While each type of multi-resident community has perks and challenges, varying layouts call for a specific type of outdoor portable heater and fuel source. Developers and property managers who go all-in on expansive outdoor leisure areas may be best served with commercial natural gas patio heaters. Whether you are planning a community or managing an existing one, it's imperative to consider your outdoor heater investment wisely.
Mushroom & Box Patio Heater Options
Residential communities in the planning stage, as well as existing ones, will have challenges and opportunities in terms of extended common area usage. The good news is that iconic mushroom and box patio heater products AEI Corporation distributes work equally well on propane or natural gas. Selecting a unit that best serves your residents will largely be based on layout, square footage, and access to fuel resources.
The models offered by AEI leverage next-generation infrared technology that warms objects rather than the surrounding air. Property managers and community developers overwhelmingly select these products because they do not rely on a risky exposed flame. And the second reason stems from the fact that a cool breeze cannot void infrared comfort. Objects and people remain warm regardless of external factors. These are key considerations when choosing between a mushroom outdoor heater and a box unit.
Benefits of an Iconic Mushroom Patio Heater
Emits 360-degree infrared heat
Propane tank housed in the base
Propane tanks easily swapped out
Can be fixed to utilize natural gas lines
Can be moved to accommodate different gatherings
Benefits of a Box Outdoor Heater
Can be attached overhead for strategic comfort
Can be attached to poles for large outdoor spaces
Can be attached to structures vertically or horizontally
Blend into existing décor
Typically run on energy-efficient natural gas
Throw a wide radius of infrared heat
It's not uncommon for new developments to integrate natural gas lines into common areas. This strategy generally delivers cost-effective fuel efficiency. Commercial natural gas patio heaters such as the Sunpak line are usually managed by temperature control panels with shut-off timers.
Professionals working with existing spaces and those with multi-use common areas often find that an outdoor portable heater may be best suited. The ability to move and reconfigure seating and mingling areas tends to be well serviced by models such as the Patio Comfort line.
Infrared Outdoor Heater Mounting Options
As planners consider the best way to integrate patio heaters, they are routinely surprised to discover that mounting innovations have occurred. Yesteryear units threw off inefficient flame heat and came with standardized mounting capabilities.
While the iconic mushroom heater outpaces most other models in terms of popularity and versatility, fixed units have evolved significantly. For example, the Sunglo line allows the mushroom head to be hung overhead. Recently designed decorative models add to a space's ambiance. The Sunglo line can also be mounted on a traditional post while fixed to the ground so that natural gas can be safely used.
Commercial natural gas patio heaters such as the Sunpak line generate upwards of 34,000 BTUs and can be mounted to most secure fixed structures vertically or horizontally. Some units can even be flush-mounted in rafters and remain unseen. Because state-of-the-art technology delivers this type of top-tier installment flexibility, developers gain an industry advantage when marketing condominiums, apartment complexes, or townhome living communities.
Outside Natural Gas Heaters or Propane Units?
It's essential to keep in mind that liquid propane and outside natural gas heaters are both considered environmentally responsible fuels resources. Both are clean-burning and cost-effective ways to provide warming comfort to outdoor common areas and gathering spaces.
That being said, residential property managers may favor natural gas systems because they sidestep the need to replace tanks. A liquid propane outdoor portable heater serves as an excellent investment in flexible spaces. When areas do not have a natural gas line or a special event calls for reconfiguring areas, portable propane units are clearly the best heaters.
When planning a multi-family community, the quality of life benefits of outdoor spaces are critical considerations. Prospective residents are likely to weigh the subtle differences that enhance their experience. Extending the season and daily hours of enjoyment with a patio heater strategy can make a wealth of difference.
---
Want more information? Have a question? Contact us today, and we will be happy to help!