Do You Know Your Place In Outdoor Barbecue History?
8 minute read | Grills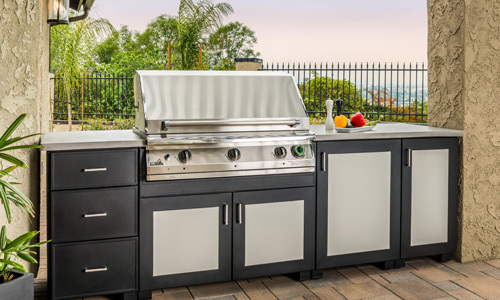 The tradition of people enjoying outdoor barbecue foods traces its roots back nearly 2 million years, and we are the beneficiaries of every innovation from that day until this one.
The stainless steel patio barbecue that backyard chefs prepare choice cuts of beef, chicken, veggies, and a wide range of meals cooked on portable propane grills started with our common ancestors known as Homo Erectus. According to research used in resources such as the book Planet Barbecue, Homo Erectus began cooking over an open flame 1.8 million years ago.
Although menu directions may have been a few grunts and groans among early humans, the term "barbecue" surfaced in the Caribbean during the 1500s. A North American island tribe called the Taino reportedly coined the term, and it spread among Spanish explorers.
The Taino people reportedly cooked foods over outdoor spits and covered them with spices. Many believe their practice is among the first to employ basting and BBQ sauces when grilling outdoors. They may not have enjoyed the precision of a modern-day outdoor grill with temperature controls or the mobility of a portable propane grill cart with wheels. However, the Taino became synonymous with the word "barbecue," and the inklings of a tradition flared up.
Grilling over an outdoor barbecue with friends and family members emerged as an essential tradition among early American Colonists. References surfaced in places such as Virginia, where community members were barred from firing black-powder rifles during an outdoor barbecue event. When American Patriots won the War for Independence, celebrations included cooking over an outdoor grill.
Although Americans appear to be the most ardent outdoor barbecue enthusiasts, many Canadians also consider a good backyard grilling session to be a time-honored tradition. According to recent reports, upwards of 90 percent of Canadians rank hamburgers, hot dogs, and chicken pieces as their top outdoor grill favorites. Steak follows closely behind those staples.
If you are among the millions of outdoor gill aficionados who find everything about food preparation fascinating, we could go on all day about the subtle influences that brought the conflation of art and science to where it is today. After all, it is conceivable that the History of Outdoor Barbecue could end up as a category on a game show like Jeopardy.
But it may be more fruitful to talk about the modern BBQs that evolved from outfits such as AEI Corporation since the earliest concept of gas-powered outdoor grills was floated in 1958. That was when Phillip Arnold invented the precursor to the gas grill that is the foundation of the state-of-the-art models cherished by people across North America. For more than 60 years, everyday people now know their direct descendants as PGS Grills.
Phillip Arnold Starts AEI Corp & PGS Grills Are Born
As the story goes, Phillip Arnold worked as a sales engineer for a Milwaukee natural gas utility company. His boss challenged him to build a residential outdoor grilling product that could run on natural gas. Phillip Arnold first conceived of a grill that would be lit by natural gas and experimented with a variety of cooking elements. In 1966, he moved from Wisconsin to Southern California and formed AEI Corp to distribute the then-perfected outdoor gas grill.
It's reasonable to assume that "perfected" is a relative term because the tradition of innovation Phillip Arnold started continues to evolve. Today, AEI Corp produces three distinctive lines of PGS Grill lines. These include the A-Series, T-Series, and Legacy Grill lines. Each PGS line has natural gas and liquid propane models of each grill. These are distinctive elements of each of the lines outdoor grill lovers should keep in mind when selecting a natural or portable propane gas grill.
PGS A-Series Grills Widely Purchased for Residential Use
The A-Series residential grills have both natural gas and propane models that are all built from sturdy cast-aluminum. A-Series outdoor grills can be tied into natural gas lines when the unit is fixed in place. This can typically be accomplished by mounting the patio barbecue on a pedestal or installing it as the centerpiece of an outdoor kitchen. Liquid propane tanks can also be housed in a portable cart with wheels or a wide-based pedestal. This allows home or business owners to move the A-Series portable propane grill when necessary. The line offers models that deliver 30,000 to 40,000 BTUs.
PGS T-Series Grills Perfect for Commercial Settings
The T-Series grills are geared toward commercial use and are widely prevalent among multi-family homes like apartment complexes, condominiums, and other residential communities. Like the A-Series, these commercial grills enjoys the flexibility of liquid propane or natural gas, and BTUs also range from 30,000 to 40,000. The heavy-duty cast aluminum construction and expansive cooking area make it a top choice in commercial settings because it is designed to handle rigorous and ongoing usage. Their smaller models are perfect for multiple units to be in an outdoor grilling area, to suffice multiple resident's cooking needs. The T-Series also has three all stainless steel grills which look sharp and are outdoor durable.
All our T-Series grills come automatically equipped with 60-minute gas flow shutoff timers. This sought after accessory gives you peace of mind, knowing no resident or guest can accidentally leave one of your grills on.
PGS Legacy Grills Rank Among the Most Innovative
Many rank the PGS Legacy series outdoor grill among the most expansive in terms of state-of-the-art innovation. The Legacy line is built from high-quality stainless steel and has liquid propane and natural gas models. Legacy grills can be used in a residential and commercial setting, and the BTUs range as high as 102,000. The spacious grilling area includes options that provide 960 square inches as well as large warming racks.
Legacy outdoor grills are a top choice for homeowners who want to create a complete outdoor kitchen. The Legacy models are considered a perfect centerpiece that can be accompanied by beverage centers, side burners, and the most innovative accessory in history — the infrared rotisserie burner. History, like the evolution of outdoor BBQ grills, never stops moving forward.
Modern Grill Accessories Worth Considering
It may have been difficult for Phillip Arnold to imagine that his ideas about creating an outdoor BBQ fueled by natural gas would revolutionize the way everyday families cook and gather together. Traditional holidays such as the Fourth of July and Labor Day, among others, are synonymous with backyard barbecues. Modern-day families no longer slather cuts of beef, fish, and vegetables with sauces and spices the way the Taino people did in open fire pits during the 1500s. Today, PGS Grills offer outdoor grill parts and wide-reaching accessories that include the following.
Stainless Steel Side Shelves
Side Burners
Infrared Rotisserie Burner & Spit
Beverage Center
Grill Storage Drawers
Automatic Gas Shut-Off Timer
Residential and commercial PGS Grill owners find that a 60-minute grill timer saves money on otherwise wasted fuel because it prevents anyone from accidentally leaving the grill on. Shut-off grill timers also improve safety by not allowing a hot grill to lead to a young child getting injured inadvertently.
PGS Grills are durable and deliver the precision heat distribution, and management outdoor grill enthusiasts desire. Because they are often the last BBQ grill home and business owners ever purchase, outdoor grill replacement parts are available when weather and normal wear and tear prompt a replacement. Although the final chapter of the outdoor barbecue and surrounding traditions is yet to be written, modern PGS Grills build on the legacy established by Phillip Arnold that began more than six decades ago.
---
Want more information? Have a question? Contact us today, and we will be happy to help!