Expand Your Palate With A Rotisserie Burner For Your Grill
6 minute read | Grills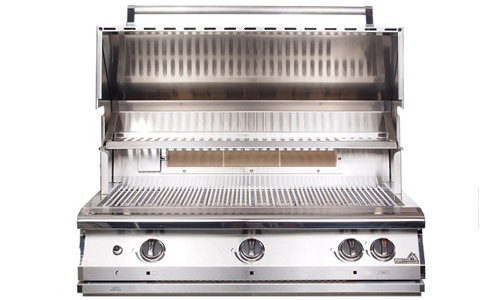 To say rotisserie foods are trending would be quite an understatement. Succulent meals slowly turned and evenly cooked on a spit are no longer a rare delight. They are mainstay meals and supermarket chains all over the country are riding the wave of rotisserie popularity.
Backyard BBQ-ers have been quickly accessorizing grills with an infrared rotisserie burner and tapping into the wide variety of foods that can be cooked at home. But the rotisserie craze is also becoming problematic for businesses such as caterers, restaurants and resorts that haven't yet embraced the trend.
Rotisserie-prepared foods, with their incredible sealed in juices, have become a highly marketable facet of food-oriented businesses. Fortunately, grills such as the AEI's PGS Legacy line come with an infrared rotisserie burner. Whether you are a homeowner with a passion for BBQ excellence or a business owner looking to take things to the next level, a PGS grill with rotisserie burner can help you elevate your game.
Benefits of Cooking with an Infrared Rotisserie Burner
It may come as something of a surprise, but infrared burners are more energy efficient than standard grilling practices.
An infrared rotisserie burner attached to one of AEI's LP grills consumes even less propane or natural gas than the open-flame area. The infrared option accomplishes this feat by cutting down on the amount of time required to fully cook whole chickens, thick cuts of meat and other rotisserie favorites.
The eye-raising efficiency of an infrared rotisserie burner has prompted more than a few chefs to include grill timers. That shortened cooking time also helps make the PGS grill with rotisserie burner more environmentally friendly. If you are thinking about upgrading your BBQ options with an infrared rotisserie burner, consider these benefits.
Quick Searing: Infrared outpaces traditional burners in term of searing. An infrared rotisserie burner locks in the natural juices that make foods flavorful.
No Pre-Heat Necessary: Infrared burners achieve maximum, intense cooking temperatures almost immediately. Preheating is a thing of the past.
Faster Cooking: The high-quality infrareds of the PGS Legacy line enjoy 12,000 BTU rotisserie burners. The intense and even cooking accomplished with these burners allows users to prepare food upwards of four-times faster than other processes. That means guests and customers won't experience long wait times.
Get Creative with your Infrared Rotisserie Burner
Much of the mainstream thinking about rotisserie cooking centers on those tender juicy whole chickens. Seasoned lightly with things such as honey, garlic, butter and other ingredients, they're just mind-blowing.
But the ability of home and business owners to integrate spits has many people thinking outside the rotisserie box. These are just some of the foods that are enjoying the added value of rotisserie preparation.
Pork Roast: Spicy pepper rubs, and Bourbon basting are trending ideas when cooking a pork roast on your spit.
Leg of Lamb: Wine and herb marinated leg of lamb has been ranked among the best uses for a rotisserie burner.
Prime Rib: Among the most tender and juicy, rotisserie preparation can take this cut of beef to the next level.
Glazed Ham: Often a holiday favorite, honey glazed hams can achieve perfection on a rotisserie.
Whole Pineapples: Grilled pineapple slices remain a popular grill-cooked sweet. With a rotisserie, chefs can lock in more flavor and prepare the entire fruit efficiently.
The internet is filled with new ideas and popular rotisserie recipes for meats, fruits and vegetables. Having a grill with rotisserie burner will allow you to explore exciting new options sure to impress guests and customers alike!
Keep Up with an Infrared Rotisserie Burner Trend
There are a wealth of benefits to cooking with an infrared rotisserie burner that include saving money, better tasting food, more customers and exciting new options. There's little argument against the fact that rotisserie grills such as AEI's PGS line are game changers.
But the issue for home and business owners is no longer that including rotisserie-prepared food will put you ahead of the curve. In reality, infrared rotisseries have been trending strong for some time. That basically means caterers, resorts, restaurants and other food operations without one are at a competitive disadvantage. The same goes for home chefs that take pride in showcasing their cooking skills. Without a rotisserie, you are simply falling behind the times.
Keep in mind that rotisserie style cooking is not just the flavor of the day. Rotisserie is here to stay. Elevate your game with a PGS Legacy grill with rotisserie burner!
---
Want more information? Have a question? Contact us today, and we will be happy to help!