Extend Your Summer Parties Into The Night With The Right Patio Heater
7 minute read | Patio Heaters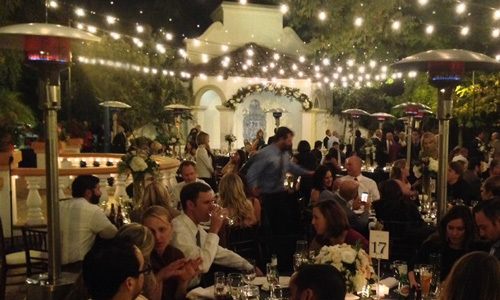 Just because summertime is upon us doesn't mean the cold nights are gone. You may even find the need every now and then to slip on a sweatshirt and pants during the nighttime, especially if you're outside without portable heaters.
Let's take a look at how outdoor infrared heaters and the Ambiance Fire Feature can make your summertime evenings more enjoyable.
Enhance Patio Comfort With Outdoor Heaters
Patio heaters help extend your summer parties into the night and are excellent for chilly weather. They keep your patio areas warm and are available in a wide range of types and sizes. Whether you want one to hang on a patio wall/ceiling or a portable heater that can easily be moved from one side of the patio to the other, AEI heaters are a go-to source for all of your outdoor patio heating needs.
Did you know that when using AEI patio heaters, you'll be enjoying warmth that feels like it's coming directly from the sun? Infrared radiant heat warms people and objects in an efficient manner, meaning summer fun can extend way into the night after the sun goes down. Even better is that you can choose from ones that operate on natural gas or propane. It's all up to you and your preferences.
Your Patio Heater Isn't Going to Start a Fire
With the Ambiance Fire Feature, you can rest easy knowing your outdoor heater isn't going to start a fire. Whether you're using the heater on the patio or farther out in the yard, a slender glass tube protects the propane-fueled dancing flame, allowing the heater to not only heat your outdoor areas but to serve as a safe decorative feature too.
Your patio area is the perfect place to cook and entertain guests. And if you've ever hosted an outdoor party, you know very well that it's best to keep everyone outdoors rather than bringing them in after the sun goes down. Not only does this put a damper on the party, but it also means you have to deal with your home getting messy. With patio heaters, you get to take advantage of versatile placement options, and you get to extend your summer parties throughout the entire night even if it gets a bit chilly.
Available in a Wide Range of Models, Types and Sizes
Electric, propane, and natural gas heaters are available with with wall/ceiling mounts, or in stand-up options. If you're worried about the heater taking up too much floor space, you'll definitely want to take advantage of heaters that can be affixed to the wall or ceiling with flush mount frames or another heater mounting option. Did you know that an outdoor heaters could be hung from the ceiling? It's all up to you and your preferences. Infrared heaters that are portable are typically fueled with propane gas. Heaters using natural gas, however, are available as in-ground or other heating mounting options, making them a permanent heating fixture for your patio area.
Patio Heaters Are Safe to Use
Some people steer clear of patio heaters because they don't think they are safe to use, but the truth is, outdoor patio heaters add the utmost warmth and comfort to your outdoor areas while taking advantage of today's latest safety standards of operation. Because they don't produce an open flame, they present no real danger to those coming into contact with the heaters, including children and pets. And many patio heaters have a safety tilt valve feature, which automatically shuts off the heater in the event it gets tipped over.
Whether you're looking for Sunglo, Infratech, Patio Comfort, or Sunpak, heater or the Ambiance fire feature, AEI heaters are ready to meet all of your summertime night party needs. Parties usually get good right about the time the sun goes down, and there's no sense in bringing everyone indoors when you can extend the warmth of the day through the night with patio heaters. Whether you're outside cooking, dancing, mingling or just having a good time, make sure to extend your summer parties into the night with the right AEI heater.
---
Want more information? Have a question? Contact us today, and we will be happy to help!