Factors to Consider When Shopping for Patio Grills
6 minute read | Grills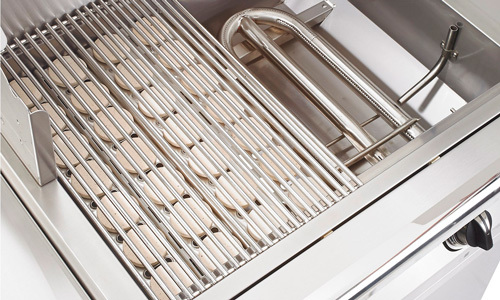 No matter where you live in the country, having a nice outdoor living space is always a very valuable amenity. When you have a place where you can relax, entertain friends or enjoy a meal, it will make your home seem much larger and will allow you to enjoy the fresh air outside. As you are looking to build out your outdoor living space, one great addition that all people need to consider having is an outdoor grill.
With an outdoor grill, you will be able to prepare a wide range of amazing meals to enjoy on your own or to share with family and friends. No matter if you are a renter or property owner and what the size of your outdoor space is, there is bound to be a grill that is great for your situation. There are several factors to take into consideration when you are looking for a grill for your home.
Type of Fuel
As you are shopping for a grill for your home, you will find there are two superior types of fuel, which are liquid propane and natural gas. You should consider the advantages of each type of grill to determine which is right for your situation.
Liquid Propane Grills
A liquid propane grill is one that will connect to a propane gas tank that can be purchased at a variety of different home improvement and convenience stores. Once you have used all of the propane, you can then exchange the tank for a new and refilled one. Purchasing and exchanging one of these tanks is usually quite easy and takes no more than a few minutes to complete.
When you get an outdoor grill that connects to a liquid propane tank, one of the main advantages is that it allows you to have a portable grill. A portable propane grill cart will often come with a wheel kit, which will make it easy for you to the grill around your yard. This is ideal for someone that does not have a fully designed outdoor kitchen and would like the flexibility to move their grill around.
Beyond the flexibility that is provided with a propane grill, many people also enjoy the environmental benefits. Propane is a clean-burning fuel and is considered eco-friendly.
Natural Gas Grills
While a propane gas grill is an ideal option for someone that wants to have flexibility and mobility with their grill, there are many people that would benefit from having a natural gas grill. A natural gas grill will be connected directly to a natural gas line, which will provide you with a constant flow of fuel. This is ideal for those that do not want to have to worry about leaving their home to purchase and exchange fuel tanks.
A natural gas grill is ideal for someone that is looking for built-in grills and wants to have a more elaborate outdoor kitchen. While you will not have the ability to move the grill around your yard, it can be a great focal point with plenty of cabinetry and counter storage space located all around it. Another advantage of a natural gas grill is that you will naturally have more space within your grill unit for storage as you will not need to hold the gas tank beneath it.
Ultimately, a natural gas grill is a great option for someone that has a natural gas line connected to their backyard and wants the convenience of having access to gas at all times. Instead of spending money to purchase and exchange tanks, you will pay for your natural gas usage when you pay your energy bill at the end of each month.
Grill Accessories
Once you have picked a residential BBQ grill that is right for your situation and meets your needs, you should also consider the accessories to get alongside your grill. There is a wide range of grill accessories that could allow you to prepare a diverse set of foods, be more efficient when using the grill, and keep your space organized.
Almost all people would benefit from having a grill timer as it will allow them to carefully keep track of how much time an individual entrée has left. If your space accommodates it, you should also consider getting a side burner and warming rack as they will provide you with the ability to cook multiple entrees and sides at once at different temperatures. All avid grillers would also benefit from having a grill storage cabinet and adjacent beverage center to store drinks while enjoying the weather.
Warranty and Replacement Parts
While a quality grill can last you for a long time, it never hurts to have a quality warranty to protect your grill and the most important parts. When you purchase PGS patio grills, you can be assured that the grill and parts are made of the highest-quality materials. The company is also more than willing to stand behind their quality products as they continue to offer a wide range of warranty options for both the grill and all of the individual parts. For replacement grill parts they can be ordered on our website. This convenience is a huge improvement over the ordering process from before.
For anyone that is looking to add or improve their outdoor living space, there are many important factors to take into consideration. One of the biggest choices that you will have to make for your outdoor living space will come when you purchase a grill. While there are many different options to choose from today, following these tips as a guide will help you to find a grill that is ideal for your situation and outdoor living space so you can enjoy plenty of great evenings relaxing and entertaining with a delicious grilled meal.
---
Want more information? Have a question? Contact us today, and we will be happy to help!