Gather Together With This Tasty Rotisserie Recipe
5 minute read | Recipe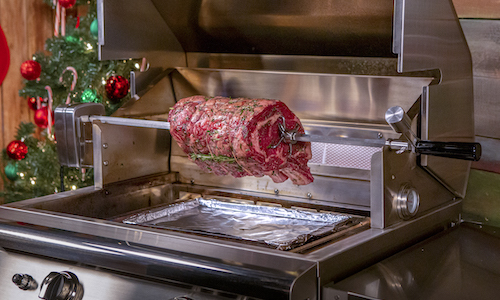 If you're looking for an easy-to-prepare, delicious crowd-pleasing main dish for the holidays, try this scrumptious rotisserie prime rib recipe. This set it and forget it style recipe is not only delicious, but it is cooked outside on the rotisserie grill provides you with more room inside to perfect those side dishes and desserts. Not to mention, cooking this way creates the most tender, juicy, and melt-in-your-mouth savory flavor. The prime rib continually turns and bastes on the rotisserie, locking in the amazing flavors while creating a crispy smoky crust. It is perfect for serving on any occasion but is extra special for holiday entertaining. And just wait for the unbelievable magical aroma that will fill your home when you bring this showstopper inside. It's an irresistible gift from your outdoor grill to your guests.
Whether you are new to rotisserie-style cooking or know your way around the grill, this recipe is designed for you. Take a look at some tips that will help you prepare for the best of the best results and a few decadent sides that go along perfectly with this dish.
Secure The Prime Rib With Kitchen Twine
The key to keeping your prime rib on the rotisserie grill and forks properly is a tight tie. Using kitchen-grade twine, simply create four to five tight knots around the entire prime rib. This is for functional reasons only so don't worry about how it looks. After the prime rib is cooked and removed from the grill, simply cut the twine before slicing and discard.
Combine The Seasoning to Create a Robust Rub
Seasoning is everything for your beautiful prime rib roast. The salty, savory smoky crust on the outside is the first taste of your masterpiece. This is where the salt comes into the picture. Instead of regular everyday table salt, use a coarser salt like sea salt. Not only is it lower in sodium, but it has a more intense flavor while blending exceptionally with the other seasoning. After you blend all the seasonings together in a bowl, use your hands to rub the combination evenly all over the meat. Kitchen gloves will come in handy here. For additional flavor, tuck fresh rosemary leaves underneath the twine throughout. Rosemary has such a wonderful fragrance and will provide additional depth of flavor. Cover the seasoned prime rib loosely with plastic wrap and allow it to come to room temperature.
Room Temperature Matters
Before cooking, make sure your roast is at room temperature. This will create a tender, juicy and melt-in-your-mouth result. This could take about two to two and a half hours after removing it from the refrigerator. The best way to check for the proper temperature is by using a meat thermometer. You will also use the thermometer for checking the temperature of your meat while it cooks.
Now Onto Cooking Time
Off to the fun part of cooking your prime rib on your rotisserie grill. When it is secured on the forks, start your timer and have your meat thermometer handy. It is a good idea to check the temperature every 15 to 20 minutes. Here are the cooking times:
Rare Prime Rib: 110 to 115 degrees Fahrenheit

Medium Rare To Medium: 115 to 125 degrees Fahrenheit

Well Done: 130 to 135 degrees Fahrenheit
Important: After removing the meat from the grill, it will continue to cook up to 10 additional degrees. One more tip is to place an oven-safe pan underneath the meat to catch the drippings, to use in Au Jus sauce.
Allow The Prime Rib To Rest Before Slicing
After removing your prime rib from the PGS grill, allow it to rest before slicing it. Resting is a professional chef's secret that allows the meat to relax and redistribute the juices evenly. If you begin to slice the meat the instant it comes off the grill, the flavorful juices will run out and affect the taste and tenderness. The optimum resting time is between 25 and 30 minutes.
Prime Rib Recipe Rotisserie Grill Style
Ingredients
1 prime rib roast, about 5 pounds at room temperature

1 tbsp fresh cracked pepper

1 tablespoon garlic powder

2 tablespoons kosher, coarse salt

2 tbsp Italian seasonings

Rosemary sprigs

Food-grade kitchen twine or string

Food Thermometer
Instructions
Use kitchen twine or strong and made 4 to 5 loops and create tight knots

Combine the four seasonings together well and rub to cover the entire roast. Tuck fresh rosemary underneath the twine.

Preheat your PGS Grill to 350 degrees Fahrenheit,

Insert rotisserie forks into prime rib roast.

Place roast into rotisserie attachment.

Cook the prime rib roast for 2 - 2 1/2 hours, until the internal temperature is 110-115 degrees Fahrenheit for rare, 115 - 125 degrees Fahrenheit for medium, and 130 to 135 degrees Fahrenheit for well done.

Remove the prime rib from the rotisserie and create a tent with aluminum foil and allow the meat to rest for 25-30 minutes.

Slice and serve
Sauce Ideas for Serving With Rotisserie Prime Rib
Now Let's Talk Sauces and Sides
Prime rib prepared on a PGS grill is delightful but when it is served with a special sauce or two will boost the flavor factor. Two of the most popular sauces to serve with a prime rib are horseradish sauce and au jus. Au Jus (translates with juice in French) is a delicious broth-like sauce, thinner than gravy, made from the drippings created as the prime rib cooks. It is wise to put an oven-safe dish underneath the prime rib while it cooks to capture these amazingly flavorful drippings. Horseradish sauce pairs perfectly with a rich beef dish like this recipe. The creamy, cool sour cream, hot tang of the horseradish, and apple cider vinegar complement prime rib deliciously.
Horseradish Sauce Recipe
Ingredients
1/2 cup sour cream

2 Tbsp drained prepared horseradish

2 Tbsp Mayo

1 tsp Apple Cider vinegar

1/4 tsp salt

1/8 tsp black pepper

1 Tbsp fresh finely chopped chives plus extra for garnish
Instructions
In a mixing bowl, combine ingredients until smooth. Serve next to prime rib. Cover and refrigerate for up to two weeks.
Au Jus Sauce
Ingredients
Prime Rib drippings

1 Cup Beef Broth

1 to 2 Tbsp dry red wine

1 Tbsp Worcestershire sauce

Pinch of salt and black pepper
Instructions
Combine all ingredients in a saucepan and bring to a boil

Simmer for 10 to 15 minutes allowing the sauce to reduce

Remove from burner and allow to cool. Remove any bits of fat that appear while cooling

Serve next to prime rib. Cover and refrigerate for up to three days.
Popular Side Dishes for Your Prime Rib Holiday Meal
The prime rib is most certainly the star of your holiday meal, but it wouldn't be complete without a few special side dishes. Some of the most popular side dishes to dazzle your guests and complement the prime rib are:
Creamy mashed potatoes

Wedge salad with creamy dressing

Buttery egg noodles

Roasted brussel sprouts

Twice Baked Potato

Cole Slaw

Green Bean Casserole

Roasted Potatoes

Seven Layer Salad

Candied Sweet Potatoes

Steamed Carrots

Romaine salad with Vinegarette
Don't forget the dinner rolls and butter. Enjoy!
---
Want more information? Have a question? Contact us today, and we will be happy to help!