Grill Accessories That No One Should Go Without
7 minute read | Grills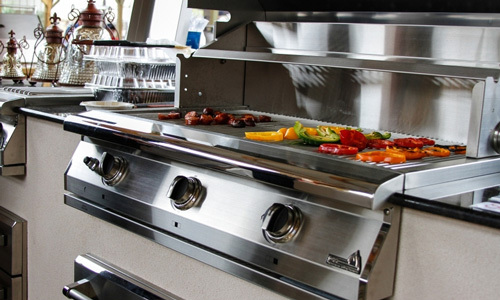 Grilling has grown from a wonderful backyard pastime to a veritable culinary artform. The once highly touted charbroiled burger on a bun with mustard and relish has opened the door to some of the finest barbequing and other recipes.
What has made the ability to prepare a diverse range of foods in the backyard has been the accessories outdoor gas grills enjoy. Family chefs used to take a hit or miss approach to cooking thick cuts of meat on stainless steel grills. These days, gas grills with shut off timers allow them to manage the heat from moon rok ceramic briquettes and seamlessly serve precision-cooked meats and vegetables. With that being said, these are some of the PGS grill accessories no one should ever go without.
Grill Timers Offer Peace Of Mind
Gas grills with shut off timers allow the family cook some very important options. The first thing is that a 60-minute timer can be used for slow-cooked recipes as a fail-safe. It's common to lose track of time during family gatherings. A thick cut or simmering dish that needs to stand for a long period of time can get away from you. That shut-off could save the day. Timers also provide peace of mind that the unattended grill won't pose a danger to children or waste fuel.
Pedestal Grills Streamline Space
Outdoor decks have a tendency to get overburdened. Seating, tables, plants and other amenities can take up considerable space. That's why pedestal grills have been trending. When space becomes a premium in your outdoor living space, these can streamline the cooking station area.
Ceramic 'Moon Rok' Grill Briquettes, Well, Rock!
Backyard chefs have forever struggled with grill heat disbursement. You know, sliding burgers and veggies in and away from the unit's hot spots. The state-of-the-art thinking behind Moon Rok ceramic briquettes helps heat flow evenly and consistently in outdoor gas grills. That means greater consistency in your cooking.
Piezo Matchfree Ignition Ends Dangerous Bursts
Plenty of grill-makers include matchless ignition options. Many fall short of the quick start grill owners require. Fortunately, the use of piezoelectricity in PGS grills offers consistent ignition. That hazardous burst of flame from shoddy matchless ignitors can finally be a thing of the past, thanks to our piezo matchfree ignition system.
Built-In Grills Improve Quality Of Life
The trend to shift from simple gathering and grilling areas to full outdoor kitchens has been a hot trend over the last few years. Outdoor patios are shifting away from roll-around grills to built-in units. Grill manufacturers such as PGS have invested heavily into producing forward-looking built-in units that are quality of life game changers.
Stainless Steel Shelves Enhance Prep Space
Grill owners that have opted for sub-par models over the years have become all too familiar with plastic and painted metal shelves. There's a reason that eateries favor stainless steel and so should you. They allow cleanable preparation space and are a common add-on to many PGS grills.
Top Grilling And Warming Racks Improve Timing
Outdoor chefs learn pretty quickly that family and friends are not always ready to eat the moment you've negotiated the perfect burger, cut of meat or ear of corn on the cob. That leaves you in a tight spot. That's one of the reasons secondary grill racks set above the primary heat are so popular. They allow you to turn down the heat and keep food warm while guests arrive at the table.
The other reason this is a must-have grilling option is to cook foods at a slower pace away from the main heat. Consider having the ability to cook a thick steak on the lower level and shrimp above. Serve a surf and turf recipe that comes off the grill at the same time. Perfection!
Rotisserie Burner & Spit Amp Up Options
The next generation of outdoor cooking is not science fiction. In fact, infrared heaters that are separate from the gas burner are readily available from grill companies such as PGS. These rotisserie and spit options allow you to evenly roast foods as they spin.
To say this is a must-have for serious outdoor cooks is something of an understatement. The accessories give you a pathway to upping your food game to succulent ducks, whole chickens, thick roasts, even gyros and sausages. The PGS line of accessories includes wire baskets that can accommodate a wealth of veggies as well. You'll be the toast of the grilling town.
Grill accessories are no longer nice little extras. They turn a basic grill into a master chef cooking facility in terms of recipe options. Remember, it's always a good idea to keep stainless steel grills covered with a heavy-duty cover to protect them from the elements.
---
Want more information? Have a question? Contact us today, and we will be happy to help!