Heating your Commercial Space this Fall
9 minute read | Heaters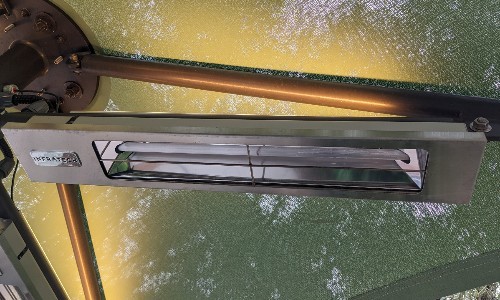 Heat Things Up This Fall: A Guide To Selecting The Perfect Commercial Patio Heater for Your Outdoor Space
The leaves are changing colors, temperatures are cooler and the transition from summer to fall is here. For all those business owners out there who are looking to heat things up this fall, we suggest extending the life of your outdoor space with outdoor patio heaters. If your business involves serving people like spas, resorts, country clubs, restaurants, diners, multi-family living spaces, breweries, wineries, coffee shops, or hotels, this worthwhile idea is a win-win for you. Not only will it boost your bottom line, it will enhance your customers' experience. People simply want to spend more time outside and this is a trend that is growing every year.
The Benefits Of Heating Your Outdoor Space: It's a Win-Win
Fall is the perfect time to explore new opportunities to expand your customer base and services. Take a look at the benefits of heating your outdoor space during cooler months with a patio heater from AEI.
Extends Your Sales Opportunities: When you create an enjoyable, welcoming, and warm outdoor space, you can expand seating, offer meeting and event space for groups and generate more sales opportunities.
Increases Revenue Potential: By opening the door for outdoor services, you can accommodate more guests which will increase your bottom line.
Enhances Ambiance: A warm, cozy, and welcoming outdoor space creates a wonderful ambiance that generates more customers, longer stays, repeat business, and provides a positive customer experience.
Offers Versatility: Whatever the season, heating your outdoor space provides opportunities for events and gatherings that are space-restrictive inside.
Gives You A Competitive Edge: It's a competitive market out there. When you provide your customers and potential customers with outdoor experiences throughout the entire year, you are offering something different from your competitors.
How To Evaluate Your Outdoor Space Needs
Now that you have committed to expanding your business outside there are a few things to take into consideration before buying commercial patio heaters. Always remember that the experts at AEI are here to help you understand the brands we carry and assist you in finding the perfect outdoor heater for your business.
How Much Space Is Available?
Measure the space you want to transform into an outdoor seating or gathering area. For example, are you a winery with a vineyard and only want to create space for a limited number of guests? Or are you a bed & breakfast that hosts weddings, parties, and special events that require space for dancing and mingling? If you are a small business owner and only have a small outdoor area, take this into consideration, as your needs will be different from those that have larger spaces to heat.
How and Where Will You Mount Your Heater?
AEI offers a variety of heater types including stand-alone, portable, wall-mounted, and suspended overhead options. It all depends on your design preference and the amount of space you want to heat. We can help you find the right system for you. Check out the AEI mounting guide for more information.
What Energy Source Do You Need?
What energy source are you planning to use to heat your outdoor space? Whether it is electric, natural gas, or liquid propane AEI carries an extensive variety of natural gas heaters, and propane heaters. We also carry an impressive line of electric heaters.
Now that you have outlined the space, mounting, and fuel basics, let's explore AEI's extensive line of high-quality and dependable commercial patio heaters.
Heater Styles & Finishes to Beautifully Blend With Your Space and Decor
It's important to select a heater model that complements your outdoor space and existing decor. For example, if you have a rustic, vintage look, select a classic heater with a timeless finish to blend beautifully. If your building is more modern, a contemporary box heater with a sleek finish will coordinate with your space. Maybe you don't want your outdoor heater to show at all. A ceiling-mounted box heater will work for you. Explore an array of beautiful styles, design options, and heater finishes here.
Spotlight on AEI's Quality Brands and Impressive Selection
Patio Comfort Commercial Heaters: Patio Comfort outdoor infrared patio heaters are designed to bring warmth, comfort, and enjoyment to your outdoor space. Infrared patio heaters provide warmth and comfort without an open flame. This line is designed to create a circular throw radius and warms everything up around it, just like the sun. They are just as fashionable as they are functional with this line offering stylish finishes like stainless steel, jet silver, bronze, and a rustic, vintage option adding a warmth and glow that enhances the atmosphere.
Infratech Commercial Heaters: If you are looking for an eco-friendly electric commercial radiant heater that is wall or ceiling-mounted, consider Infratech. Expertly designed to offer minimal visual impact, they are also 90 percent energy efficient and won't take up valuable floor space These low-profile silent heaters coordinate with many decor styles and have no odors like other heaters making them perfect for restaurants, diners, and other establishments that serve food and beverages.
Sunglo Commercial Heaters: Sunglo is a leader in American-made commercial patio heaters providing flexibility in outdoor spaces. They are built with reliability at their core and promote consistent performance. They offer four basic commercial heater models for both uncovered settings and covered outdoor spaces. These versatile and functional heaters are portable, can go just about anywhere, and are easily moved from space to space.
Sunpak Commercial Heaters: Sunpak outdoor box patio heaters use draft-free and highly energy-efficient flame-free infrared energy to warm objects just like the sun's rays. Sunpak infrared heaters can be installed either on a wall or ceiling, so they blend in with any decor and won't take up valuable floor space.
Sunstar Commercial Heaters: Warmth and style go hand in hand here. The Sunstar brand features infrared heaters with tinted high-temperature glass providing protection whatever weather comes your way. Installed on secure walls, poles, ceilings, or overhangs they feature easy-to-use wireless remote controls. The radiant heat is consistently delivered directly to customers at floor level first and then in the surrounding air.
Expand Your Space This Fall With Commercial Outdoor Heaters from AEI
Fall is the perfect time to expand your services outside and open up exciting new opportunities. The leaves are colorful, the sunsets are stunning and our AEI experts are here to help you find the perfect outdoor heaters to enjoy the beauty of the outdoors in your home or business. Adding a commercial outdoor heater is more than just keeping the environment warm, it's about helping those you serve create memories, make unforgettable experiences, and help guests enjoy your establishment. A warm, cozy outdoor atmosphere in the cooler months will lead to glowing reviews, give you a competitive edge, and an enhanced bottom line by having an inviting space where people can gather. The sky is the limit when you warm your outdoor space with AEI's innovative and convenient heating systems. Get started and explore our quality lines today by contacting us online.
---
Want more information? Have a question? Contact us today, and we will be happy to help!