Highlight on the S27 Newport Grill Model in a Residential Setting
7 minute read | Grills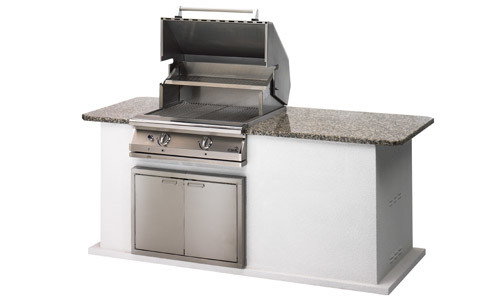 There's no cooking like outdoor barbecue cooking, and there's nothing like gathering around the grill with friends and family. If you're looking for an outdoor gas grill to become the centerpiece of your residential patio space, you owe it to yourself to check out the S27 & S27R Newport Gourmet grills.
These patio grills are the smallest in our Legacy series, but there's nothing small about their performance. These two-burner powerhouses are suitable for backyard chefs of all skill levels. They're simple enough for a novice to get started right away with the push of an ignition button the turn of a knob. Yet they're suitably flexible for a barbecue master to grill, smoke, and bake with all the expertise they can bring to the game.
These solidly built stainless steel grills are almost identical, but the S27R adds a couple of features. It produces 57,000 BTUs as opposed to the S27's 45,000, and it comes with an infrared rotisserie burner and a complete rotisserie kit.
An S27 Newport Grill Loaded with Features
This 30-inch grill will provide you with years of outdoor barbecue satisfaction. Consider the features that make the S27 the ultimate backyard cooking appliance.
The S27 is fashioned from high-quality stainless steel inside and out. That includes the lid, the basin, the burners, the grate, and all the integral interior parts.
Two 304-grade stainless steel burners crank out 45,000 BTUs of grilling power.
There's 504 sq. in. of cooking surface plus another 200 sq. in. on the warming rack.
Never worry about food falling through the grate. The spacing of the S27 cooking grids won't let that happen.
There's never a problem getting the party started with the "sure start" battery-operated electronic ignition.
Are uneven cooking and flare-ups a problem with your present grill? Not with the S27! Our "moon rok" ceramic rocks keep the temperature consistent everywhere on the cooking grid.
The S27 can be used anywhere in the yard with propane or hooked up to convenient and ever-ready natural gas.
The grill can be used independently on a rolling cart or mounted into an outdoor countertop or grill island.
There's a "no compromise" lifetime warranty on many of the important components.
Everybody deserves steak or chicken cooked to tender perfection. With the S27, all the power for perfect grilling is at your fingertips. There's everything you need to make delectable dinners time you fire it up.
Add Rotisserie Cooking with the S27R
The S27 is a grilling machine that will deliver perfectly rendered steaks, chops, and burgers. But if you're ready to step up to rotisserie cooking, the S27R may be the patio grill for you. It has all the tremendous features of the S27 plus a 12,000 BTU infrared rotisserie burner. The included RK27 rotisserie kit gives you everything you need to wow your family and friends with superbly turned chickens, roasts, and ribs.
If you've been looking to add some variety to the steaks and chops you've been serving, the rotisserie feature on the S27R may be just the upgrade you've been looking for. Get ready to take your backyard culinary game to a whole new level!
Propane vs Natural Gas
Both the S27 & S27R offer a choice of propane or natural gas grill models. Both systems have their advantages and either one may be the best choice for you.
The natural gas version hooks right up to the natural gas in your home. If you don't have a hookup where you plan to locate your grill, a contractor might be able to install one for you. There's no propane tank, so you'll never have to haul it back to the store and get a new one. You'll never have to wonder if there's enough propane left in the tank to cook the steaks you're about to throw on. As an added bonus, you may gain some storage room where that propane tank might have been.
If your home doesn't have natural gas, or if you don't want to add a gas hookup, you'll need the propane model. Even if natural gas is an option, you might find you prefer propane, which has its own advantages. Propane grills are portable and self-contained. The tank is normally housed right under the grill in a wheeled cart. You can move your grill anywhere you want and stash it out of the way when you're not cooking.
S27/S27R Mounting Options
It takes more than just 504 sq. in. of cooking surface to produce the perfect barbecued dinner. You also need a place to set your spatula, tongs, plate, salt shaker, and all the other grill accessories that make grilling a pleasure and a success. You need a complete and flexible cooking station, and there are several ways to set up your Newport grill to transform it into exactly that.
Legacy Series Grills Are Warranted To Last
The name "Legacy" was chosen on purpose. PGS Legacy grills have been around for 50 years and have always been leaders in craftsmanship and the newest technological features. We build our Legacy grills to serve you for as long as wield a spatula.
We offer an unmatched "no compromised" warranty on all residential installations. This includes a lifetime warranty on:
Stainless steel cooking grids
Warming rack
Stainless supports and side shelves
Aluminum casting
We stand by you and we stand by our products with complete outdoor grill parts availability and support.
---
Want more information? Have a question? Contact us today, and we will be happy to help!