How To Choose an Outdoor Barbecue Grill for Your Apartment Complex
6 minute read | Grills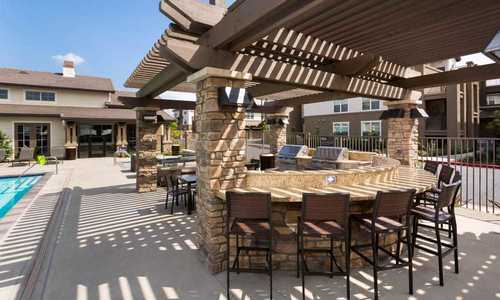 Property managers are intimately familiar with the need to provide amenities that improve the life experience of residents and foster a sense of community. Outdoor areas need to support activities and leisure time. That's why many decision-makers incorporate a stainless steel BBQ grill that allows residents to prepare healthy, succulent meals while enjoying the grounds and fresh air.
But selecting the best outdoor barbecue grill requires considerable thought. Small BBQ grills for apartments may suffice if the community is relatively modest. But gated communities and large apartment complexes may call for several strategically placed permanent grills. The long-term benefits of including outdoor gas grills will likely be measured by making a successful informed decision. These are things to consider when choosing the best stainless steel gas grill for your residents.
Top Places for a Stainless Steel BBQ Grill
Grill placement may be driven by the number of residents and layout of the complex. In a perfect world, every outdoor space would enjoy the enhanced benefits of permanent grills. Property managers are also tasked with getting the best bang for their buck when making improvements. These are areas that generally gain the most benefit from a stainless steel BBQ grill.
Picnic Areas
Near Pools
Gazebos
Community Centers
Clubhouses
Outside Party Areas
Outdoor Patios
Verandas
While including a single gas grill at a primary gathering area may seem like a sure way to improve your resident's quality of life, it's also important to consider the amount of traffic these areas garner. When residents cannot seamlessly access an outdoor BBQ grill, that inconvenience tends to defeat the purpose of investing in the product. When budgets are modest and property managers need to get cost-effective results, opting for several small BBQ grills for apartments may be more preferable than one or two large permanent grills. Location is all about the foot traffic and free access to outdoor cooking.
Define Your Outdoor Barbecue Grill Area
Among the chief decisions that property managers often have to consider is how does a stainless steel gas grill work in a designated space. The starting point is often what fuel source makes the most sense.
Today's products enjoy relative flexibility in terms of fuel sources. If a natural gas or propane line is available, permanent grills can be directly connected. This option places the grill in a fixed location that can be part of a greater outdoor kitchen area. Having a high-quality product built into a countertop with side grills and beverage coolers will undoubtedly deliver the transformative "wow factor."
A pedestal BBQ with lid can also have inherent benefits in terms of defining the cooking area. Many of these products conveniently house a propane tank in the base cabinet and deliver some agility. Using propane that is easy to swap out and refill also allows community members to move the outdoor gas grill when needed. In other words, small BBQ grills for apartments enjoy enhanced mobility and flexibility in a given space.
Outdoor Gas Grill and Accessories that Matter
Depending on the size of your community and budget, there are several directions you could take. It's essential for property managers to recognize that the investment is likely to garner tremendous use and that means sticking with commercial-grade products such as the AEI PGS line. These are specific models that may be the right fit for your facility.
A-Series: These products offer up to 40,000 BTUs and offer built-in or pedestal mounting options.
T-Series: Models come in aluminum and stainless steel and include a 60 min gas shutoff grill timer.
Legacy Series: These built-in models deliver transformative benefits and are well-suited for managing the cooking needs of sizable groups.
Beyond selecting the most cost-effective grill option, accessories make a wealth of difference to outdoor chefs. The PGS grill is a tried-and-true line that can be deftly accessorized. When considering a stainless steel gas grill investment, it's important to include these and other accessories.
Moon Roks: These ceramic grill rocks provide even heat disbursement that mitigates flare-ups. The result is improved cooking consistency.
Side Shelves: Convenient food preparation requires side trays to hold sauces, seasoning and a place to put hot food before serving.
Rotisserie Grills: This accessory allows outdoor chefs the option of cooking large cuts of prime beef, whole chickens, pineapples and veggies over infrared heat. It's a next-generation accessory that demonstrates appreciation for community members.
The decision to include an outdoor barbecue grill at your facility is a smart investment. It's a must item necessary to remain competitive in terms of rent and quality enjoyment of the property that brings people together. Outdoor barbecue gas grills do more than add monetary value, they deliver a priceless sense of community.
---
Want more information? Have a question? Contact us today, and we will be happy to help!