How to Match Outdoor Heaters to Your Patio Décor
8 minute read | Heaters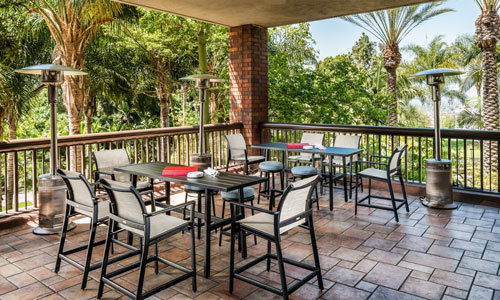 Selecting the perfect infrared patio heater to deliver both the enhanced comfort and ambiance of an outdoor space can be a little tricky. In large part, that's because home and hospitality industry owners now have a wide range of choices. There was a time when the mushroom portable patio heater was about the only choice. And while that style remains iconic, industry-leading companies such as AEI have built upon the classic look and offer models to meet unique décor needs.
Matching an infrared patio heater to fit your personal décor requires plenty of information to make an informed decision. But the good news is that you will be able to extend the season and amplify your stylish outdoor space with the right heater. It may be in your best interest to sit down with the following outdoor heater overview and consider how to deftly utilize an infrared patio heater.
Outdoor Heaters Come in Two Distinct Shapes
When choosing an infrared patio heater to seamlessly fit into your outdoor space, it makes sense to start with the basics. From a design perspective, you will be choosing between either a mushroom-style or a box heater.
Sitting in your outdoor patio, deck, or veranda, start by looking at the existing space and décor. Try to imagine a classic mushroom-style portable patio heater. Then, think about the space with an infrared patio heater hung overhead, delivering relaxing comfort. Your natural predisposition for one or the other probably says something about your personal style. But it's also important to know the facts about mushroom and box heaters in order to make a smart decision.
Get The Facts About Mushroom Heaters
This style of portable patio heater ranks as the most popular. It enjoys superior agility and can be moved to meet warming needs with relative ease. These are other facts you should know when selecting a heater.
Mushroom heaters give off 360-degree infrared heat
Mushroom heaters can be centrally located
Mushroom heaters are the most recognized style in North America
Mushroom heaters can use liquid propane or natural gas
Box heaters are also excellent resources, but they look and feel quite different in an outdoor setting.
Get The Facts About Box Heaters
Unlike the iconic mushroom style, box heaters are permanently fixed rectangular models. A fuel source is used to engage a ceramic or quartz rod that emits infrared heat similar to mushroom models. However, they can serve profoundly different style goals. These are important facts about box heaters.
Box heaters deliver infrared heat in a wide arc
Box heaters can be safely secured to ceilings and walls
Box heaters are most efficient when positioned overhead or pointing inward from walls.
Box heaters are less conspicuous and widely used in commercial settings
The rectangular design and ability to position box heaters overhead or on walls allow homeowners and hospitality business decision-makers the option of keeping floor space open. But choosing between a mushroom or box-style infrared patio heater will also be driven by your fuel source.
Infrared Patio Heater Fuels Source Options
In terms of selecting which fuel source to use, there are no bad choices. Infrared patio heaters can run on liquid propane (LP), natural gas, or electricity. Because industry-leading AEI units meet energy-efficient standards, your fuel choice may be more a matter of convenience and décor over penny counting.
Natural Gas Ceiling Heaters
When selecting natural gas, it's essential to understand that these units must be permanently fixed. Although many homes and businesses utilize existing fuel lines for an overhead natural gas heater, these units can also be installed on walls both horizontally or vertically. Permanently fixed mushroom heaters such as AEI's Patio Comfort models can also be connected to natural gas.
Electric Infrared Patio Heaters
The industry-leading Infratech unit has been something of a game-changer for people who don't have an existing natural gas line or want to swap out LP tanks. These energy-efficient products can be easily installed and deliver the same infrared comfort as their LP or natural gas counterparts. In terms of décor, homeowners and hospitality businesses can blend them in similar to lighting fixtures.
LP Infrared Patio Heaters
The ability to move a portable patio heater offers unique benefits. The LP tanks in mushroom heaters are usually located in the base and are not fixed. This allows people to reconfigure an outdoor space and move heaters to meet guest counts and party themes. This energy source is most commonly used when your décor is likely to change.
Each fuel source energizes the unit to throw off infrared heat that warms an object in its radius. Fixed units can be accessorized with shutoff timers and convenient wall-mounted switches. The idea of convenience also begs the question about what type of mounting best serves your style.
What You Need To Know About Patio Heater Mounting Options
At this point, you are probably sitting or standing in your valuable open-air space considering fuel sources and a box or mushroom heater. Given the advancements made in the industry, mounting options may add a wrinkle to how you integrate warming comfort. This information may shed new light on ways to smartly blend an infrared patio heater into your space.
Suspended Heaters: Today's overhead natural gas heater is no longer limited to the box style. AEI has designed an iconic mushroom line that can be suspended overhead, just like box-shaped heaters.
Wall Mounted Heaters: These units can utilize NG or electricity as their fuel source and may be secured horizontally or vertically. It's also important to note that several of the latest electric infrared patio heaters can be mounted flush with walls and ceilings, for an even sleeker look. Electric models have been particularly convenient when blending infrared heaters into existing décor.
Pole Mounting: The iconic mushroom heater are permanently secured if they run on natural gas. The normal mounting for mushroom heaters are pole mounted. Outdoor spaces can incorporate appropriately spaced poles that deliver infrared comfort.
Portable Patio Heaters: Because mushroom heaters running on liquid propane use self-contained fuel tanks, they can be portable with wheels attached to their base. The level of flexibility is great, being able to move your heater around as needed allows you to adapt to any situation.
Regardless of which direction you choose, each mounting option requires a secure structure. When running gas or electric lines to any unit, it's imperative to have a licensed professional conduct the modest installation.
Match The Infrared Patio Heater Finish To Your Décor
The technological advancements into infrared and mounting options have created more possibilities for home and business owners. But perhaps the most significant improvements, in terms of style and décor, are the upgrades to heater finishes.
Today's mushroom heater is no longer limited to silver aluminum. The Patio Comfort line comes in stainless steel, bronze, and an array of decorative finishes. This has allowed everyday people to accentuate infrared patio heaters rather than try to tuck them away. Box heaters also provide enhanced décor benefits with finishes that include black, bronze, and steel fascia styles. This means that you can either accentuate your infrared heating system or render it almost invisible.
Matching an outdoor heater to your décor requires a tad more information than it did decades ago. That's because you enjoy numerous possibilities that didn't exist before. Hopefully, these facts about outdoor patio heaters prove helpful, and you soon enjoy the warmth, comfort, and style you deserve.
---
Want more information? Have a question? Contact us today, and we will be happy to help!