Keep Comfortable In Your Outdoor Spaces With An Infrared Patio Heater
5 minute read | Heaters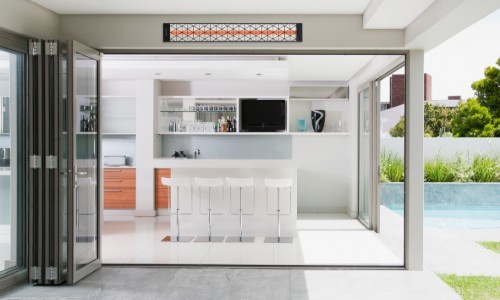 The best time to get outside and enjoy a patio is when the temperature is just right. But even in the heat of the summer, mornings and evenings can be a bit chilly. An infrared patio heater is best to warm up an outdoor patio when the temperatures are low. Infrared heaters by Infratech are economical, efficient, and easy to use. The technology behind them is clean and comfortable. These heaters have the power to make any time patio time.
Infrared heat doesn't simply blow hot air out into the atmosphere in the hopes of it landing where it's needed. Infrared heat waves pass through the air and heat people and objects directly. Infrared heat transfers thermal energy directly to an object at a lower temperature. It's an efficient warming technique because it places the energy exactly where it is needed. Infrared heat is warm, safe, and eco-friendly. It's the same feeling as having warm sunshine on your face, but without harmful ultraviolet light. Infrared heat is the perfect solution for home and restaurant patios and other places where the air isn't being circulated.
Infratech is a California-based company that has been manufacturing infrared heaters for more than 50 years. Infratech patio heaters are extremely energy efficient and are also UL listed. They are designed for both indoor and outdoor use. Infratech manufactures various designs that ensure the perfect fit for every space, from a backyard courtyard to a large restaurant setting.
Electric heaters are economical to operate and require little more than regular cleaning to keep them in good operating order. Electric heaters do not have ignitions, valves, moving parts or burners to maintain like gas heaters do. All Infratech heaters have adjustable intensities with wattages ranging from 4000 to 6000 and 208 to 480 volts. They work very quietly in the background to keep everyone comfortable.
Infratech takes pride in the workmanship of its infrared electric heaters. They are crafted of high-grade stainless steel. And because they plug into electrical outlets, there is never any issue with switching out a fuel source tank or the location of a nearby natural gas line. Infratech makes heaters that operate at different wattages and with single and dual heating elements. Turning on an Infratech heater is as easy as hitting a switch.
Electric patio heaters are economical to operate. While operating costs vary from place to place, overall, electric heaters are slightly less expensive to use than propane heaters and are on par with the operating costs of natural gas heaters.
These patio heaters can be operated with simple switches or more robust control panels. A homeowner may not need anything beyond a switch to turn the infrared heater on, but there are options available for integrating heaters with home management systems. A commercial space like a hotel or restaurant with multiple heaters may prefer more sophisticated solid-state controls. But no matter how they turn on, Infratech heaters provide warmth on demand.
Infratech is concerned about how your heater works and also how it looks. Infratech infrared quartz heating elements emit medium-wave heat with a soft, warm glow that is never harsh on your decor. Competitors offer shorter-wave halogen heaters that emit harsh and bright light. Each patio heater is designed with low clearance and contemporary lines to add a clean look to the space without any distracting visual impact. Models are available in stainless steel housings as well as stainless steel coated in a powder-black finish. Flush-mount kits are also available for some models in several colors to coordinate with the decor. Infratech patio heaters are built to last and are rated for 5000 hours of continuous use.
The weather is subject to constant change, and Infratech patio heaters help homeowners and business owners keep outside spaces comfortable when the mercury fluctuates. As the continental breakfast crowd arrives on a hotel deck, the area can be warmed to a toasty temperature and then adjusted as the sun rises and spreads natural heat. It's the exact opposite procedure in the evening. Cocktail hour in a neighbor's backyard may begin at a perfectly comfortable temperature. But once the sun drops, guests may begin searching for sweaters, jackets, or throw blankets. Infratech heaters can replace all of those accessories with adjustable infrared heat that simply switches on.
It's very simple to use Infratech infrared heaters to react quickly to temperature changes. The heaters are already in place, so there is no dragging them from one spot to another. Since they are powered by electricity, they will never run out of fuel. The heaters adapt to power adjustments to make a space warmer or cooler in no time at all.
Careful placement during heater installation ensures that the number of heaters being used will heat the available space as efficiently as possible.
A patio heater is a practical and economical way to get the maximum use out of any outdoor space. From backyard patios to screened porches to restaurant dining areas, infrared patio heaters can take the chill off in the early morning or late evening, extending enjoyable outdoor time. Infrared electrical heaters by Infratech turn on easily and begin doing their warming job almost immediately. Infratech was a pioneer in the infrared heating industry fifty years ago and continues to shine with high-quality patio heaters that are designed to look great in outdoor spaces. Adding an infrared heater or two to an outdoor patio is a way to extend the hours and days you'll be outside enjoying the space.
---
Want more information? Have a question? Contact us today, and we will be happy to help!