Lift-Assist Handle on a Legacy Commercial Grill Eases Operation of Grill Hood
8 minute read | PGS Grills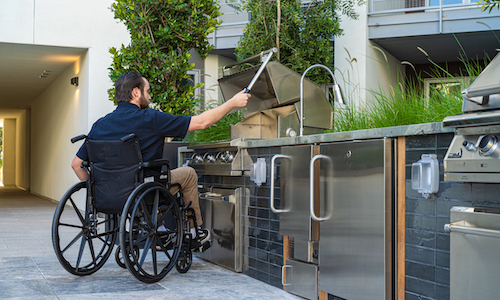 A multi-family development landscape architect is routinely tasked with creating attractive outdoor spaces and making common areas accessible to people from all walks of life. Professionals who design commercial properties are required to follow complex state and federal regulations and some revolve around accessibility for persons with disabilities.
It's well-known that our valued elders experienced reduced muscular strength and bone density late in life. Rather than view commercial landscape design mandates as a hurdle, it may be worthwhile to craft a community living complex with seniors and physically impacted people in mind.
As our valued elders age, muscle strength begins to wane, and the same guidelines that encourage common area use by physically impacted people would serve older citizens equally well. In fact, there are products that help multi-family development investors provide perks such as a commercial grill that do not require significant strength or flexibility to open and operate. The Lift-Assist handle for Legacy Grills could be something of a game changer for a landscape architect.
What is a Lift-Assist Handle?
More than 60 million Americans reportedly have some type of disability that inhibits their ability to perform ordinary daily tasks on a regular basis. Those same adults are not necessarily prevented from enjoying common areas and the amenities of a multi-family development. But certain efforts can prove difficult when the body experiences arthritic discomfort in the shoulders, elbows, wrists, and fingers. Lifting the stainless steel commercial grill lid of an outdoor cooking station can prove taxing.
Rather than allow health impediments to detract from outdoor grilling fun, innovative devices such as the PGS Lift-Assist handle were created. Adding a Lift-Assist handle allows good people to embrace the joys of a BBQ grill.
The lifting device attaches to PGS Legacy Grill models and eliminates the need for residents and guests to grasp and hoist the lid. Positioned at a low threshold, someone in a wheelchair could easily manage the Lift-Assist Handle, thus making common areas accessible to persons with disabilities and easier for aging seniors.
Benefits of Including a Commercial Grill Lift-Assist Handle
It's not uncommon for commercial property investors to want to include trendy amenities designed to attract up-and-coming professionals. This demographic appears to be the more pursued rental prospects because they check many of the right boxes.
A landscape architect will likely need to comply with accessibility guidelines when designing commercial properties. The question isn't whether to tailor common area amenities such as outdoor kitchens to younger tenants. The question is whether to include the attractive community options and also make them accessible for persons with disabilities and older residents.
Benefits of Accessorizing Outdoor Gas Grills for People with Physical Challenges
Older community members and those with emerging physical challenges generally look for the seemingly small differences that improve their quality of life experience. The value of accessible pools, hot tubs, fitness equipment, and a commercial landscape design they can seamlessly navigate cannot be understated. In fact, studies regarding multi-family development usage point to the following key considerations.
Safety: People in the retiree demographic strongly view safety as an important aspect of community living environments. People polled want a security officer posted at the gate or patrolling the complex at night. But what was surprising was they also referenced safety measures a landscape architect may want to keep in mind. These involve items such as non-slip tile and handrails, among others.

Accessibility: Making common areas accessible is ranked among the top priorities of retirees. They are cognizant of the presence of low curbs, sidewalks that grade down to street level, and issues that might limit mobility. Keep in mind that more than 60 million people have some type of physical limitations. Older Americans sometimes anticipate slowing down in their golden years.

Desirable Amenities: As outgoing people relax in retirement, they want to enjoy the quality of life extras found in single-family homes. One of the nostalgic joys of everyday life in a single-family home involves outdoor grilling and gathering with friends and loved ones on the back deck.
A landscape architect will likely need to make everything easily accessible when designing commercial properties. The question isn't whether to tailor common area amenities such as outdoor kitchens to younger tenants. The question is whether to include the attractive community options and also make them accessible for persons with disabilities and older residents.
Accessible Outdoor Commercial Grill Areas Distinguish A Multi-Family Development
The outdoor liquid propane or natural gas commercial grill remains one of the more sought-after amenities in community living facilities. Large developments often create a commercial landscape design that involves several modestly sized outdoor grilling stations at key locations around the grounds.
A centerpiece outdoor kitchen generally includes a built-in commercial grill, storage space, and safety accessories such as a FuelStop® one-hour gas flow timer. A FuelStop® one-hour gas flow timer also saves multi-family development owners money because it eliminates wasted liquid propane or natural gas.
The PGS Legacy commercial grill line has emerged as a darling in landscape architect circles because it provides residents with wide-reaching accessories and improved accessibility for persons with disabilities and aging retirees.
Landscape Architect Benefits From Legacy Commercial Grill Options
The Legacy commercial grill line also provides a landscape architect with wide-reaching mounting options. They can be integrated into a complete outdoor kitchen area with a fixed in-counter installation. The commercial grill line also offers side burners, storage drawers, and a lower cabinet if liquid propane tanks are the best fueling option. PGS commercial grills provide liquid propane and natural gas fuel options.
One of the vital differences that makes this PGS commercial grill line stand out is that a landscape architect does not necessarily have to design a complete outdoor kitchen. A Legacy T-Series commercial grill can enjoy a fixed installation by employing a prefabricated BBQ island designed specifically for this model. A member of the residential community's maintenance crew with adequate assembly skills can put the standalone island together in a single afternoon. This allows a landscape architect to lower the infrastructure and construction costs associated with making common areas accessible and desirable.
At the end of the day, a landscape architect must sometimes find creative ways to meet federal and state accessibility requirements. With open access to the outdoor commercial grill in a common area, a Lift-Assist handle for a Legacy commercial grill exceeds the standards and expectations of physically impacted renters.
---
Want more information? Have a question? Contact us today, and we will be happy to help!