Mastering the Art of a Smoked Brisket on your Gas Grill
8 minute read | Recipes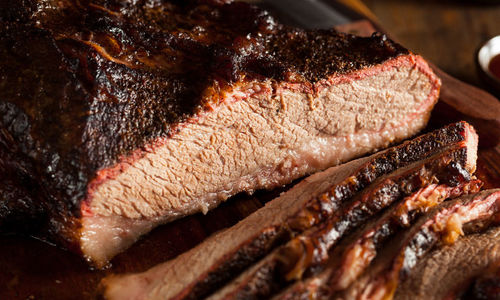 Grilling enthusiasts don't really need an excuse to fire up their PGS Grill and create a succulent outdoor meal. But for convenience's sake, how about using the upcoming National BBQ Day on May 16 as a viable excuse to make a delectable barbecue smoked beef brisket?
National BBQ Day is also an excellent reason to enjoy cooking with accessories such as the PGS Smoker Tray that separate ordinary grilling from greatness. Before working with a perfect choice beef brisket on your gas grill, consider the necessity of outstanding meat preparation.
Dry Rub Recipes To Die For
It's important to humbly begin this discussion with the disclaimer that dry rub recipes can be profoundly personal and passed down from generation to generation. In no way do the following recipe styles profess to know better than the families that have perfected rubs. That being said, for those of us that do not have the benefit of our elders' dry rub recipe wisdom, these are a pair of dry rub styles that may prove to be delicious.
Cajun Style Dry Rub
The Big Easy ranks among the places everyday people will discover amazing foods of all kinds. This Cajun rub recipe allows gas grill enthusiasts an opportunity to bring that flare to your backyard.
Gather These Ingredients
1 tablespoon of thyme
3 tablespoons of coarse black pepper
3 teaspoons of cayenne pepper
2 teaspoons of sea salt
2 tablespoons of paprika
3 tablespoons of brown sugar
1 tablespoon of dried mustard
1 tablespoon ground cumin
Blend these ingredients in a bowl and rub meat thoroughly. The brisket can also be bagged and shook with the rub inside. Let stand to at least one hour in the refrigerator before the brisket is smoked.
Texas Style Dry Rub
There's no place like Texas for choice cuts of beef and folks take great pride in their BBQ. Consider employing this Lone Star style rub on your smoked brisket.
Gather These Ingredients
2/3 cup of chili powder
2/3 cup of golden brown sugar
1/3 cup of sea salt
1/3 cup of coarse ground black pepper
3 tablespoons of ground mustard
3 tablespoons of cumin
3 tablespoons of garlic powder
2 tablespoons of onion powder
2 tablespoons of paprika
3 teaspoons of cayenne pepper
Simply blend these ingredients and apply directly and firmly to your soon-to-be smoked brisket and let stand in the refrigerator a minimum of one hour.
The Art Of Smoked Brisket
Making a smoked brisket on an outdoor gas grill requires patience and technique. It also requires the highest quality gas grill and accessories. For example, a PGS Grill from the T, A, or Legacy Series can deftly accommodate the high-quality smoker accessory needed to make a perfect brisket.
One of the exceptional qualities of the PGS Smoker Tray is that it works with wood chips and liquid. For this recipe, hickory wood chips are recommended with the rubs as mentioned above. Hickory tends to infuse a potent, natural flavor often considered desirable in smoked meats. The PGS Grill also utilizes a type of ceramic bricks called "moon roks." These state-of-the-art roks disburse heat evenly and reduce flare-ups. That's particularly important when using a smoker on a gas grill.
Texas and Louisiana brisket techniques generally differ in terms of trimming. Many Texans do not shave their brisket. In Louisiana, trimming tends to be more of the norm. Prepare your brisket according to the rub and flavor you desire.
There is no set rule about how long a smoked brisket takes to cook to completion. But there are certain essential items and techniques to keep in mind. These include the following.
Select a brisket that provides a half-pound per person.
Soak two-thirds of the hickory wood chips in water overnight.
Keep remaining chips dry.
Use a consistent heat that produces a steady stream of smoke.
Add dry chips to improve smoke when needed.
Optimal grill temperature runs approximately 225 degrees.
A brisket generally takes approximately 75 minutes per pound to smoke.
Brisket should reach an internal temperature of 195-205 degrees.
Use a thermometer to test center temperatures.
Keep the gas grill lid closed except when testing internal temperatures.
The brisket is done to perfection when it achieves the state of doneness you desire. Smoked brisket is more of an art form than a standardized meal. So, enjoy the creative process.
Smoked Brisket Side Dishes To Make On A Gas Grill
Regardless of whether you go Cajun or Texas style, appropriate side dishes are a must. Southern style coleslaw is a tried-and-true favorite along with savory corn pudding and collard greens. Of course, you can't miss with mac n cheese for kids.
Browse through more recipes.
---
Want more information? Have a question? Contact us today, and we will be happy to help!