Outdoor Gas Grill Mounting Options For Any Patio
5 minute read | Grills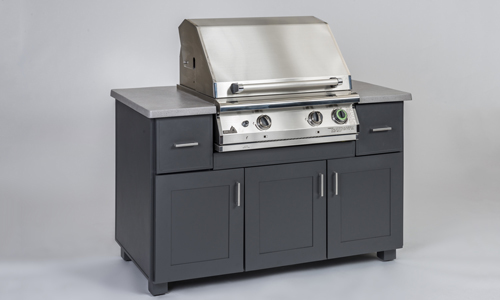 Summertime may be the most popular time for BBQ, but with all of the available options for today's modern gas grills, there's no reason not to enjoy it all year long. You can fully customize your patio grills with the fuel option of your choice and your favorite mounting style. Deck out built-in grills and portable propane grills with a number of attractive accessories to complement your grilling style.
Determining what is the best grill set up for you will depend on a number of factors such as:
The availability of propane VS natural gas in your area
Your available deck space
Climate conditions
Your grilling style and preferences
Style and aesthetics
Fuel Options for Outdoor Gas Grills
If you are fortunate enough to have had the opportunity to use both propane and natural gas-powered outdoor patio grills, then you will know which you prefer when it comes to the grilling experience itself. But there are other factors to consider as well.
The Benefits of Propane
The primary benefit of choosing a propane grill is that propane is stored in a fuel tank which is securely housed in the base of the grill. This leaves you with many more options regarding placement and storage. You can set up a propane grill anywhere you like and easily move it at any time. Also, it is a simple matter to wheel your portable propane grill into a shed, barn, garage, or other storage units when not in use. This can make a propane grill much easier to maintain. It can also give you a lot more options when accommodating crowds, different activities, and adjusting for changing weather conditions.
The Benefits of Natural Gas Grills
Because natural gas grills must have their fuel piped in, they need to be stationary. The benefits of a fully stationary grill are that you don't have a fuel tank to change, since the NG is piped in. Natural gas grills also alleviate the need to replace and install new fuel tanks. Natural gas is plentiful, and will always be available when you are ready to start cooking. Simply turn the valve to the open position and light your grill using the easy to use forward-facing control panel.
All PGS grill models come in natural gas and propane fueling options. Both types of fuel are clean burning and affordable. Most mounting options will work with grills that run on either propane or natural gas.
Outdoor Gas Grill Mounting Options
Whether you choose a natural gas or propane grill, there is a wide selection of mounting options available to you. Your mounting options include:
Outdoor Countertops
All PGS grills can be mounted on an outdoor countertop. The built-in grill configuration provides the most room for your grill, prep area, accessories, utensils, and other useful items. It is also a great way to optimize your customization choices. Apartments and condos may benefit from having multiple grills with different mounting options to supply enough grill space for all of your residents.
Grill Islands
Some PGS grills can be fitted to a grill island. This is a pre-fabricated, semi-permanent configuration and is among the cleanest and professional-looking mounting options. It offers plenty of counter space and grill storage.
Grill Carts
All PGS grills can be mounted on a grill cart. Propane grills on a grill cart can be mobile with the installation of a wheel kit. Grill carts will have built-in grill storage as well as stainless steel side shelves. It is a good option for those who expect to need to have more access to space for moving furniture and making renovations. Grill carts for propane grills are a good choice for those who want to be able to store their grill in a nearby enclosed shelter. A natural gas-powered grill mounted on a grill cart will not be mobile but will have extra storage space because it doesn't have a fuel tank.
Pedestal Mounts
A pedestal bbq with a lid is a good choice for those who are working within a limited budget and who want their grill to take up the least amount of floor space. A pedestal mount offers the least amount of space for prep and accessories. However, a pedestal mount costs less to build and install. It also leaves you more room to add extra storage or utility later. Best of all, a pedestal mount is among the most secure as it is next to impossible to knock it over. Both A-series and T-series natural gas grills can be mounted on a pedestal mount.
Gas Grill Accessories
Your choice of mounting options will not be affected by the most available accessories. However, some mounting options will not be compatible with every available accessory.
Grill Accessory Limitations
You will not need side shelves for an outdoor countertop since they would be enclosed in the countertop. Instead, it's best to build your shelving into the countertop itself. Grill storage is generally incompatible with pedestal mounts. Beverage centers, side burners, and similar assets require an outdoor countertop into which they can be securely and safely installed.
Accessories That Can be Used With any Grill Mount Configuration
Fortunately, the most attractive and interesting accessories are compatible with any mounting type. Accessories that work with any grill mounting option include;
Infrared rotisserie burners:
Infrared rotisserie burners are a great way to cook side dishes and other items in a low-fat way. It's terrific for sausages, vegetable cages, shish kebab, and most importantly, large roasts or cuts of meat!
60-minute gas flow shut off timers:
This handy and popular safety feature makes it much less likely for unsafe burning conditions to occur should the grill be left on unsupervised. It is a great safety option for apartments and other communal cooking areas. Another huge feature of the gas flow shut off timers is that they prevent fuel waste, saving money in the process.
Warming racks:
Don't let complex meals slow you down! With convenient warming racks, you won't have to worry about items growing cold while they are off the grill before serving. You can even use them to toast bread.
Grill briquettes:
Obtain a well regulated and even heating surface with grill briquettes. This helps eliminate flare-ups and hot spots which can make your grilling experience less predictable and reliable. They can be reused.
---
Want more information? Have a question? Contact us today, and we will be happy to help!