Outdoor Grill Island Kits Expand Lifestyle Benefits Without Construction Hassles
10 minute read | Grills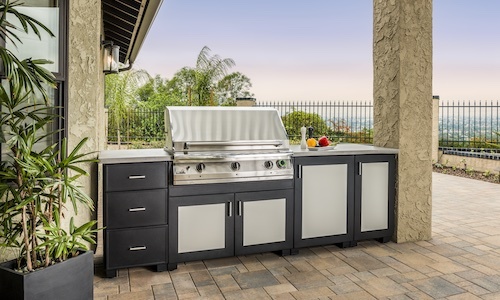 Building an outdoor grill island remains one of the best upgrades a homeowner can make. The quality of life benefits include family gatherings on backyard decks and patios while enjoying deliciously grilled foods. And the return on investment of an outdoor kitchen can exceed 100 percent should property owners decide to sell. Few, if any, home improvements deliver this level of lifestyle and financial success.
But like any project, a complete kitchen build can present up-front costs and inconveniences many would rather avoid. That's why an increased number of homeowners are turning to high-quality outdoor kitchen island products. The AEI Corporation's Gensun-designed outdoor grill island eliminates the adversity of building food preparation spaces.
Building an Outdoor Kitchen can be Stressful
It's not unusual for homeowners to select a standalone outdoor grill simply because they worry about the headaches associated with a build-out. Some construction professionals estimate that building an outdoor kitchen area can take as long as three months to complete. If that timeline seems exaggerated, consider the wide-reaching problems property owners can run through.
Contractors: Homeowners will be tasked with vetting contractors before selecting an outfit they believe can get the job done on time and on budget. This process typically includes scheduling meetings, collecting quotes, and weighing credentials and online reviews. Even after all that, there are no guarantees the project will go according to plan.
Permits: Municipal governments often require building permits when the cost of a home improvement project exceeds a specified dollar amount. Your contractor may need to submit a blueprint and wait for the permit to be issued before starting. This tends to be one of the more common construction delays.
Unanticipated Delays: People in the construction sector generally prioritize jobs based on a wide range of factors. These may include deposits, cash flow, weather, and completion times. Your outdoor grill island may not rank at the top of their priority list for weeks. That means you wait at no fault of your own.
Construction Zone: Once the project gets underway, your property will remain in disarray for weeks to months. Living in the midst of a construction project becomes irritating, especially when the work crew doesn't show up every day. This chaos remains a primary reason more people do not upgrade to outdoor grill islands and kitchens.
Although outdoor kitchen islands provide an excellent return on investment, these construction projects can easily add up quickly. That price tag can be prohibitive, to say the least.
What happens too often is that homeowners with only modest carpentry, masonry, and plumbing skills stretch their experience by trying to build in place. Although a handy DIYer can complete routine upgrades and fixes relatively well, building an outdoor grill island often goes sideways.
A simple misstep such as not getting the structure perfectly level or flush on either side of the stainless steel outdoor BBQ grill causes ongoing problems. Flames, as an example, rise straight up, and a crooked outdoor gas grill will suffer from uneven heat distribution. Frankly, this type of project remains outside the skill sets of most DIY homeowners. That's largely why smart alternatives such as grill island kits appear to be hot-trending solutions.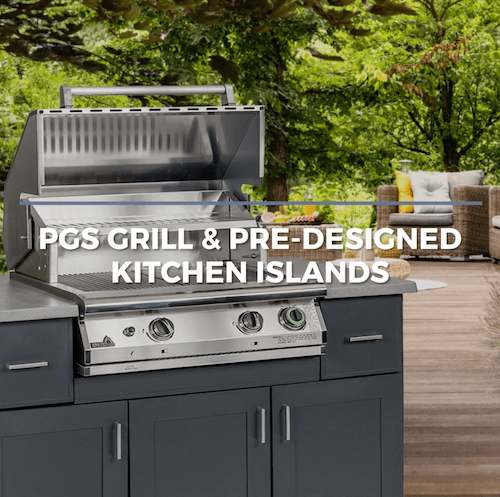 How Can PGS Grill Island Kits Solve Homeowner Challenges?
It's essential to understand that Gensun grill island kits have been designed to work exclusively with PGS outdoor grills. More specifically, the Modano 57 and 67 outdoor grill islands are associated with the PGS Legacy line. These industry-leading stainless steel outdoor gas grills provide superior grilling capabilities, accessories, and durability. But before counting the wide-reaching benefits of employing a Legacy model as an outdoor BBQ grill centerpiece, consider how grill island kits can streamline the building process.
DIY Optional: Homeowners do not necessarily need professional construction experience to assemble Gensun grill island kits. A savvy property owner can gather the handful of tools required and simply follow the assembly directions. You can also pay someone a couple of bucks to spend a day or two assembling the island and BBQ grill.
No Risk: Purchasing grill island kits does not require a lengthy vetting process or involves the risk of hiring an unscrupulous contractor. The AEI Corp enjoys a reputation for excellence that spans more than 40 years. The high-quality island grill kits come with extension warranties of up to 15 years for frame and structural components for homeowners.
No Delays: Waiting up to three months and dealing with half-done backyard construction elements ranks among the main reasons why everyday people do not secure the outdoor living experience they deserve. Homeowners won't deal with the frustration of workers not showing up to finish the project for days or weeks. These top-rated outdoor grill island kits can be assembled in a day or two without having to get embroiled in construction stress.
Enjoying the locked-in flavor of choice cuts of beef, chicken, and veggies is not something working families want to miss. Selecting a premier BBQ grill can certainly accomplish that lifestyle benefit. But a full kitchen setup expands a grilling aficionado's menu possibilities, as well as the outdoor living experience. People who love eating smartly grilled foods and spending time together find that a kitchen island increases their appreciation of food and each other.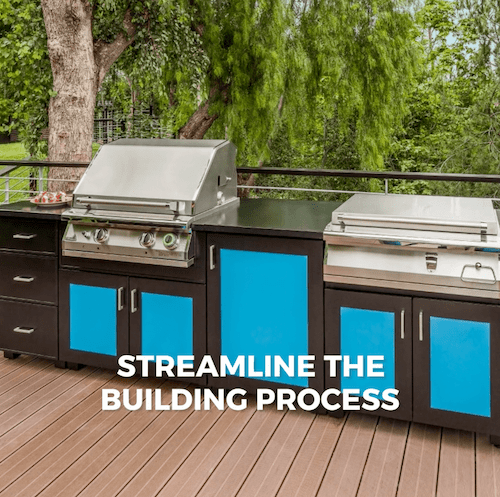 What You Need To Know About Gensun Pre-Designed Grill Island Kits
All Gensun models can be assembled by an average DIYer in a day or two and offer the rare durability that runs through all of the PGS line products. The following design elements and features are reasons to consider grill island kits that house a Legacy outdoor grill.
Strength: The Gensun grill island kits come standard with fully welded extruded aluminum frames that provide durability and weather resistance. The cast aluminum elements include the stamped doors, as well as back and side panels. The islands are made of high-quality stainless steel hardware that stands the test of time.
Drawers & Shelves: Too many mass-produced products fix the drawers and shelves in place. This makes it increasingly difficult for grilling enthusiasts to keep them clean. Experienced backyard chefs understand that sauces, seasoning, and other items splatter and spill. That's why the drawers on these grill island kits are fully removable. Comprised of easy-to-clean aluminum, homeowners can take them out for maintenance, seasonal upkeep, or after a faux pas.
Level Best: The grill island kits come with 1-inch adjustable legs that allow homeowners to set the appropriate height and gain a perfectly level BBQ experience. Every day families who want a comprehensive backyard kitchen experience won't need to worry about getting the build perfectly level and flush. They also won't have to dole out thousands of dollars to professionals or risk uneven flame distribution.
Countertop Features: The grill islands take a balanced approach to space. Countertops are positioned on either side of the stainless steel Legacy grill. This allows backyard chefs the convenience of placing uncooked items on one side and delicious grilled foods on the other to cool down. Home chefs can leverage the arm's length space any way that serves their goal of producing a succulently grilled meal for friends and loved ones.
Cabinet Space: The cabinet doors come pre-made and are quite easy to attach to the outdoor kitchen island's facade. Both the Modano 57 and 67 offer significant storage space. Items such as pots, pans, kitchen gadgets, and dining supplies can be kept secure and dry behind the three doors. Because Legacy grills run on either liquid propane or natural gas, one space may be best suited to house a refillable tank. This may not be the case when property owners connect to existing natural gas lines.
It may come as something of a surprise, given these professionally designed grill island kits are so well-constructed, but they are exceeding simple to assemble. Each cabinet can be connected by simply tightening only four bolts. And after the island is up and running, it can be repositioned to meet your family's needs. Some of the kitchen islands also offer seating with a shaded area and fire pits to complete evening get-togethers.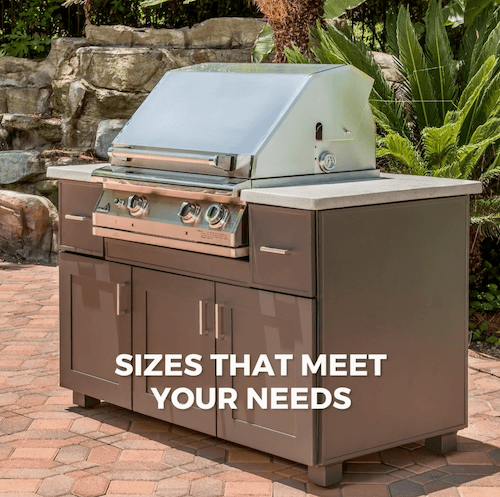 What are the Benefits of PGS Grills?
Marrying PGS Legacy grills with Gensun outdoor grill islands is a match made in Heaven. Homeowners enjoy the quality of life enhancement they deserve from having a comprehensive kitchen area. For those who have yet to select a top-tier PGS model, these are benefits grill owners routinely enjoy.
Quality: PGS Grills are made from high-quality stainless steel and cast aluminum. The Legacy built-in option is constructed with stainless steel that ranks among the finest used in the industry. For example, the 304-grade stainless steel burners make Legacy grills incredibly reliable and durable. The spare-no-expense design mindset is the reason why PGS owners don't replace their grills every few years.
Moon Roks: One of the many items that set PGS grills apart are the seemingly subtle differences. The Moon Rok briquettes used in Legacy built-in grills ensure even heat transfers, minimize flare-ups, and ensures the best possible outcome when grilling outdoors.
Infrared Rotisserie Burner: When the Legacy line integrated an infrared rotisserie option, that proved to be a game-changer. The next-generation technology employed in this optional accessory allows PGS grill owners to cook whole chickens, thick cuts of beef, entire pineapples, or make veggie kabobs with locked-in juices.
Safety Considerations: A Legacy grill generates between 67,000 and 102,000 BTUs. That's why this line comes with an optional one-hour shut-off timer built directly into the panel. This standard asset prevents users from wasting fuel or unsuspecting hands from getting burned when someone forgets to shut off the grill.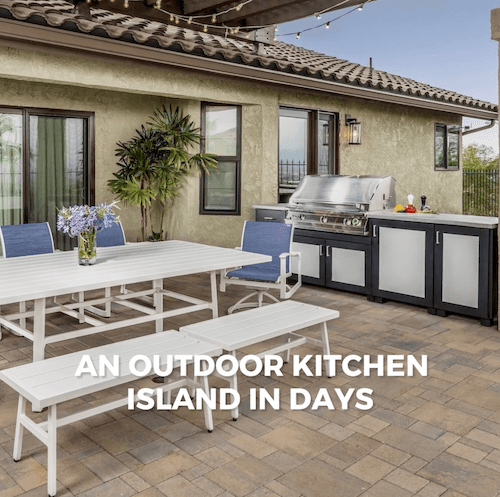 The distinguished PGS line continues to expand the grilling and residential lifestyle benefits of everyday people. This marriage of the Gensun pre-designed Modano grill island kits with the Legacy line highlights the thought leadership at AEI Corporation. Improved food preparation ease, next-generation technology, and flexible use products are reasons why homeowners select PGS models and accessories.
Make Your Backyard Grilling Island A Reality
If the thought of construction hassles and costs prevented you from building a kitchen island setup, the Modano kits make expanding easier than ever before. These cost-effective and durable pre-designed models do not require permits, contractors, or create backyard chaos during assembly. For more information, fill out the contact form, and a customer care professional can answer any questions or help with ordering your grill island kit today.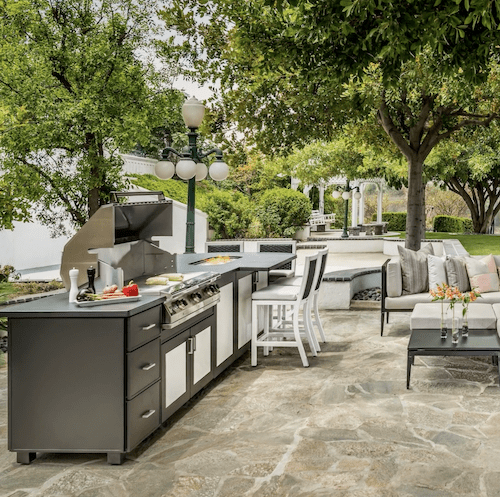 ---
Want more information? Have a question? Contact us today, and we will be happy to help!