Outdoor Heaters Are Helping Brew Pubs Redefine The Bar Scene
6 minute read | Heaters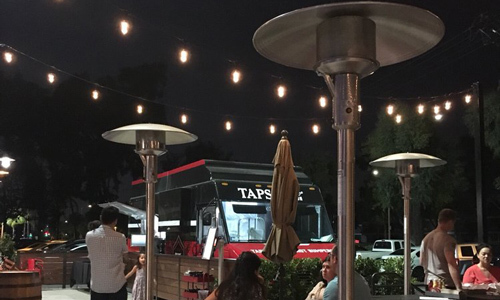 Over the past decade, the popularity of craft beer has continued to increase exponentially. This has led to craft beer local breweries to pop up in cities all over the country. Many of these breweries today are making a considerable amount of money and have the potential to do even better in the future. While part of this is attributable to the great beer and food that they sell, it can also be attributed to a culture shift away from going out to mainstream bars and instead to micro-brews that provide a different and unique atmosphere. While many breweries are able to do quite well, those that have found a way to maximize their space are able to do even better. One great way that any brewery could do better would be by allowing for outdoor seating and serving space. While many of these breweries are located in cities with colder winters, utilizing outdoor patio heaters could allow any brewery to continue to serve their customers outside well into the winter months. There are a variety of benefits that come when a brewery owner or manager invests in patio heaters for a brewery.
Provide a Comfortable Atmosphere
One of the main advantages of having outdoor patio heaters is that you can provide a comfortable atmosphere. One of the main reasons why microbreweries have continued to be popular with guests is that they have a fun and inviting atmosphere. When it is cool outside, you can provide a great atmosphere to your guests through the use of overhead patio heating systems that will give a great ambiance and keep people warm and comfortable. When this is combined with good music and great beer, it can create a very inviting atmosphere that will keep your customers coming back in the future.
Allow Flexibility of Heating
When you have portable propane heaters, these can be placed in strategic spots to help maximize the experience of your customer. Another advantage of these heaters is that, with wheel attachments, they are easy to move around. This can include placing them right next to the customer's table or even placing them near the bar. Either way, any employee will be able to easily move them to the best position possible.
Maximize Space For Longer Periods of Year
Ultimately, the key advantage of having portable or installed patio heaters is that they will allow you to maximize your space. One of the key points for any restaurant or brewery is to be as efficient with space as possible. To do this, you will need to find places where you can allow guests to sit while also providing them with good service. During the cooler times of the year, those without heaters may have to close their patio, which will lead to a reduction in space and sales. When you use heaters and keep your patio open, you can continue to maximize revenue all year long.
Indoor Use Options
Some breweries today have large warehouses and brewing space that can get quite cold even when they are completely enclosed. Since this part of the brewery can be an attraction for tours and parties, and also is constantly in use by employees, finding ways to keep this space warm is important. One great way to do this today is through the use of propane and natural gas heaters. You could place these strategically around the interior of your brewery to keep even the coldest places of your warehouse warm. This can allow you to continue to showcase the warehouse and production space all year long.
---
Want more information? Have a question? Contact us today, and we will be happy to help!