Passionate Home Chefs Go All-In with Built-in Outdoor Gas Grills
9 minute read | Grills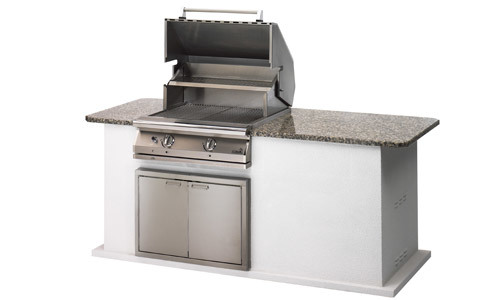 If you are a backyard chef who revels in the creative experience, installing a built-in barbecue grill will undoubtedly elevate you to the pro-grilling ranks. That's because built-in outdoor gas grills with a full complement of accessories will turn your backyard into a pro-level kitchen. Today's high-quality PGS built-in gas grills represent the next generation in the outdoor culinary experience.
In fact, permanent BBQ grills are more akin to the restaurant-grade commercial gas barbecue units you might expect at popular eateries. It's no secret that flame-broiled burgers, BBQ, and select cuts of choice beef enjoy a rare and desirable flavor when cooked on quality built-in grills. Many of today's busiest restaurants have already enhanced their outdoor service by installing built-in outdoor gas grills, and the pricing is well within the budgets of everyday homeowners.
That being said, your friends and family members will feel compelled to join you more often for outdoor BBQing to experience the succulent flavors and healthier creative menu options you will make possible. After you have transformed your deck or patio with the appropriate permanent BBQ gas grill, you'll be the toast of your inner circle. You may even make some new friends and meet other passionate grilling champions.
Best Types of Built-In Grills to Install
In terms of upping your outdoor cooking game, there really is no wrong outdoor grill. Well, unless you select a poorly crafted unit with inconsistent heat disbursement. Quality matters, but it does not have to break the family budget either.
Just keep in mind that state-of-the-art built-in outdoor gas grills provide the superior experience everyone desires from perfectly cooked meals. They also save a tremendous amount of money while delivering healthier and more flavorful portions. PGS has three built-in grills worth considering.
PGS A-Series Grills: Ranked among the more cost-effective models, the A-Series enjoys the versatility to function as a pedestal gas grill. It can be mounted in three different fashions or set into a countertop. Its smaller size allows for more flexible placement, especially when installing multiple grills.
PGS T-Series Grills: The T-Series offers home chefs the commercial gas barbecue excellence used in today's professional eateries. It comes with a 60-minute gas flow shutoff timer option that ensures safety and won't unnecessarily expend fuel. The durable construction and 45,000 BTU output have this line trending high.
PGS Legacy Grills: Considered the crème de la crème in outdoor culinary circles, a Legacy stainless steel grill delivers upwards of 67,000 BTUs and enjoys rotisserie options. It is widely considered a darling among permanent BBQ grills. If you want to go all-in, this could be your best option.
Best Type of Fuel for Built-In Outdoor Gas Grills
Moving forward with a high-quality built-in gas grilling station does not necessarily reduce your fuel option possibilities. In fact, permanent BBQ grills open the door to connect with home fuel as well. These are generally the best options for fixed grills.
Liquid Propane (LP): Homeowners enjoy options that include connecting to a built-in tank, mounting one separately or tying into a home's existing lines.
Natural Gas (NG): For homeowners already using inexpensive and clean natural gas, built-in gas grills can be tied directly into existing lines. The cost benefits are exceptional, to say the least.
Built-in gas grills are outpacing portable models in terms of outdoor grilling experience for many people. But it's important to know that homeowners do not necessarily have to invest in a full outdoor kitchen to enjoy a sense of permanence.
Types of Gas Grill Mounts
Deciding on which mounting options best serves your outdoor grilling needs requires balancing space considerations with your grill of choice. It's also worth noting that home chefs may want to increase their grilling station area when the family budget allows you to make this upgrade. These are tried-and-true mounting options.
Pedestal Gas Grill Mount: This type of base may be strategically used when space tends to be a little tight. A slender pedestal gas grill mount allows grilling enthusiast to work on a fixed unit. Similar versions include the post mount natural gas grill users employ to connect directly with existing home fuel lines.
Built into Countertops: This design option offers, perhaps, the most rewarding grilling experience because you are effectively creating an outdoor kitchen. The PGS Legacy series tends to be an excellent fit and accessories such as built-in coolers, side burners, and other desirable conveniences can be accommodated.
Fixed Grill Cart: If you are unsure about taking the next step to a permanent gas grilling station, it's not uncommon for people to use the manufacturer's hardware to secure the model in place. If this is a trial step, consider a model that enjoys the mounting agility to fit into a countertop later.
Built-In Barbecue Grill Accessories
If you listen carefully to highly successful people, they tend to have at least one thing in common. Winners believe in going all the way with your passion. That's why game-changing accessories such as these are a must.
Most of us are not going to throw a pass that wins the Super Bowl or homer in the bottom of the ninth during the World Series. But we can sure as heck grill-up champion-level BBQ on any given Sunday.
---
Want more information? Have a question? Contact us today, and we will be happy to help!