Patio Comfort Heaters Prevent Home & Business Losses
5 minute read | Heaters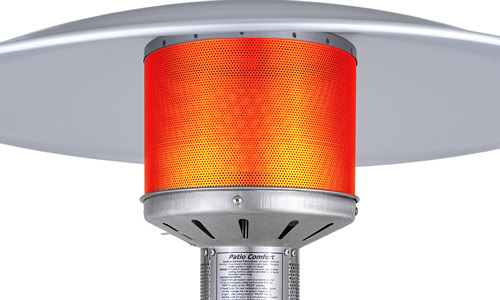 Home and business owners typically think of patio heaters as an investment to improve quality of life and generate profits. But few think about the lack of a propane patio heater as costing them leisure time and money.
It is true that patio heaters allow customers to enjoy outdoor patio spaces for longer. With that premise in mind, let's consider just how much time and money is lost by not purchasing a mushroom heater. And to make the case even stronger, let's review the benefits families, friends, and patrons would enjoy if liquid propane or natural gas heaters were in place.
A Restaurant Can Make Additional Revenue by Installing Patio Heaters
A National Restaurant Association survey indicates that 65 percent of eateries provide alfresco seating. Of full-service restaurants, approximately 72 percent offer outdoor seating. Upwards of 57 percent of limited-service establishments had fresh-air dining. In terms of return on investment, these are notable outdoor sales numbers.
Nearly a quarter of limited-service eateries generated up to 40 percent of sales from outdoor seating.
One-quarter of full-service restaurants earned up to 70 percent of sales from outdoor dining.
The same study highlighted the fact that 54 percent of restaurateurs end outdoor service during the winter months. That equated to 40 percent of limited-service operations' profits simply going away. Full-service businesses are faced with losing up to 70 percent of the sales generated outdoors.
But not every entrepreneur is willing to allow sales to go into hibernation. More than 40 percent of limited-service eateries and 30 percent of full-service establishments plan to keep outdoor seating available during the fall and winter months. How they are pulling off that feat isn't difficult to imagine. They are warming these spaces using patio heaters to avoid losing revenue and customers.
What Quality of Life Benefits Does a Propane or Natural Gas Heater Give Homeowners
It's important to consider that working families made a significant investment in building a deck or patio. This home improvement was estimated at approximately $50 per square foot in 2022. If we apply that figure, a 10- by 20-foot deck runs upwards of $10,000. And the high rate of inflation and labor shortage will only continue to force that estimate higher.
Common sense also dictates that homeowners without a propane heater will stop enjoying their deck or patio during the late fall and winter months as well. The reasons families purchase propane or natural gas heaters are not typically based on losing a percentage of their outdoor space investment. Most people focus on the following quality of life benefits.
Comfort: The infrared radiant heat generated by leading patio heaters warms people and objects in their throw radius. This means a cool breeze cannot brush away the warmth and comfort enjoyed outdoors.
Fresh Air: Frigid temperatures drive family members indoors and reduce their natural experience. Fresh air invigorates the mind, body, and provides substantial health benefits. Old Man Winter pilfers them away without the warmth of patio heaters.
Quiet Time: Decks and patios are ideal spaces to enjoy a morning beverage to the sounds of birds singing. They are also perfect places to engage in mindful meditation and yoga. Without patio heaters to provide warming comfort during the early morning or late evening, people lose their quiet place.
Family Bonding: Outdoor living areas have emerged as excellent areas for families to spend quality time. Preparing delicious meals on a barbeque grill and sitting down together away from televisions and other distractions encourages family members to talk, laugh, and build lasting memories. These are priceless moments that are lost for months without the support of patio heaters.
The decision to include a patio heater on your deck is usually focused on the increased peaceful enjoyment of the space. But it's also fair to consider what you are losing each day a cool wind compels you to stay indoors. The good news is that mushroom patio heaters rank among the most cost-effective ways to keep warm on your patio no matter how cold it gets at night.
Patio Comfort Heaters Solve Outdoor Living Space Losses
The Patio Comfort line by AEI is the classic mushroom heater seen on restaurant patio areas and backyard decks across North America. Mushroom heaters rank as the most popular because it offers home and business owners tremendous flexibility while delivering expansive warmth.
Liquid propane patio heaters can be portable with a wheel kit that allows owners to reposition their heaters as needed. This has been something of a boon in both residential and commercial settings. The mobility of propane patio heaters lets restaurateurs strategically position mushroom heaters to maximize the warmth of patrons during busy dinner or breakfast service. They can also be arranged for limited seating to accommodate late-night drinks and appetizers.
The same holds true for residential usage. Homeowners can place patio heaters, so they throw infrared radiant heat over outdoor seating. They can also be placed to create a warm space to enjoy that morning beverage and practice yoga. These are more reasons the Patio Comfort line has emerged as the popular choice for residential and commercial use.
Energy Sources: The Patio Comfort heaters come in liquid propane or natural gas. Propane heaters house a fuel tank in their base. One 5-gallon tank usually lasts up to 10 hours. Natural gas heaters are tapped directly into the property's gas line, and are secured in place. Natural gas heaters have no fuel tank to change but are also not portable.
Safety: This self-contained model enjoys 100 percent safety control and a matchless ignition pilot system. There is no open flame that could burn an unsuspecting patron or family member.
Expansive Throw Radius: These patio heaters generate upwards of 40,000 BTU and typically cover a 12-foot circular radius.
Style: These industry-leading patio heaters come in a diverse range of colors and styles. They can be selected in stainless steel, antique bronze, jet silver, or a vintage design.
The Patio Comfort line enjoys durable, portable patio heaters. In the event an accident occurs, they are backed by complete replacement parts and support. If you have an underused deck or patio, a classic mushroom heater can help you recover the lost quality of life at home and missing restaurant sales.
---
Want more information? Have a question? Contact us today, and we will be happy to help!