Perfect Patio Grilling with Propane
7 minute read | Grills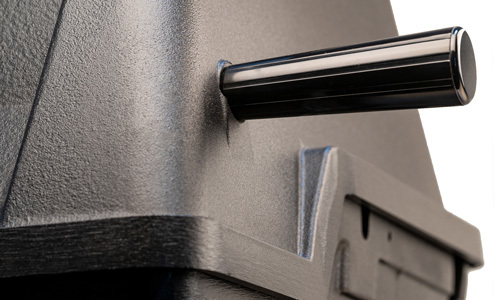 Adding a propane grill to your patio is like adding a second kitchen to your home. Propane grills are easy to use, versatile enough to cook all kinds of dishes, and when warm weather rolls around, the kitchen doesn't get overheated.
There are so many reasons to purchase a PGS propane grill and begin enjoying all your favorite foods straight off the grill.
PGS Propane Grills Don't Take Up Much Space
Our propane grills are compact enough to fit on small patios with plenty of surface area for grilling. The grill can be mounted onto a grill cart or a grill island or it can be built into an outdoor countertop cooking space for a more permanent location.
An outdoor grill island comes with countertops that are safe for use outdoors. They also provide space for your grilling accessories.
Seasoned construction professionals can build an outdoor kitchen with a countertop and space for one of our propane or natural gas grills to be installed.
What are PGS Propane Grills Made From?
Our Legacy Barbecue Gas Grills are constructed from stainless steel, our A-Series Grills are made from cast aluminum and our T-Series grills have both all stainless steel grills and commercial-grade cast aluminum grills.
Where is the Propane Gas Tank on the Grill?
PGS Propane Grills are constructed with a gas tank hidden inside the base of the grill. So a propane grill with a wheel kit can be moved around to fit the present needed setup of your patio, or stored out of the way when they aren't needed.
What Kind of Accessories Are Available for PGS Propane Grills?
There are many different grill accessories available for PGS Grills that are designed to take your meals to the next level. They include:
Infrared Rotisseries Burners that attach to the grill. A grill with a rotisserie burner provides an intense rotating heat source for more grilling capabilities. Cook whole roasts, whole chickens or turkeys, other large cuts of meat, and veggie baskets all with a rotisserie burner on your outdoor grill.
Stainless Steel Side Shelves that give the chef ample space for bowls, platters, grilling tools, and ingredients. At least one side shelf comes with every grill that isn't placed on an outdoor countertop or grill island.
Side Burners are workhorses for grill masters preparing an entire meal. Our side burner easily attaches to the grill and offers a place to boil water for corn-on-the-cob, saute a side of vegetables, or keep a sauce warm for basting.
Storage Drawers and Cupboards provide covered space for grilling tools or pots, pans, and serving dishes. It's also easy to stash fresh ingredients behind a cupboard door and keep bugs away, while you are cooking. When timing is everything, it's convenient to be able to keep necessary items at hand on the grill.
Grill Briquets made from ceramic materials are excellent heat enhancers for our propane grills. Ceramic grill briquets retain heat evenly and eliminate cold spots underneath the food. And that makes the grilled food taste even better.
PGS grills have a Heat Indicator that is mounted on the right side of the grill next to the cooking grids. This placement gives you an accurate measurement of the heat of the cooking surface.
Laser-etched Directions ensure that the chef is always able to read important information on the grill. The clear legible instructions on the grill never fade.
Anti-theft Knobs and Dials keep the grill in one piece despite curious children and vandals. Our knobs and dials are constructed into the frame in a way that makes it very difficult for them to be pried off.
The 60-minute gas flow shutoff timers are our most popular grill accessory and is an important safety feature that comes standard on every T-Series grill and can be added to our residential grills. Our commercial grills come with a 60-minute gas flow shutoff timer. That means that these grills automatically turn themselves off after an hour. If the chef walks away and forgets the grill is on, the timer will turn it off in the interest of safety and fuel economy.
The Grill lid assist handle allows any user to open and close the grill lid without reaching over the grill's heat. It also lets anyone open the grill easily from a sitting position.
Legacy Grill Features
Our stainless steel Legacy grills are available at 45,000 to 102,000 BTUs. They have stainless steel burners, ceramic rocks for even heat, a variably spaced grid system that keeps food from falling through, and a rotisserie burner option. You can purchase an lp grill in the Legacy series or a grill that connects to a natural gas line. Many of the major components in the grill are covered by a lifetime warranty.
Series "A" Aluminum Grills
The aluminum Series A grills run at 30,000 to 40,000 BTUs. Like all of our grills, they have stainless steel cooking grids, warming racks, "H" burners, and foldable side shelves. The spark electronic ignition is self-contained.
Series "T" Commercial Grills
The Series "T" Grills operate at 30,000 to 67,000 BTUs. Like all of our grills, they have stainless steel cooking grids, warming racks, "H" burners, and foldable side shelves. They offer large cooking surfaces and a 1-year replacement warranty on parts. They offer both cast aluminum and stainless steel grills to fit your apartment/community's needs.
Replacement Parts
AEI Corporation is a one-stop-shop for replacement parts for PGS Grills. We only sell original equipment manufacturer or OEM grill replacement parts. We offer everything from gas valves to grates to casting lids and covers. And we guarantee they are all genuine parts with the quality you expect.
Thousands of people trust their outdoor cooking to PGS Residential and Commercial Grills. You'll find them in backyards, apartment building common areas, golf clubs, and everywhere people like to make a meal on a propane bbq.
PGS has been making grills for more than 50 years with an emphasis on performance and durability. Our grill designers insist that they be easy to operate with good looks and state-of-the-art safety features.
Our grills are designed to provide the ultimate cooking experience for professional grill masters while being easy enough for a barbecue novice to operate.
PGS grills are built to the highest quality standards from the finest materials. Whether you want to sear ribeye steaks, char the romaine for the salad, saute a batch of summer squash, or put grill marks on the pound cake, you can trust a PGS grill to do all of that and more. You won't believe how great your food will taste.
---
Want more information? Have a question? Contact us today, and we will be happy to help!