Propane Heaters: Types, Features, Benefits, and More
6 minute read | Heaters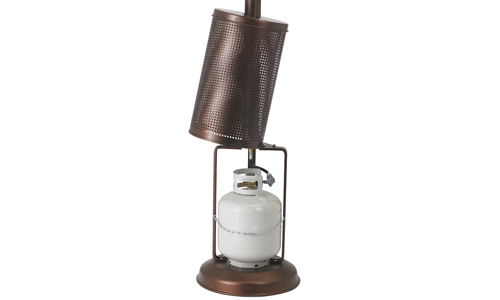 Propane patio heaters make it easy to add warmth and ambiance to any outdoor area. These heaters are ideal for outdoor events, giving you a safe way to keep guests outdoors and comfortable.
Whether you want to heat a patio area attached to a home or business property, there are various models to accommodate your preferences and needs. Many homeowners use propane patio heaters while entertaining outdoor guests. Even when it's chilly outside, one of these heaters can expand living space by adding warmth.
Heating this type of outdoor room extends the entertaining season and makes it possible to use some spaces all year round. One of the most notable advantages of using a propane patio heater is that it provides a lot of versatility. Some of the more common styles of the heaters include portable designs, wall-mounted models, standup versions, and even tabletop and hanging/ceiling models. This is unlike gas heaters that require a more permanent attachment to your property.
How Long Do Propane Patio Heaters Last?
A 20lb cylinder of propane will usually last about 10 hours in a propane heater. This amount of propane produces around 40,000 BTUs per hour. Most full-size propane patio heaters are designed to accommodate a 20lb tank of propane, which is the same tank used in most residential outdoor BBQ grills.
Which Type of Propane Patio Heaters Are Portable?
Propane patio heaters offer the advantage of being portable, but not all of them. Some of them come with design features that require attachment to a wall or ceiling. When shopping for a portable propane heater, it's very important to look for a version that comes with a base that features wheels. The wheels on these types of heaters, along with a self-contained fuel tank, are what makes them portable. Many of today's basic propane patio heaters come in portable versions.
Are There Patio Heaters That Emit a 360-Degree Circle of Heat?
The mushroom propane patio heater is the only type that provides a 360-degree circle of heat. This type of heater is particularly of an advantage when entertaining outdoor guests as it distributes comfort and warmth to everyone surrounding it. Mushroom heaters are available in a wide range of sizes. Many of the larger versions require a permanent fixture as a foundation. But even in the larger versions, it's simple to switch out propane tanks as needed. Most have a door that opens straight to the propane tank area and all you do is swap out tanks when one runs out.
Where Is the Best Place to Get Propane for Propane Patio Heaters?
To keep a propane patio heater working around the clock, you'll need to switch out propane tanks when they eventually run out. You can typically go into just about any town or city and stop by a gas station or grocery store to swap out an empty propane tank for a full one. When switching out propane tanks, you will usually receive a discount of some sort. To buy a full tank without exchanging an empty one, the fee for the propane is going to be higher. This is why you should never throw away an empty propane tank. You can always tank it to a local store and trade it in for a full one at a discounted price.
Why Do So Many People Prefer Propane Patio Heaters?
Outdoor patio heaters are preferred in a lot of residential settings. This is mostly because portable versions can easily be moved around, and some of today's best heaters include designs that complement almost any setting or outdoor space. Propane heaters are typically easy to maintain, requiring very little care other than switching out empty propane tanks for full ones. Because propane heaters can last for up to 10 hours or longer on a 20lb tank, this makes them the perfect source of heat for events lasting several hours or all day or night.
Can Propane Patio Heaters Compliment Natural gas or Electric Heaters?
If you already have a natural gas or electric heater, you can always add a propane patio heater to provide supplemental warmth to your space. Suspended mushroom heaters aren't portable because they have to be attached to the ceiling, but they do complement natural or electric heaters in that you can choose a location of choice to ensure heat is evenly spread throughout the space you want to heat.
Where Are Propane Heaters Most Commonly Used?
A lot of people use an outdoor propane heater because they don't have the proper connections to tap into natural or electric heat. This is usually seen in areas where natural gas connections aren't accessible.
Propane patio heaters are commonly used in residential locations in outdoor areas as well as large garage spaces. Commercial propane patio heaters are typically found in commercial settings, such as outdoor areas located at restaurants, hospitals, universities, stadiums, etc.
Some of the most notable benefits of propane patio heaters are:
Provides widespread heat: You can heat an area up to 13 feet wide and 13 feet deep with a propane heater.
Extremely versatile: The adjustable heat controls on a propane patio heater make it simple to achieve the warmth level you prefer.
Efficient heating: Because of the high-grade materials and burners used in making propane heaters, they provide efficient heating.
It's always a good idea to speak with someone experienced in using various types of propane heaters before you make a purchase. This way you can learn about the different models and versions, which is key to making sure you buy the best heater for your home or business.
---
Want more information? Have a question? Contact us today, and we will be happy to help!