Replace Damaged Or Worn BBQ Grill Parts
5 minute read | Grills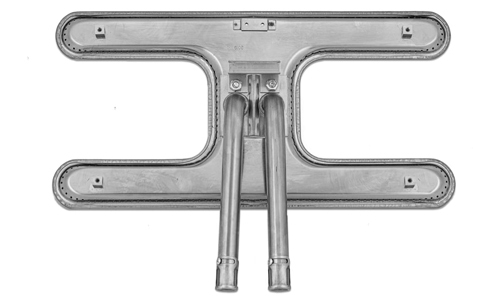 Homeowners typically throw away an inexpensive or mid-level outdoor gas grill about every three to five years. If you've sent one to the trash heap in recent years, you've probably experienced some frustration. Maybe it's time to stop and ask yourself some questions about this wasteful and expensive process.
Would you have a window removed and replaced because a pane of glass cracked?
Would you throw away your refrigerator because the temperature seal leaked?
Would you throw away your indoor stove because a burner malfunctioned?
Would it make more sense to purchase outdoor grill parts and fix a top-quality model?
Most people wouldn't buy a new window, refrigerator, or stove. They'd fix the problem themselves or call a repair technician if necessary. Oddly, the low cost of outdoor grill parts seems not worth the bother in many instances. That's largely because the mass-produced products homeowners buy at big box outlets aren't that good, to begin with. The average price runs in the $250 range for a cheap grill, and you never expected it to last anyway.
At $250 every three years, you're on track to spend $1,250 every 10 years and $2,500 over 20 years Adding insult to injury, you will deal with uneven heat disbursement, flare-ups that singe otherwise delicious foods, as they suffer diminishing returns. Those last few months of horrible grill malfunctions will make you want to cook indoors and carry food outside into the fresh air. Here's one more question. Wouldn't it make more sense to purchase a high-quality stainless steel BBQ grill that will last a lifetime? Yes, that was actually a rhetorical question.
How Can Outdoor Grill Parts Stop The Wasteful Cycle?
No one wants to waste their hard-earned money. Obviously, repeatedly buying products from the land of cheap knockoffs isn't going to cure that problem. It's essential to pivot away from wasteful spending and invest in a liquid propane gas grill made by an industry-leading company. PGS Grills by AEI Corporation are top-rated models that work with natural gas or liquid propane that won't require replacement. The long-term, cost-effective solution is outdoor grill parts.
This idea may take some time to sink in because too many people have succumbed to the notion a propane BBQ is not made to last. PGS Grills are widely used in commercial settings. There are two residential outdoor gas grill lines — A-Series grills and Legacy grills — that deliver the enduring quality backyard chefs desire. These are key stats that point to a Legacy outdoor gas grill being a smart investment.
Generates 45,000-102,000 BTUs
Enjoy Stainless Steel Burners
Accessories include a Rotisserie Option
Ceramic Rocks Used for Even Heat Distribution
Fueled by Natural Gas or Liquid Propane
Lifetime Warranty on Many Major Components
The A-Series grills also have stainless steel burners and deliver upwards of 40,000 BTUs, offer convenient folding side shelves, and matchless ignition safety. Both models can also be deftly accessorized. All this quality begs the question: Why would you need grill replacement parts?
Glad you asked. The facts are that windows crack, refrigerator parts falter, and stove burners will need to be replaced eventually. You invested in quality models that are made from tangible materials that suffer normal wear, tear, and age. Like everything else, even the best PGS Grills are not immune to time or damage. The critical difference is that it's more cost-effective to replace outdoor grill parts after years of use rather than throw the baby out with the bathwater. These are common components that typically require replacements due to impact or accidents.
Fuel Hoses
Heat Regulating Knobs
Ignition System
Cooking Grid
Grill Lids
Control Panels
Burner Assemblies
Although PGS Grills are constructed to pass the test of time, severe weather, hard impacts, accidents, and other unforeseen circumstances can damage a natural gas or propane BBQ grill. If this were a cheaply made model, you'd probably buy another one just because the burners got gunked up. That's a sad indictment about the value of subpar products. Fortunately, that's not the case with PGS Grills that commonly include warranty coverage.
Should You Replace Outdoor Grill Parts or Get A New Model?
If you are starting to see the signs that your low-end or middling grill is struggling, that could be an opportunity. This time around, you can avoid resetting the clock for another few years and buy a high-quality stainless steel BBQ grill. The indicators that you are experiencing diminishing returns are typically similar to needing a replacement part in an industry-leading PGS Grill. If, after extended use, your high-quality model shows any of these telltale signs, you'd simply order a PGS Grill replacement part online.
Brittle and Cracked Fuel Hoses Require Immediate Replacement
Valves, Regulators, or Any Fuel Connectors that Leaks or Lacks a Secure Fit Requires Immediate Replacement
Burners that Emit Uneven Flame Must be Cleaned or Replaced
Matchless Ignitions Require Prompt Replacement
Damaged Handles and Knobs Require Replacement
Damaged Cooking Grids & Grill Covers Should be Replaced
The markings on a common liquid propane gas grill often wear away relatively quickly in the sun and elements. Few things are more frustrating than not knowing your precise heating setting when grilling choice cuts of beef, chicken, or veggies on the patio. The outcome tends to be unevenly prepared or burned-to-a-crisp meals. That's why PGS Grills offer laser-etched settings that last a lifetime.
A-Series & Legacy Models Enjoy Readily Available Outdoor Grill Parts
The A-Series and Legacy lines enjoy state-of-the-art craftsmanship that usually staves off replacing essential parts. Naturally, hoses exposed to direct sunlight and freezing temperatures need to be periodically replaced for safety's sake. But the durable components of a PGS Grill generally last far longer than the low priced models backyard chefs repeatedly cycle through every few years.
As the proud owner of a top-tier stainless steel BBQ grill, you will also have access to wide-reaching accessories that help expand backyard grilling menu items. The infrared rotisserie burner has been dubbed an absolute game-changer in outdoor cooking.
Investing in a lasting PGS Grill is the right decision for two reasons. First, you will save money by not kicking a cheaply made model to the curb every few years. Instead, you'll go online and order a replacement part if something gets damaged or ages out. Second, you will improve your consistent grilling quality and enjoyment by having a top-quality stainless steel grill.
Ask yourself, do you plan to throw out your windows, stove, or refrigerator if they need a replacement part? Or are you going to now apply that same savvy money-management thinking and check out the A-Series and Legacy lines?
---
Want more information? Have a question? Contact us today, and we will be happy to help!