Science Proves Patio Heaters Provide Health & Wellness Benefits to Guests at Resorts, Spas, Eateries
5 minute read | Heaters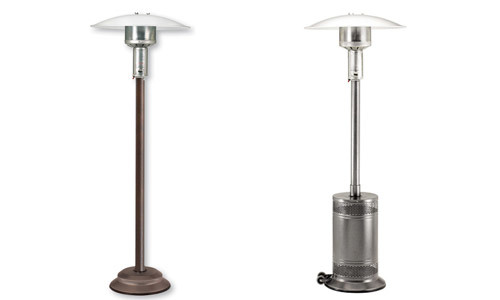 Every day people generally gravitate toward al fresco dining because it simply feels good. The enjoyment of eating fine cuisine at an open-air restaurant seating or a resort's patio has proven scientific benefits as well. That's because our affinity for eating outdoors stems from biological responses. But the problem that derails this rich experience is the evening chill and cold weather months that drive us indoors.
By better understanding, the rewards of extending the day and season with mushroom heaters, resorts, spas, and restaurants can make science-based decisions about whether to install a patio heater.
Benefits of Outdoor Dining, According to Science
A University of Anglia study published in Science Daily indicates that spending increased time outdoors had quantifiable health benefits. Reviewing data related to 290 million people, the U.K. researchers concluded that people with higher levels of greenspace exposure enjoyed better overall health and wellness.
"Spending time in nature certainly makes us feel healthier, but until now, the impact on our long-term wellbeing hasn't been fully understood. We gathered evidence from over 140 studies involving more than 290 million people to see whether nature really does provide a health boost," Caoimhe Twohig-Bennett, lead author from UEA's Norwich Medical School, reportedly stated. "We found that spending time in, or living close to, natural green spaces is associated with diverse and significant health benefits."
In many ways, eating deliciously prepared meals in outdoor spaces is a microcosm of the study's findings. That's primarily because working people spend upwards of 90 percent of their time indoors. And when nights get colder and seasonal temperatures drop, the fresh air experience all but evaporates.
The research project appears to encourage major lifestyle changes, such as incorporating regular nature hikes and Japanese forest bathing. Families rarely have the time flexibility to pivot after working a 9-to-5, followed by a commute and home life responsibilities. Even a growing number of families use a spa under a patio heater into the night. And for restaurant owners to attract evening customers, deploying natural gas heaters around al fresco seating is effective.
Reasons To Eat Outdoors More Frequently
Consider the restaurant experience of eating outside under the warming comfort of a patio heater. This experience typically occurs after a long work week or on nights people don't feel like cooking. Earning a living often proves taxing and cold weather months add a feeling of cabin fever.
The same holds true of homeowners who retreat to indoor kitchens and climate-controlled spaces. They would rather enjoy a weekend getaway at a nature-immersed spa or resort with a patio heater system. These rank among the top reasons people prefer to eat outdoors near that mushroom heater.
Fresh Air: The crisp night air invigorates the senses and tends to make food smell and taste a little better. Night skies are filled with stars and moonlight, creating a rich ambiance. By contrast, indoor dining involves incandescent light, recycled air, and distractions.
Nature Soothes: Patios expose people to fall foliage, early spring blooms, and the greenery researchers deem beneficial to our health and wellness. Restaurant owners often decorate outdoor dining spaces with large potted plants and some include arbors with vines. Although this may not be the equivalent of full nature immersion, greenery helps.
Social Benefits: Families take full advantage of decks and patios during the warm-weather months. Gathering to enjoy a delicious grilled meal with friends creates lasting social bonds. And planning birthday parties and graduations only adds to the interpersonal benefits. The same holds true of outdoor seating at eateries and resorts. They are a space to interact with friends over late-night appetizers and drinks. Our outdoor eating and drinking experiences are rich in socialization.
Restful Sleep: Research indicates that fresh air supports getting a full, good night's sleep. Data points to fresh air cooling core body temperatures. Neurologists say that fresh air makes people feel more relaxed and sleepy. After a long, stressful day, having the last meal outside helps us wind down and get that deep REM sleep we require.
Tapping into fuel lines and installing natural gas heaters or moveable propane patio heater units easily solves the problem of shortened time outdoors and truncated seasonal use of spaces. But to effectively accomplish the transition to extend al fresco seating, selecting an industry-leading model is essential.
Top Patio Heater Models for Outdoor Dining Spaces
Mushroom heaters remain the most identifiable and used type of patio heater. Restaurants, spas, and resorts have taken advantage of this design for ages because they are aesthetically pleasing and keep guests comfortable.
The Patio Comfort model remains a go-to product for commercial use. With stainless steel, antique bronze, jet silver, and vintage finishes, Patio Comfort mushroom heaters generate 40,000 BTUs that distribute infrared heat from a portable propane tank housed in the base. One 5-gallon tank provides up to 10 hours of guest comfort.
The value of selecting a propane patio heater involves space flexibility. When cool, the units can be moved to create a warming radius around different seating arrangements. This proves helpful to resorts, spas, and restaurants, that experience varying numbers of guests.
For decision-makers who prefer a fixed patio heater system, there are Patio Comfort models that can be secured and fueled by natural gas. The natural gas heaters enjoy stainless steel and antique bronze finishes to accent an outdoor area. And embedding a sturdy Patio Comfort post into concrete or fixed infrastructure is an option.
It's essential to keep in mind that natural gas heaters must be secured in place for safety, and a fuel line must be installed by a certified technician. Portable mushroom heaters that house a tank in the base can also be secured at their base to prevent guests from accidentally toppling and damaging a unit. But the infrared technology employed in the Patio Comfort line does not expose people to an open flame.
The wide-reaching benefits of mushroom heaters are rooted in science. Business leaders have a rare opportunity to attract customers while enhancing their health and wellness.
---
Want more information? Have a question? Contact us today, and we will be happy to help!