Stay Warm On Your Patio This Winter With Radiant Heaters
8 minute read | Heaters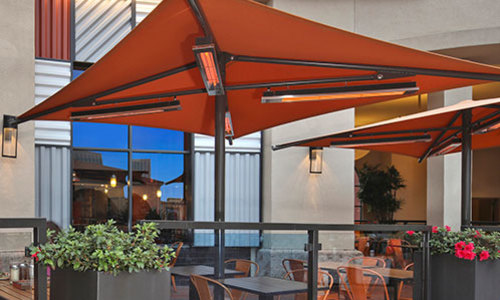 Cold snaps and deep winter temperatures tend to reduce our living space and enjoyment of the outdoors. That's because frigid weather prompts us to stop enjoying our backyard decks, patios, and grills among others. All too often we simply yield to the season and put our love of all things outside on hold until warmer temperatures give us permission to return. It's time to take control of your life and the outdoor deck or patio you own. By integrating electric, propane, or natural gas infrared heaters into your outdoor space, you will be able to shake off winter's cabin fever. A well placed outdoor radiant heater will give you back the fresh air, backyard barbequing thrill and leisure time you cherish. Consider how a strategically placed propane patio heater or two can improve your quality of life this winter.
1: Morning Coffee and the Propane Patio Heater
Taking coffee on your deck or patio is one of the best ways to embrace the new day. It's like doing yoga, practicing mindfulness and meditation rolled into one. The sound of birds, the smell of the mist coming off the grass and leaves as the sun warms them provides a sense of peace and hope for the day. Sitting at your dining room table or breakfast nook during the winter months is just not the same experience. That's why many homeowners have electric infrared heaters installed that they can switch on while the coffee is brewing and sit outdoors in a warm space.
2: Backyard Grilling All Year
Grill enthusiasts know that you will probably continue to utilize your outdoor cooking station deep into fall. But at some point, things get covered up until the spring thaw. But it doesn't need to be that way. An outdoor radiant heater strategically placed to maintain temperatures around your cooking and preparation area will allow you year-round comfort while you grill. Check out our 7 tips for grilling outdoors this winter for some ideas to enhance your patio grilling experience.
3: Entertain Guests with Natural Gas Heaters
One of the reasons that we invest our hard-earned dollars into decks and patios is the improved ability to entertain friends and family members. The calendar may spell winter, but that doesn't mean people stop having birthdays, weddings or enjoying each other's company. While you can certainly entertain indoors, you shouldn't have to. Natural gas heaters spaced out around your deck or patio can warm the entire space and offer guests the relaxation of being outdoors. You may also have smokers, or people who vape in your group and reopening the outdoor area makes them feel welcome.
4: Restaurants Competing for Customers with Electric Infrared Heaters
If you are a restaurant owner with an outdoor patio and have yet to install electric infrared heaters or natural gas heaters, you are falling behind the competition. Installation and usage of the outdoor radiant heater was trending hot in late 2018 and restaurateurs are now competing on two separate fronts for customers. First, other eateries are extending the season by smartly integrating these units. Some do hard installations, and others utilize the popular mushroom head propane patio heater to comfort customers who prefer to dine outdoors. Second, restaurants are now competing with everyday homeowners who have invested in their own outdoor experience by selecting an outdoor radiant heater or two, so they can save money and not have to travel to your business. Many eateries are utilizing electric infrared heaters because they do not require floor space and are easy to manage.
6: Star Gazing Under an Outdoor Radiant Heater
It may surprise some stargazers, but electric infrared heaters do not throw off enough light to impede your enjoyment of the night skies. In fact, it's the frigid temperatures that are more likely to change your mind about sitting outside on a moonless night. In North America regions that experience significant cold weather, many stargazers either consider the practice a seasonal enthusiasm or travel to an observatory during winter. Neither of those options compares to simply preparing a hot chocolate and sitting on your own warm deck and enjoying the stars with or without a telescope. The idea that you should bundle up and endure freezing temperatures or just stay indoors until spring defies common sense. You invested in a deck, patio or another type of outdoor space to improve your quality of life. Consider the size and location of the space and your heating options. Mushroom and box heaters powered by electricity, natural gas, or propane are all excellent and effective ways to take back your outdoor living space.
---
Want more information? Have a question? Contact us today, and we will be happy to help!