The T-Series Grills Continue to Provide Amenities that Make Them a Great Commercial Grill Option
6 minute read | Grills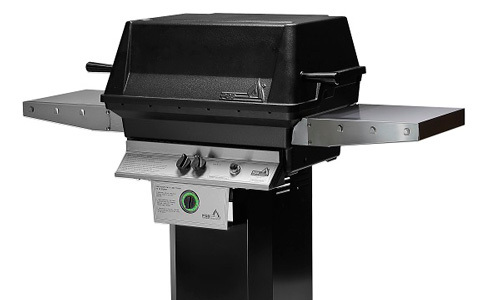 Anyone that owns or manages a commercial property such as an apartment or condo building, hotel or resort, or even commercial or industrial office building needs to find amenities to provide that will provide a fun activity for all to enjoy. One great addition that any commercial property manager can include to their property is an outdoor grill.
With an outdoor commercial grill, you will be providing your guests, residents, and tenants with the chance to entertain and prepare a great outdoor meal. As you are looking for patio grills to include in your outdoor kitchen and entertaining space, a great option to consider is the T-series grills. There are very unique patio grills that have a wide range of features that can make them ideal for any commercial setting.
Wide Range of Options to Choose From
One of the main reasons why T-Series Grills are ideal for a commercial setting is that they have many different options to choose from. The size of a commercial property and the number of people that may need to be served using a grill at one time can vary considerably. Owners and contractors will have many different options to choose from to ensure they can find one that meets their needs. The options available include a range of different size and capacity options, mounting and portability options, and accessories.
Quality Materials
When you purchase any type of grill, it is important that it is made of high-quality materials. This can be particularly true when purchasing a commercial grill as a wide range of people will use it at different times. Quality materials can help to keep the grill safe to use, extend its useful life, and be durable enough to withstand frequent use.
No matter what version of the T-Series Grills you use, you can be assured that all of the internal parts will be made with high-quality stainless steel. This includes all of the burners, grills, and other internal components, all of which are made of stainless steel. At a minimum, any T-Series commercial grill you purchase will have a strong exterior aluminum cast casing, which is extremely durable. For some of the higher-end grills, the casing is made out of stainless steel.
Variety of Features and Accessories
Avid grillers that would like to prepare a full meal will often find value in getting some additional features and accessories that can enhance their cooking ability. Some of the most popular features and accessories to add to the grill can include warming grill racks< and side burners, stainless steel side shelves, infrared rotisserie burners, grill timer/s, and attachable drawers and storage compartments. These durable accessories also come with a one-year warranty if a part needs to be replaced.
Type of Gas Usage
When you are shopping for a T-Series Grill, you will also enjoy the flexibility in the type of fuel that you can get. For those that have an outdoor natural gas line, there are natural gas BBQ grills to choose from. These are often ideal for those that want to have a grill that is going to be located in a permanent location and want to enjoy the flexibility of not having to run out and purchase replacement propane tanks. Another option is to get a propane grill, which is ideal for someone that does not have a pre-installed natural gas line or wants to be able to move their grill around the community based on the needs of the guests and certain events.
Variety of Mounting Options
One of the most important choices that you will have to make is the type of mounting option that you will have for your grill. One popular option is pedestal mounts, which is ideal if you want to have a smaller grill that is located in a permanent location. For many community managers that want to have multiple grills in one grill area, the pedestal grills are ideal.
If you are looking for a smaller grill that is mobile, mounting propane grills on grill carts is a great option. For a mobile grill cart, you will need to have a grill that is connected to a propane tank. However, it will come on a cart with wheels, which will make it easier for you to transport the grill to other areas of your property.
If you would like to build a more stylish outdoor kitchen, an outdoor grill island is a great option. With this option, you can have a permanently placed grill that will have cabinetry and countertops placed all around it. Having an island, or placing a grill into a more elaborate outdoor countertop, typically offers the best aesthetics.
Automatic Gas Flow Shut-Off Timer
For any contractor or commercial property owner or manager, ensuring the safety of all guests and tenants should be a top priority. This responsibility continues when it comes to providing guests with a grill. All T-Series grills come with a variety of features that can help to make them very safe to use.
One of the top safety features available in these grills is the 60-minute automatic shut-off timer. One mistake that is always possible is that a guest could leave a grill burner running for too long. If they happen to leave the grill on when it is not in use, it continues to provide a hazard to all other people in the area. Fortunately, the T-series grills come with a shut-off valve that will automatically turn off the burners after they have been on for 60 minutes or more.
While the shutoff feature is considered a safety feature, it provides other advantages as well. This feature can also help to prevent wasted fuel as it will ensure that gas will stop flowing after the 60 minutes are up. Further, it can help to protect the food on the grill and reduce the risk of food waste by preventing the meal from being overcooked.
Ultimately, having an outdoor grill for your commercial property is always a great investment and amenity to provide. When your guests and tenants have access to a commercial grill, it will allow them to enjoy the nice weather while preparing a great meal and entertaining guests. It will also be a focal point, which could be used for community parties that will allow all people in the area to get to know each other. As you are looking for a new commercial grill, the T-Series Grills are a great option to consider. These grills provide a variety of amenities that make them unmatched compared to other commercial grills available in the market today.
---
Want more information? Have a question? Contact us today, and we will be happy to help!