Top Reasons to Use Patio Grills This Holiday
5 minute read | Grills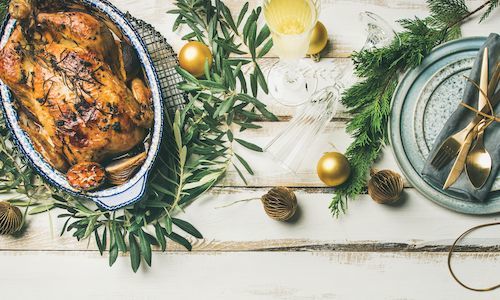 Being able to use an outdoor gas grill all year round is one of its best features. Even on a December night when there's a foot of snow on the ground and they're calling for another six inches by midnight, you can still enjoy a grilled dish. Grilling for the holiday season is a great idea, especially when you think of how much better food tastes when it's grilled. And don't forget that grilled food tends to be a lot healthier than most of your fried dishes; this is particularly of benefit if you're trying to serve a healthy holiday meal.
If you're searching for ideas on how to bring some extra cheer to this year's holiday get-together, make sure to serve up some tasty grilled meats and veggies using an outdoor grill. Keep reading to learn more about outdoor grills and why you need to use one during the holiday season.
It's Time to Make New Traditions
When it comes to the holidays, do you picture yourself cooking outside during the Thanksgiving, Christmas, and New Year season? Probably not. But what you probably do picture is yourself eating Tostitos and sausage dip, fried Cajun turkey, baked ham, and more, so why don't you think of firing up the grill to prepare these hot, mouth-watering dishes? You should!
Grilling outside this holiday season is an excellent way to bring some extra cheer to the table. Imagine how delicious your meals will be at holiday get-togethers when the ham and turkey are served fresh off a hot grill along with grilled corn on the cob, sizzling baked potatoes drenched in melted cheese, and tender lightly-grilled asparagus.
If you're shopping for a grill to use this holiday season, make sure to check out the ones with an infrared rotisserie burner. This type of grill simplifies the process of cooking large cuts of meat. But don't jump ship just yet if you already have a grill and it doesn't have one of an infrared burner. Using neat indirect heating techniques, you can still grill have your taste buds dancing with delight.
Advantages of Patio Grills During the Holidays
One of the top reasons to use an outdoor stainless steel natural gas grill stems from its non-messy and eco-friendly fueling source. Gone are the days of having to get dirty with messy charcoal. With a propane BBQ or natural gas grill, you get to leave the messy charcoal behind. Plus, since natural gas and propane both burn off cleanly, the dishes you create aren't left with a residual aftertaste.
When shopping for an outdoor barbecue grill, keep in mind that there are several types to choose from. For starters, you'll need to decide whether you want a propane grill or one that runs on natural gas. No matter the type of outdoor grill that you want to use, they are usually available in both propane and natural gas versions. This makes shopping for a gas grill less of a headache. It is important to note, however, that if you opt for a natural gas grill, then you'll more than likely need to have it built-in permanently. This is because fuel is piped directly to the unit on natural gas grills, meaning you'll need a permanent hookup to a natural gas line.
If you don't prefer built-in grills and you're looking for a more portable outdoor grill, you'll want to stick with a propane grill. Propane grills usually have their fuel source (propane tank) stored directly below the grilling area but inside the entire unit. Because they don't need a permanent hookup to a natural gas line, propane grills are extremely portable and easy to maneuver. A lot of people leave their propane grills sitting outside during the warmer months of the year and then roll them to a storage area during the cooler months. This makes it super easy to wheel out the grill for just a night or two when preparing grilled dishes for a holiday get-together.
Another great reason to use an outdoor grill this holiday season is that both propane and natural gas outdoor grills can use almost any grill mount. Think about it. Natural gas grills and propane versions can be used in grill islands, on grill carts, or mounted to an outdoor countertop area.
A lot of natural gas grills come in pedestal mount versions, and there are some propane options available in pedestal mounts, but not many; this is because pedestal mounts don't tend to provide a place to store a propane tank which is crucial to using a propane grill. A pedestal BBQ with a lid makes for the perfect centerpiece to any outdoor patio area. If you have outdoor heaters, you can even serve meals to your guests as they sit close to the pedestal BBQ grill, giving you ample opportunity to dazzle them with your chef skills. Your guests will also like sitting close to the cooking area because they will be surrounded by the wonderful aromas created while you use the grill.
In addition to being extremely versatile in their mounting options, both propane and natural gas grills have a lot of versatility in their accessory options, as well. In fact, most grilling accessories can be used with both of these types of grills. Some of the more popular accessories that grill users like to use with both types of grills are:
Warming racks
Automatic gas shut-off valve
Side burners
Grill drawers and storage compartments
Stainless steel side shelves
Infrared rotisserie burner and spit
The Takeaway
You can't go wrong with surprising yourself and your guests this holiday season with delectable dishes straight off the grill. Being able to cook food outside not only keeps less traffic and heat in the house but it gives you and the guests new ways to interact with one another. Make sure to start your shopping adventure for an outdoor grill today!
---
Want more information? Have a question? Contact us today, and we will be happy to help!