Upgrade Your Patio Gas Grill and Evolve with the Times
7 minute read | Grills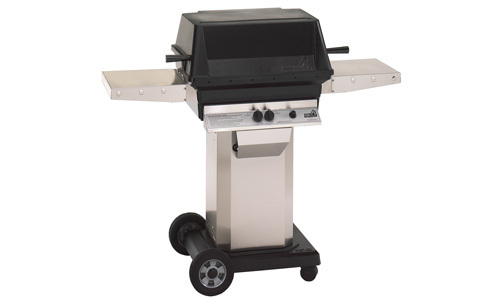 There's an evolution that everyday people go through that lead them to prepare many flavorful meals outdoors. It might begin with an old charcoal grill, but it doesn't take long to recognize that the process is smoky and uneven. It doesn't achieve the succulent meats, chickens, veggies, and other meals you want. Once family chefs try that first portable propane grill, you know you are on to something special.
With your first liquid propane grill, it seems like the curtain has been pulled back to a wealth of possibilities. Burgers and choice meats are suddenly bursting with juicy flavor, and the possibilities start to run through your mind. Chicken, kabobs, grilled fresh veggies — a stainless steel BBQ grill offers a brave new world. Not only are meals for the entire family more flavorful, but you can also take a greater sense of pride when inviting extended family, and friends over for a get-together.
Early man, started grilling on open fires, evolved to charcoal grills that produced too much smoke, and finally took the last step in the evolution to the ultimate grilling solution; Gas Grill. But in all likelihood, your stainless steel gas grill evolution is not quite complete. By highlighting the many benefits you are enjoying, it's easy to see the next generation of outdoor gas grilling in your future.
Benefits of a Patio Grill
What may have started as a single outdoor party quickly grows into a pastime for many homeowners. You no longer just sit passively outside enjoying a beverage taking in the fresh air. A portable propane grill gives you some flexibility on where to place your grill on your patio. Most backyard chefs quickly develop their own techniques about when to turn a choice cut of meat, how to sear, and lock in the natural juices. It's simply the nature of men and women to strive for improvement.
An outdoor patio grill allows you to improve on the flavor of meats and poultry at first. But soon you see the health and wellness benefits of outdoor grilling, and your backyard menu expands. Even during frigid winter months, everyday people are inclined to at least grill a portion of the family dinner to fulfill the need for that unique, succulent taste.
Many homeowners recognize that investing in permanent grills with counter space, side burners, and an infrared rotisserie burner, on their deck or veranda delivers increased food preparation space. That, in turn, allows full meals to be grilled outdoors. Think of it this way, ancient humans didn't put fire to use, so they could remain in caves. They began cooking outdoors to enjoy that sense of freedom, and flavor.
Modern-day people also get the added benefit of increased home values by installing permanent grills and outdoor cooking areas. These outdoor kitchen spaces open up new worlds of opportunity. But the question remains, how much stainless steel gas grill does your personal evolution require and what type?
Benefits of a Natural Gas Grill
Homeowners who are already taking advantage of the cost benefits of natural gas grills are uniquely positioned to install a natural gas BBQ. A natural gas grill, such as a model from the PGS Legacy line, allows you to tap directly into an existing fuel line. The Legacy grills are perfect for outdoor kitchen installations that include countertops and convenient accessories. These are benefits that homeowners routinely enjoy from a built-in Legacy natural gas grill installation.
No more swapping out propane tanks
Matchless ignition makes them as easy to start as an indoor stove
Natural gas ranks among the most cost-effective cooking resources
A natural gas grill is environmentally friendly
Taking the next step in outdoor grilling excellence requires utilizing your outdoor space to its maximum possible potential. Installing a natural gas grill cooking station takes you where you want to go in the future, today.
Benefits of Liquid Propane Gas Grills
For homeowners who are not already using natural gas, it may be in your best interest to select a next-generation liquid propane grill upgrade that works well. PGS A- series, T-Series, and the Legacy Grills lines are all high-quality grills. A liquid propane grill offers many robust benefits.
Matchless ignition for improved safety
A portable propane grill houses the tank and allows for mobility
PGS liquid propane models also can work as permanent grills
Liquid propane is considered a green-friendly fuel source
A liquid propane grill is a cost-effective cooking product
In many respects, the liquid propane grill provides backyard chefs with flexible benefits that allow you to raise your grilling game. The mobility of a model with wheels that houses the tank in its base is usually a smart option when deck space is at a premium, or you have multiple grilling space options that you like to utilize seasonally. But regardless of whether your next evolutionary step is with a liquid propane or natural gas grill, embracing the Technology Age means taking advantage of quality materials and accessories.
Benefits of Stainless Steel BBQ Grill Accessories
Contemporary homeowners are not living in the Bronze or Iron Age. We are all living in the Stainless Steel Age, and that material defines the difference between a high-quality gas grill and one that will rust and decay. If you do not yet own a stainless steel gas grill, consider yourself living in the Stone Age. Beyond ageless quality, industry-leading stainless steel gas grills such as the PGS line can be smartly accessorized for precision grilling and expansive menu possibilities. Consider the benefits of these innovative grill accessories.
Side Burners: Additional heat resources allow chefs to prepare side dishes and keep food warm.
Side Shelves: Increased cooking allows grill masters to convenient keep spices, sauces, and utensils close at hand.
Infrared Rotisserie Burner: By integrating next-generation technology into your liquid propane or natural gas grill, you will be able to cook thick choice cuts of meat, whole chickens, pineapples, veggies and more.
To say that backyard grilling has evolved would be something of an understatement. It is important for grilling aficionados to keep pace with the times is to work with a top-tier stainless steel gas grill that can be accessorized to evolve with your grilling adventure.
---
Want more information? Have a question? Contact us today, and we will be happy to help!