Use the BBQ Off-Season to Upgrade Your Outdoor Commercial Grills
6 minute read | Grills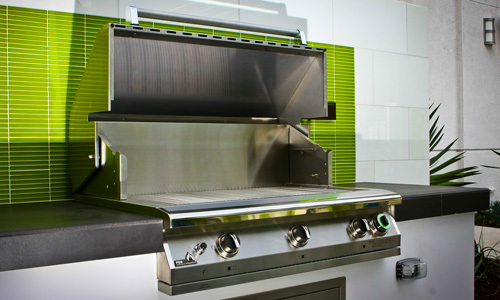 As an apartment manager, property manager, or business owner, you're always looking for new ways to improve business, raise the quality of the products, services, and amenities you provide- and ultimately- improve your bottom line. The good news is that the off-BBQ season gives you an ideal time to do just that. While your property's BBQ facilities are going unused for the winter, you've got time to improve your resident's satisfaction by installing commercial-grade grills on your property. You'll boost the curb appeal of your property and raise tenant loyalty at the same time.
Why Use Outdoor Grills at an Apartment
Any time people look into a new living space, whether it's a house or an apartment- they don't only look at the interior. They also imagine themselves living and getting together in and around outdoor spaces. Having attractive BBQ and recreation facilities will attract tenants and raise the value of your property.
Grilling brings a community together. This is especially true during the summer months when the weather is amenable to grilling and during the Fourth of July and Labor Day. People are more likely to get together in designated areas if they can cook food there. People love to cook and they love to eat- whether it's indoors or out. Having the option of using a BBQ gives them that much more incentive to seek out your apartments over others. Since it's not usually practical for people to grill on their apartment patios, they will look for complexes with community grills. Those who really appreciate grilling will skip over apartment complexes that don't have grills that are up to their standard.
The pool area is an ideal communal area and goes hand in hand with a communal BBQ grill. Recreation areas are another ideal place to incorporate commercial BBQ grills. Sports activities like volleyball, basketball, horseshoes and the like all are perfectly complemented by a BBQ grill. Outdoor rec areas that don't have a BBQ grill will tend to be neglected far more than areas that have both. Adding a BBQ to an outdoor recreation area makes spending time there an all-day affair.
You may have a community grilling area, or you may want to install one. Depending on the layout of your complex, it could be better to have a communal area that is specifically for grilling. These generally take the form of a handful of grills under a gazebo or other covering. More often than not, it's better to have smaller grills installed in courtyards and other small areas throughout your complex. This way they will take up less space. This will leave more room to install larger, permanent grills in your main communal areas. Tenants who want to have a small BBQ will use a small grilling area, and those who want to have a larger event will use the larger grills.
Because people are less likely to have a BBQ in the offseason, now is the perfect time to remodel your outdoor areas and add grills for future use. If you already have outdoor grills for your residents and they are happy with them, you could add outdoor heaters to allow them to use your grills even in the cold. This is a great way to make your outdoor cooking areas useful and attractive all year long. An All-Season outdoor grilling area would be a very attractive addition to your current list of amenities.
The Best Grills for Your Apartment Complex
Our research and industry experience has shown us that not all outdoor grills are created equal. While most grills will transform any outdoor area into an attractive communal spot, some require more maintenance than others. The best community grills run off of liquid propane or natural gas. Both are eco-friendly, with low to zero emissions. Both fuel sources are inexpensive and reliable.
Pros & Cons of Propane and Natural Gas BBQ Grills
Natural Gas Grills
Natural gas grills are permanently installed in place and are linked directly into your natural gas pipeline.
The best benefit of natural gas is that it is easy to use, and you never have to change out spent fuel tanks.
The biggest drawback of natural gas heaters is that you may not have direct access to your property's gas line. Fortunately, contractors have the right tools to connect to your existing line if possible.
Propane Grills
The biggest benefit of propane grills is their convenient and self-contained fuel tank makes them portable. So you can relocate them as needed.
The biggest drawback of a propane grill is that someone will have to change the fuel tank from time to time.
One common way many property managers are able to balance the pros and cons of natural gas and propane grills is to install natural gas grills around the complex and have a portable propane grill to use when and where it is needed.
Mounting Options for Your Grill
After you choose which fuel source you prefer to use, you need to decide how you want your grill mounted. AEI's A-series and T-series grills come with a variety of mounting options.
Pedestal Grills
Pedestal grills are one of the most popular options for apartment buildings. This is mainly due to the fact that they are generally more affordable. They also take up less floor space, enabling you to install more units in a single space. They also come with a wide assortment of grill accessories. Pedestal grills run on natural gas and are permanently installed in place. A pedestal BBQ with lid looks great, requires less maintenance, and is safer to use.
Grill Carts
Grill carts come in two models; the portable propane-powered version and the stationary natural gas-fueled version. They come with some grill storage, they look nice, and can have a variety of grill accessories.
Built-in Grills
These are a real hit is when installed on/with outdoor counters. They can run on propane or natural gas. These grills help create a more immersive experience with your apartment decor. Built-in grills make a great choice for pool areas in apartment complexes. Smaller pedestal grills, on the other hand, are ideal for smaller grilling areas. It all depends on your location and needs.
Grill Accessories
Accessories can make all the difference. Whether its rotisserie burners, side shelves, side burners, secondary grill racks, grill drawers, beverage centers, or grill timers- these useful items let users cook their favorite foods in their preferred way. They are also great for grillers who want to experiment with new BBQ cooking styles. They really add a lot of fun to any BBQ event.
Don't Forget the Automatic Shut-Off Timer for Your Outdoor Grill
By far the most important grill accessory for apartment grills is the automatic gas shut-off grill timer. These will save you money by preventing unattended grills from running endlessly after being left on. But most importantly, they are a key safety feature that no gas-powered BBQ grill should be without.
Whatever type of grill you choose to upgrade to, natural gas-powered, outdoor pedestal grill- it's sure to draw interest, improve the curb appeal of your property, and attract new tenants in droves.
---
Want more information? Have a question? Contact us today, and we will be happy to help!