Winter Grilling: Stay Warm With Patio Heaters While Grilling
6 minute read | Grills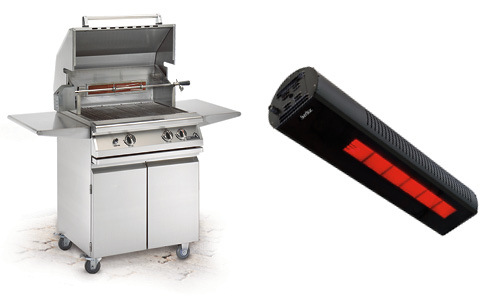 Are you a fan of grilling in the summer? Many homeowners love the taste of grilled food, and the fun to be had at warm-weather BBQs. When winter comes around, it's no longer as much fun to grill because the cold temperatures make it too cold to operate the grill outside and you can't bring the grill inside. Maybe you're a homeowner who doesn't have a working grill or your current grill is dirty, dangerous, or obsolete. It's time to replace your old grill with an upgrade. A modern grill can make grilling in the wintertime a breeze.
The Solution: Upgrade Your Grill and Add Patio Heaters
The best way to solve this winter grilling problem is to upgrade your patio grill and add patio heaters. This gives you the best of both worlds. You can use modern grilling techniques to cook meat, fish, veggies, and even fruit with a new, durable residential grill. Then you can add an outdoor heating system to make grilling outdoors comfortable year-round. The best patio grills come with a range of features for you to use. Having the right grill for fabulous winter grilling paired with top-notch patio heaters will allow you to enjoy your BBQ favorites whenever you want. Here are some suggestions to help you get started:
The Best Patio Grill & Patio Heater Combination
No matter what size your patio is, you can find a residential grill that has the right footprint for your space. PGS has two excellent residential lines for grills. The A-Series grills have cast aluminum casings and stainless steel internal components. Legacy grills are completely stainless steel throughout and will stand up to all kinds of weather and wear.
Grills in both lines are designed to work in a residential setting and hold up to hours of use easily, making grilling outdoors a pleasure. Your guests will be amazed at your grilling skills, and you will enjoy the flavors that you can only get from grilling.
A-Series Grills
This series of grills is hand-crafted from the experience of over 40 years of supplying grills for residential and commercial settings. They are designed for the ultimate in durability, dependability, ease of maintenance, and performance. They are made from a combination of rugged permanent mold aluminum, commercial quality stainless steel, brass, and porcelain on steel components.
Legacy Grills
Legacy grills are designed to be easy enough for a novice chef to use without ever attending cooking school, while also being plenty flexible for a seasoned veteran of backyard BBQing. These grills are manufactured to run on either natural gas or liquid propane and are built for residential settings to be installed on a home patio area. The diverse features make using the Legacy grills enjoyable for any residential setting.
Partnering Residential Grills with Patio Heaters
To create your own patio setup for winter grilling, add high-quality heaters to your garden patio. AEI carries five brands of heaters that are designed to work well in a residential or commercial space. You can learn more details about the features of four of the brands in this blog post about patio heater industry leaders. These five top-quality patio heaters brands are:
Here is some more information about each patio heater brand.
Infratech
Infratech heaters are designed to be safe, versatile, quick to heat, and energy efficient. These electric patio heaters use infrared technology to keep your outdoor space warm and comfortable. These particular heaters are housed in rectangular box frames and are available in a wide range of capabilities, sizes, designs, and control options.
Sunpak
The Sunpak brand of patio heaters is manufactured by Infrared Dynamics, offering unique mounted infrared heaters to warm your outdoor space. These heaters are powered by natural gas or liquid propane and have several feature options for buyers to choose from, including single or two-stage output. You can use wireless or hardwired control to power these heaters at your home.
Patio Comfort
Patio Comfort manufactures a line of mushroom-type outdoor heaters that are popular for patio dining at restaurants in cooler weather. These heaters take up minimal space and offer strong and reliable heat for maximum comfort outdoors. You may have seen this type of heater used on outdoor restaurant patios, sidewalks, and other outdoor venues. They are also used for outdoor concerts for the performers and/or the audience. Patio Comfort heaters use infrared to heat your patio. Infrared isn't affected by wind or temperature, because it doesn't heat the air. It heats objects like the sun does.
Sunglo
Sunglo is a well-known brand in the space heating industry and manufactures powerful and flexible space heaters with a range of features. These are made in the circular mushroom style and powered by natural gas or liquid propane. The natural gas version is mounted to the floor and can tap directly into a natural gas line at your home, and they can also hang from a ceiling to offer more open space in the outdoor patio area. The propane version is portable and has a wheeled base so you can transport it to the most needed area of your outdoor patio space.
Sunstar
Sunstar infrared outdoor patio heaters are designed for an overhead mounting installation to sturdy infrastructure. They aren't freestanding like some of the other brands. These can be used by homeowners or business owners as long as they have something appropriate to mount them to, like a sturdy gazebo or other permanent overhead structure. These patio heaters run on either propane or natural gas and must be fixed in place. Sunstar has 11 models which all have Ceramic Infrared Burner Systems, Wireless Remote Control, Two Stages 24,000 to 35,000 BTU, Direct Spark Ignition with Auto Re-light and Flame Sensor System, and 3-Year Warranty on the Burner Assembly. They also come with adjustable mounting systems.
Enjoying the Outcome of Winter Grilling
You will love the expanded grilling opportunities you will get with cold weather grilling. You can invite more guests to enjoy your home patio with you each time. Now you can create great grilled recipes all year round, and celebrate any occasion with friends and family. Installing an outdoor heating system in your home as well as a high-quality grill allows homeowners to spend more time eating the healthy grilled foods they love, and to maximize the potential of your home's outdoor space. You can have indoor/outdoor living all year, even in the winter to help you stay warm in the winter in a new way. What fun it is to enjoy your grill all year and stay as warm and cozy as possible.
---
Want more information? Have a question? Contact us today, and we will be happy to help!