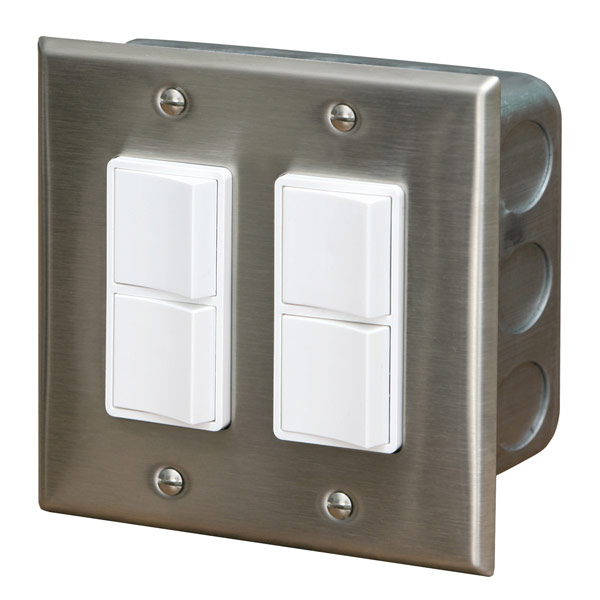 Infratech Duplex/Stack SwitchesModel 14-4305
Dual Duplex Switch with Stainless Steel Face Plate and Gang Box
Dual Duplex Switches with Accessories
This dual duplex/stack switch can be used to control your WD Series heater by simple controlling on/off each element independently, giving you a high / low / on / off setting. Use this switch to control two WD-Series heaters. This switch comes with a stainless steel faceplate and gang box for in-wall indoor or protected outdoor areas.
Affordable Heating Controls
AEI's Duplex Switches offer user-friendly operation that's compatible with any budget. Choose from a variety of control configurations, including In-Wall or Surface Mount options, many available with or without weatherproof covers.
#14-4305 Dimensions and features:
Gang Box: 4" h x 4" w x 1 9/16" d
SS Plate: 4 7/8" h x 4 15/16" w
(2) Two Single Pole Single Throw (DPST) Switches, a total of 4
Range: 120/277 VAC
Recommended not to exceed:

208/220 VAC = 3000 Watts Max per Switch
240/277 VAC = 4000 Watts Max per Switch

20 Amps Max per Pole
Made in the USA
3 Year Warranty
Indoor & Outdoor Heating Solutions
At AEI we provide low-cost control option for all of our WD series heaters. Our custom controls give you the ability to turn each element on & off independently, provide half power/full power capabilities, and have a range 120/277 VAC (20 amps max per switch).
For additional information, contact us today
.
How to Install Infratech Duplex Stack Switch Assemblies from Infratech on Vimeo.