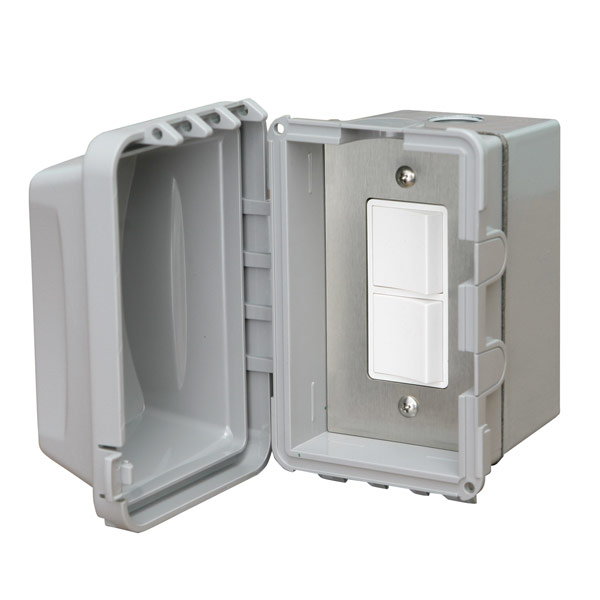 Infratech Duplex/Stack SwitchesModel 14 4320
Single Duplex Switch with Weatherproof Box for Surface Mount Installation
Single Duplex Switch with Weatherproof Box
This duplex switch can be used to control your WD Series heater. This particular switch gives you control of the on & off elements independently and provides you with a high / low / on / off setting. This switch comes with a weatherproof box, stainless steel faceplate and gang box for surface mount exposed exterior locations.
Affordable Heating Controls
AEI's custom heating controls offer user-friendly operation that's compatible with any budget. Choose from a variety of control configurations, including In-Wall or Surface Mount options, many available with or without weatherproof covers. This particular model is designed for surface mount installation.
#14-4320 Dimensions and features:
Weatherproof Box: 4 9/16" h x 2 3/4" w x 2" d
SS Plate: 4 3/8" h x 2 5/8" w
Weatherproof Cover: 5 1/2" h x 3 3/4" w x 2 3/4" d (Tab on covers extends 1/4")
Threaded Knock Out: 1/2"
Two Single Pole Single Throw (DPST) Switches
Range: 120/277 VAC
Recommended not to exceed:

208/220 VAC = 3000 Watts Max per Switch
240/277 VAC = 4000 Watts Max per Switch

20 Amps Max per Pole
Made in the USA
3 Year Warranty
Residential & Commercial Heating Solution
How to Install Infratech Duplex Stack Switch Assemblies from Infratech on Vimeo.