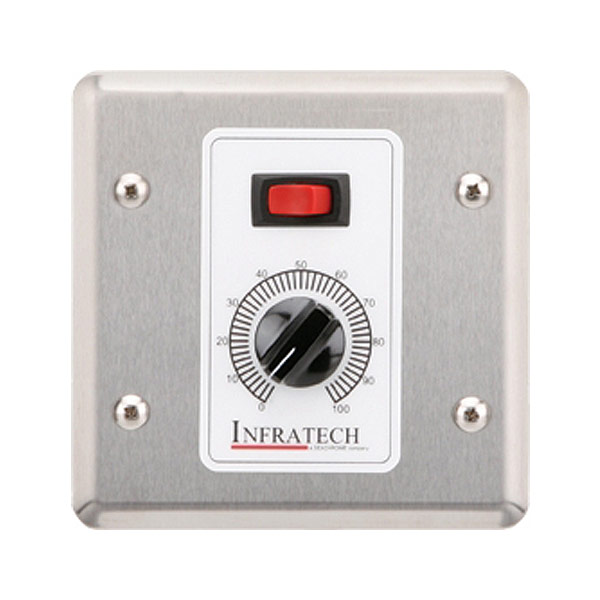 1 Zone Analog Control
1 Zone Analog Control
Increase your functionality, convenience and energy efficiency of your Infratech heating system with a custom control package. Infratech is a UL 508 listed manufacture and has the engineering & design expertise to create custom UL listed control packages for most heating applications.
In order for a custom package to be complete, a main relay control panel must be purchased. The 1 zone analog control can control up to 3 zones on a relay main control panel. When you partner with AEI, you will find many other options and configurations available for your indoor/outdoor heater.
Model #30-4032 features:
UL listed
Must purchase main relay control panel to complete
Control up to 3 zones on a main relay control panel
Dimensions:

Gang Box: 4 11/16" h x 4 11/16" w x 2 1/4" d
Face Plate: 5 11/16" h x 5 11/16" w
Enclosure Rating - Type 1 (must be installed in a protected location)

Made in the USA
3 Year Warranty
Heating Control for Indoor & Outdoor Heaters
Infratech heaters offer the widest range of custom control options in the industry. The digital timer feature allows for heating control in intervals of 15 min, 30 min, 60 min, 2 hours, and 4 hours. This guarantees maximum comfort is always at your fingertips.