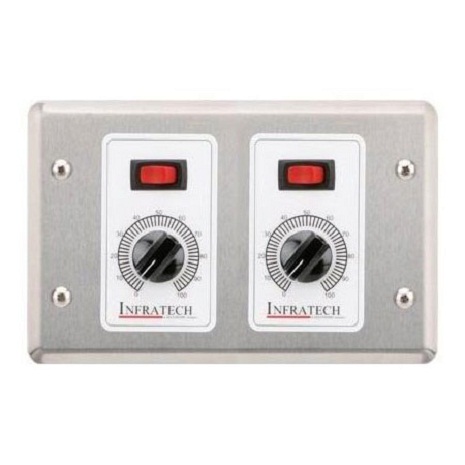 2 Zone Analog Control
2 Zone Analog Control
Increase your functionality, convenience, and energy efficiency of your Infratech heating system with a custom control package. AEI can help locate custom UL listed control packages for any heating application.
Custom Heating Controls
In order for a custom package to be complete, a main relay control panel must be purchased. The 2 zone analog control can control up to 6 zones on a relay main control panel (3 zones per dial). All Infratech controllers are NEMA 12 RATED, and can be exposed to a light mist, but not direct rain.
2-Zone Analog Control package offers the ability to control the intensity of heat of one or more heaters in a specified target area, and also the time each heater will be running.
There are many options and configurations based on how the customer would like to control each heater, please contact our customer service team for the best solution.
Model #30-4033 features:
UL listed
Must purchase main relay control panel to complete
Control up to 6 zones on a main relay control panel (3 zones per dial)
Dimensions:

Gang Box: 4 1/2" h x 8 5/8" w x 2 1/2" d
Face Plate: 5 1/2" h x 9 1/2" w
Enclosure Rating - Type 1 (must be installed in a protected location)

Made in the USA
3 Year Warranty
Heating Control for Indoor & Outdoor Living
Infratech heaters offer the widest range of
custom control
options in the industry.
When you choose an Infratech heating system, you have the ability to choose from a wide range of controls that offer flexibility and functionality in most residential settings.
Contact AEI
today for additional information on our Infratech Outdoor Heaters & Control Packages.