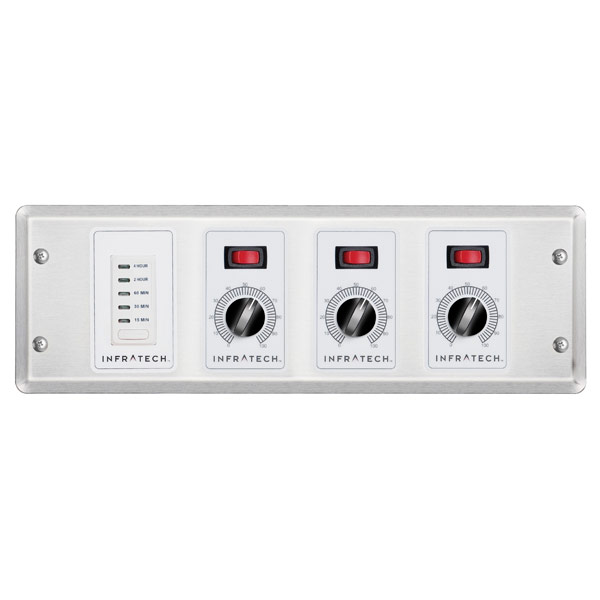 3 Zone Analog Control with Digital Timer
3 Zone Analog Control with Digital Timer
Increase your functionality, convenience and energy efficiency of your Infratech heating system with a custom control package. Infratech is a UL 508 listed manufacture and has the engineering, design, and expertise to create custom UL listed control packages for any heating application.
In order for a custom package to be complete, a main relay control panel must be purchased. The 3 zone analog control can control up to 9 zones on a relay main control panel (3 zones per dial).
There are many options and configurations concerning the control of each heater, and AEI is proud to offer most Infratech packages.
Model #30-4047 features:
UL listed
Must purchase main relay control panel to complete
Control up to 9 zones on a main relay control panel (3 zones per dial)
Dimensions:

Gang Box: 4 1/2" h x 14 3/16" w x 2 1/2" d
Face Plate: 5 1/2" h x 15" w
Enclosure Rating - Type 1 (must be installed in a protected location)

Made in the USA
3 Year Warranty
Infratech Solid State Control Package
Infratech offers the widest range of custom control options in our industry. When you choose one of our
heating systems
, you can choose from a wide range of controls that offer the flexibility and functionality to best meet the needs of any setting.