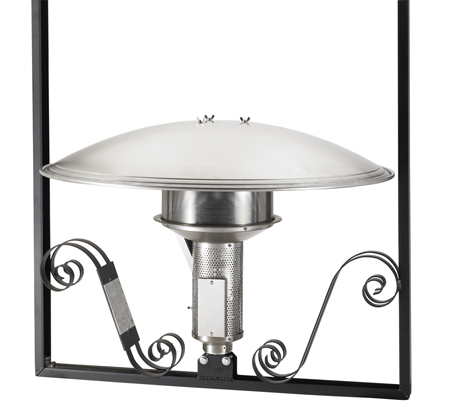 SUNGLO NG Hanging Heater with Manual Ignition
Natural Gas Hanging Heaters
The Sunglo model A244 suspended heater frees your deck by supporting heaters from above. The distinctive frame works well in a variety of decors. Optional automatic control systems make these heaters easy to operate even though they may be out of easy reach. Heat coverage varies depending on the wind exposure on a patio.
The Sunglo A244 heater requires no electrical connection and is easy to service and maintain
It utilizes a pilot-thermocouple 100% safety shutoff
The pilot must be manually lit
The heater is turned off/on with a manual control knob located at front of the heater
50,000 BTU/hr
Made in the USA
Sunglo Hanging Heaters
The Sunglo model A244 Natural Gas Hanging Heater frees up patio space by providing heat from above. Sunglo's natural gas hanging heaters are built with distinctive frames that work well in an assortment of decors. For 30 + years Sunglo outdoor patio heaters have been manufactured with the utmost quality customers have come to expect. Sunglo heaters utilize radiant heat to warm your family and friends without heating the surrounding air. Radiant heat quietly provides outdoor warmth for you, your family, and friends
Outdoor Commercial Heaters
Sunglo patio heaters are unique not only because of the amount of heat they produce, but how they distribute the heat as well. The A244 hanging heater has a deep dish reflector that broadcasts radiant heat over a large area so everyone can enjoy it. Sunglo Patio Heaters are designed to stay lit even in a light breeze and they have the ability to warm your customers like the sun on a cold day. Infrared heat passes through the air heating people so you don't need to wait for the air to build up before you feel the warmth.