Aluminum & Stainless Steel Grills are Great, But Which is Best for You?
6 minute read | Grills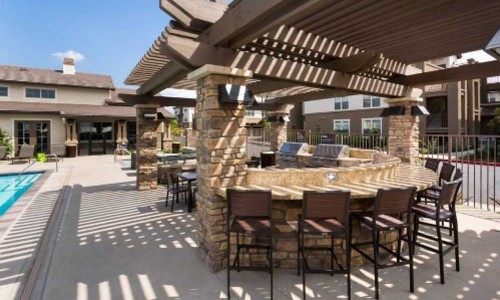 You've got a quarter of a ton of grass-fed Kobe steak in the freezer, and there's just one thing you've got to ask yourself; should you use an aluminum or stainless steel natural gas grill? At the end of the day, the best answer to this question is whichever style of grill you like better.
If you've gotten this far in your research into this year's best gas-powered grills, you're probably aware of the fact that aluminum and stainless steel are both fantastic options. Both materials look great. Each suits a range of different styles and preferences. They are both resistant to corrosion, and grills made from both of these materials will come with many attractive features. But before we talk about the pros and cons of each, let's make sure we know what we're talking about.
What are Aluminum & Stainless Steel NG & LP Grills?
When we say that a grill is cast aluminum or stainless steel, naturally, we're not talking about every single part and component of the appliance. We're talking about the outer shell of the main cooking part of the grill, that is, the lid and basin. More important still is the fact the certain essential components of every grill we carry are made from stainless steel. These include the grates, burners, and other key components. For that reason, even a grill that we say is an aluminum grill will still have stainless steel parts.
The important differences between these two types of patio grills are the look, the weight, and the price. An aluminum grill comes in blackened cast aluminum and the stainless steel models have bright, shining metallic exteriors. When it comes to looks, you can choose the style that suits your tastes and décor best. Either way, your new grill will look great, and do a great job cooking your food.
If you're investing in a built-in barbecue grill that will be in a fixed position, either material will work great, and both will hold up to the elements. This is important if you're unable to put your grill in storage for the winter due to the way it's mounted. In any event, we recommend investing in a weatherproof cover and a solid enclosure for long-term winter storage.
Finally, the stainless steel grills will cost more because stainless steel is a more difficult material to work with. It has to be heat treated more intensely and is more challenging to shape when it starts to cool. Stainless steel is also more resistant to impact damage since it is harder. But aluminum can be repaired more easily.
Both materials are corrosion resistant, but stainless steel will hold up under moist conditions longer than aluminum. However, if you take proper care of your grill, it will last for many years no matter which material you choose.
What Stainless Steel & Aluminum Grills Have in Common
As mentioned above, both types of grills will have stainless steel components such as grates and burners. The reason for this is these surfaces are more likely to come into contact with food, and corroded metal can also release particles into the air when heated. So making these working internal surfaces out of stainless steel is about your safety, but it also looks pretty sharp, we think you'll agree.
Both stainless steel and aluminum models come in a range of different sizes and have various mounting options. You can have a portable liquid propane grill on a wheeled cart, a permanently installed grill on a pedestal, or an outdoor grilling countertop.
Grills made from either material will come with most of the available options such as a 60-minute gas shut-off timer, drawers, shelves, storage, warming racks, and the popular match-free lighting system. The 60-minute shut-off timer is by far the most sought-after feature. It makes grills perfect for use in public settings such as an apartment complex recreation area. But most importantly, it makes a grill vastly safer to own and to use.
In addition to these features, our grills also come with theft-resistant knobs and laser etched instruction plates. The theft-resistant knobs add great value, especially in public areas, and the laser-etched instruction plates will never fade with time and will always remain fully legible.
Each type of grill comes in a range of different sizes and mounting options. We encourage you to take the time to review the dimensions of each grill you are considering to make sure you choose a grill that will fit well into your backyard grilling area or patio.
Grill Maintenance
While both the aluminum and stainless steel grill models are highly corrosion resistant and built to last, it's important to take good care of your grill to ensure that it will continue operating as advertised for years to come. You should give your grill a thorough wipe down before and after each grilling season and after taking it out of storage. Make sure any connections and hoses are not pinched or scratched. Each time you take your grill out of storage, check your connections, ignition, burners, and other important components for bugs, dirt, clogs, or damage. See our articles on grill maintenance and safety for more information.
Finally, you can cook with confidence knowing that here at AEI, we have all of the barbecue grill parts and supplies you'll need to keep your grill running smoothly. Our grills are designed to make part replacement and repair easy and simple. Just about any grill part can be replaced in any AEI grill by following simple instructions within the grill owner manual.
What About Next Fall & Winter?
While summer may have just gotten started, the colder months will be here before you know it. Why not extend the grilling season with a natural gas patio heater or propane patio heater from AEI?
When the summer weather gives out, you're still going to want to flex your BBQing muscles and deliver wonderful entrées for the autumn holidays. Our infrared heaters are powerful, efficient, and safe. They come in a wide range of sizes and mounting options, just like our grills do.
With an AEI grill and patio heater combo, you'll be your neighborhood's culinary hero!
---
Want more information? Have a question? Contact us today, and we will be happy to help!